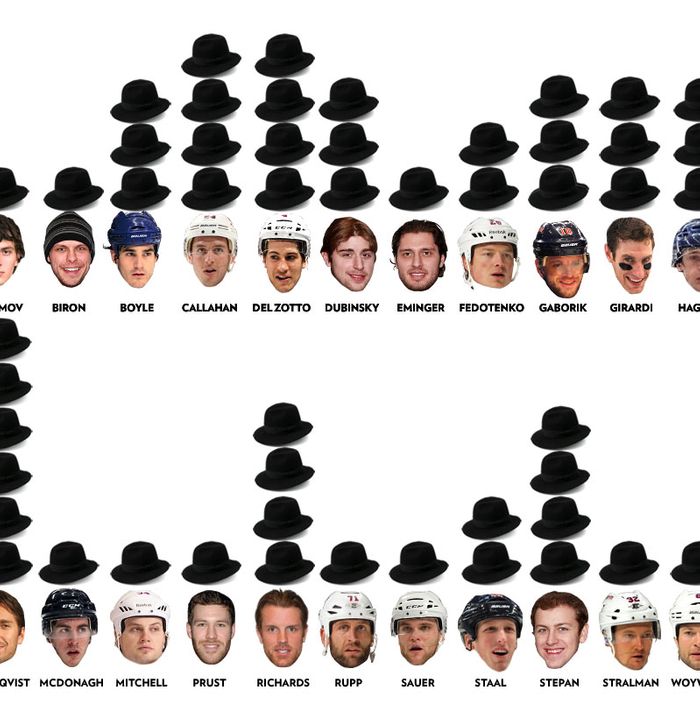 Photo: Getty Images, Charles Eshelman/FilmMagic, Christian Petersen/Getty Images, Joel Auerbach/Getty Images, Bruce Bennett/Getty Images, Mike Stobe/Getty Images, Christopher Pasatieri/Getty Images, Jim McIsaac/Getty Images, Nick Laham/Getty Images, Michael N. Todaro/Getty Images, Michael Stewart/Getty Images, Bruce Bennett/Getty Images
During the All-Star break, we looked at how many times each member of the Rangers had received the team's Broadway Hat, which gets awarded to a standout player after each victory. So with the 82 games of the regular season behind us (and an impressive 51 victories in the books), we thought we'd take a look at the final regular-season hat distribution.
A few things jumped out:
• Henrik Lundqvist wore the hat six times, which isn't much of a surprise. He won the team's MVP award for the sixth straight season, and may very well take home his first Vezina Trophy this year. But Lundqvist hasn't be awarded the hat since shutting out Boston back on Valentine's Day.
• Brandon Dubinksy (who had a very disappointing regular season) was awarded the hat as many times as Marian Gaborik (who had an outstanding regular season).
• Ryan McDonagh, who somehow hadn't worn the hat yet when we checked in at the All-Star break, was finally awarded it on February 12, when he scored a goal and blocked five shots in a win over the Caps. It was the only time he'd wear the hat all season, despite earning high marks for his play on the top defensive pair. (By contrast, Marc Staal, who's struggled to regain his All-Star form since returning from injury, has been given the hat twice.)
And here's the final list of players who appeared in at least one game but didn't wear the Broadway Hat once, along with the number of games they played for the Rangers:
Stu Bickel (51)
Erik Christensen (20)
Tim Erixon (18)
Sean Avery (15)
Mats Zuccarello (10)
Andre Deveaux (9)
Wojtek Wolski (9)
Kris Newbury (7)
John Scott (6)
Brendan Bell (1)