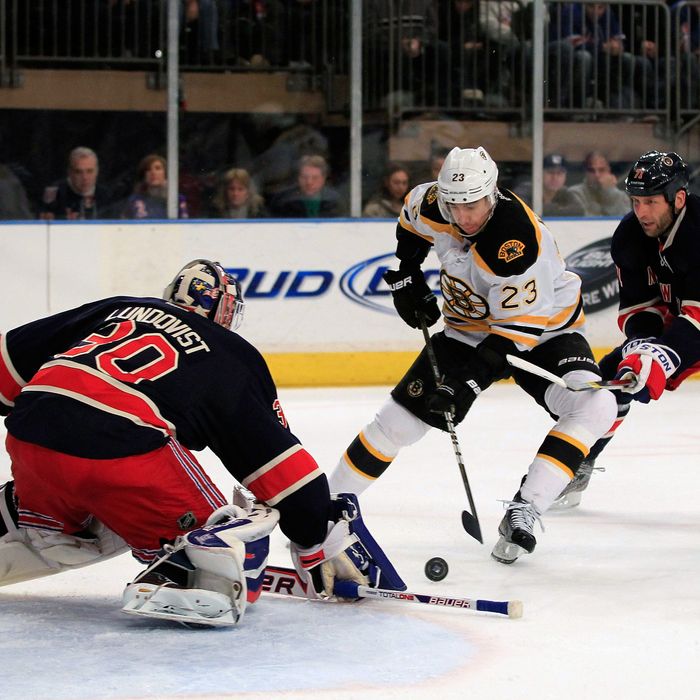 Chris Kelly and Henrik Lundqvist.
At last, we've reached the final week of the NHL regular season, and on this Monday morning, the Rangers need just one point to clinch the best record in the Eastern Conference and thus enter the playoffs as the top seed for the first time since, yep, 1994. One hopes the next few weeks will include a lot of references to doing things for the first time since the Clinton administration. They've already clinched home-ice advantage in a playoff series for the first time since 1996. Next they'll try and lock up the Atlantic Division title — as well as the top seed in the conference — for the first time since 1994. Then comes the postseason, where they'll try to get past the second round for the first time since 1997. (There are some other things they'd like to accomplish as well, but let's not get too ahead of things in early April.) Anyway, the next step is securing that top seed.
They could have done it last night. The Penguins lost to the Flyers yesterday afternoon in a game that brought us this wonderful screencap, thus reducing the Rangers' magic number to one. And so even earning a losers' point for an overtime or shootout loss last night would have locked up the top seed. It didn't happen though: The Bruins beat them 2-1 in regulation.
Afterwards, John Tortorella talked about how he was pleased with the way his team played, and if that sort of thing sounds familiar, it's because it's more or less what the Bruins said after their loss to the Rangers at the Garden at the beginning of March. The Rangers won three out of the four games against Boston this year, but these teams have proven to be more evenly matched than that might indicate. (And again, not to get ahead of ourselves, but since the Bruins have already locked up the No. 2 seed, if the Rangers do indeed lock up the No. 1 spot, these teams can't meet again until the conference finals.)
And so the Rangers will have to wait at least one more day to clinch the top seed in the East: They're off tonight, as are the Penguins. Then tomorrow, both teams are action but with yesterday's opponents swapped: The Rangers visit Philly, while the Pens travel to Boston. For what it's worth, neither of the Western Conference teams challenging the Rangers for the Presidents' Trophy are in action tonight either: The Canucks play Anaheim tomorrow, while the Blues are off until Wednesday, when they'll host Detroit.