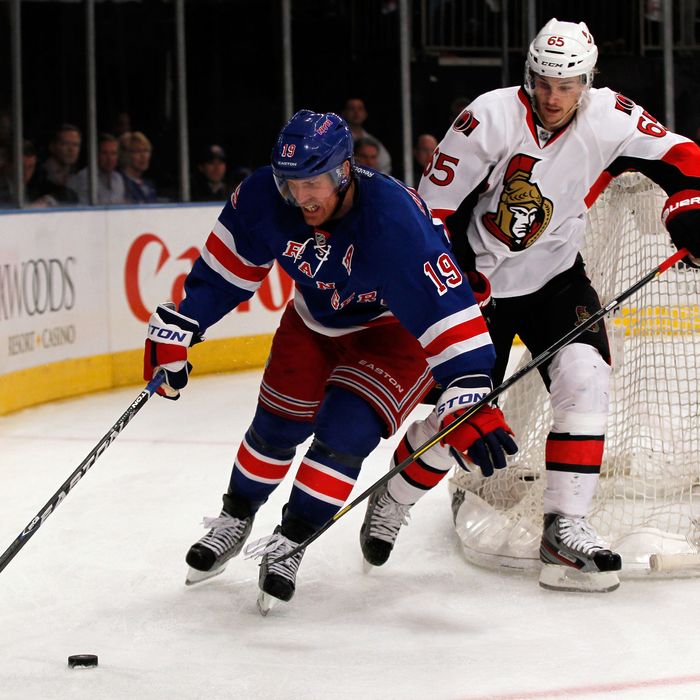 Brad Richards and Erik Karlsson.
It's been a long time since the Rangers found themselves facing elimination from the playoffs against a team with a worse seed than theirs. In fact, the last time they were in that position was on June 14, 1994, in Game 7 of the Stanley Cup Finals against Vancouver. (As you might recall, they won that game.) The last time they lost a playoff series to a team with a worse seed was back before the current postseason format had been instituted: In 1992, after winning the Presidents' Trophy and earning the top seed among Patrick Division teams, they lost in Division Finals to the third-place Penguins.
Part of the reason for this should be obvious: The Rangers haven't been the better seed in a playoff series very often over the past two decades. (This series against Ottawa is the first time they've had home ice in any round since 1996.) It's difficult to get upset by an opponent when you're always the underdog (or not in the playoffs at all). And so this is the sort of pressure that comes with regular-season success: You're expected to win in the playoffs, even in a season in which the word "parity" is as buzzy as the phrase "supplemental discipline." The Rangers have worked hard — from the front office on down to the players themselves — to get to a place where they have a target on their backs. But after getting shut out at the Garden on Saturday night in Game 5, they're in danger of getting picked off just six games into what they hoped would be a deep playoff run.
Carl Hagelin returns to the lineup tonight after serving his three-game suspension, and the man he concussed, Daniel Alfredsson, says he'll play as well. But the Rangers will be without Brian Boyle, who was injured in Game 5 on a hit from Chris Neil. (John Tortorella used one of the five words he spoke during his postpractice remarks yesterday to say he had no comment on the lack of punishment for Neil.) Home-ice advantage hasn't meant much in these playoffs, so the fact that tonight's Game 6 is on the road doesn't necessarily concern us. (For what it's worth, the Rangers are 1-1 on the road in this series and 1-2 at home.) What does concern us is how the Rangers have struggled to score goals of late. Part of that is the play of Craig Anderson, but the Rangers could do more to make things difficult for the Senators' goalie, just as the Sens at times have gotten traffic in front of Henrik Lundqvist to increase their odds of finding the net. This phrase gets thrown around a lot in the postseason, but it most certainly applies tonight: The Rangers face a must-win in Game 6 and hope to face another one on Thursday.