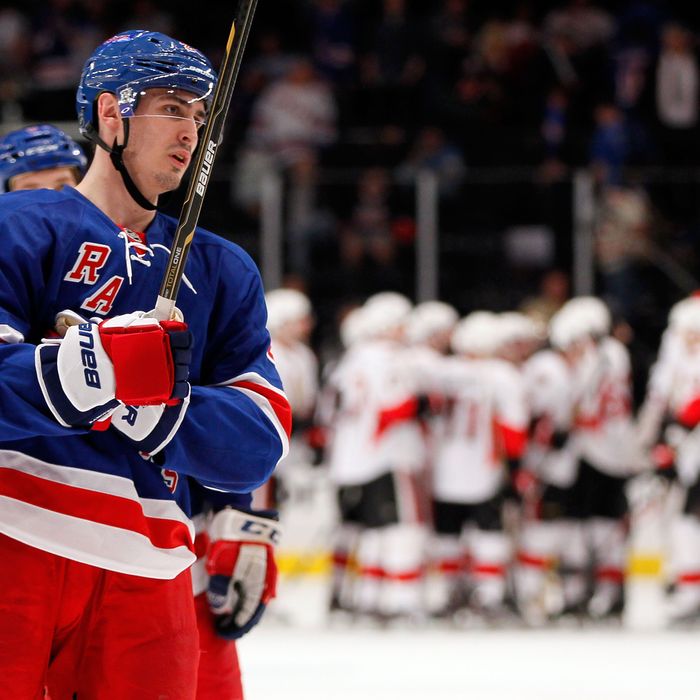 Chris Kreider skates off the ice after last night's Game 5 loss to Ottawa.
John Tortorella was fond of saying this year that the Rangers "found a way" to win games. He often said this following games in which his team didn't necessarily play a perfect 60 minutes, but pulled out a victory because someone scored a clutch late goal, or because they protected a lead in the final minutes, or because they earned a second point by emerging from a shoot-out victorious. The Rangers didn't win 51 regular-season games this year because they're an overwhelmingly talented team. Rather, it was the result of countless smaller battles won, of finding a system that works for them and sticking to it, and of making key plays at key times. Indeed, this year saw many moments where someone stepped up in a critical spot — enough that the Rangers remained atop the Eastern Conference for months. But too often in their first-round series against Ottawa, the Rangers have failed to net that extra goal, or make a play in a crucial moment that could swing the outcome of a game. That was the case last night in a 2-0 Game 5 Senators victory that pushed the Rangers to the brink of elimination.
Give Craig Anderson his due: He stopped all 41 shots he faced last night, and is finding his game in this series at exactly the right time. The MSG broadcasters — and Joe Micheletti especially — went on and on about how well the Rangers played, and how they did everything but score, but that seems overly enthusiastic: There weren't enough quality chances among those 41 shots, and the Rangers failed to capitalize last night with the man advantage in a game where one goal could have made a huge difference. (Credit analyst Billy Jaffe, on the post-game show, for talking about how too many of the Rangers shots were straightaway, and how they need to get Anderson moving more.) The Rangers haven't scored since taking their two-goal lead early in Game 4; it's been more than 116 minutes since they've lit the lamp.
For all the talk of secondary scoring being important in this series, it's the big-money forwards who haven't been finding the net lately. Brad Richards — whose playoff reputation helped earn him a huge contract over the summer — hasn't scored a goal since Game 1. Neither has Marian Gaborik, who admirably threw the body last night, but needs to produce on the offensive end. The Rangers' effort hasn't been the problem, but we're at the point in the season in which effort alone isn't enough. They need results. They need goals.
The Rangers have just two even-strength goals in the last four games of this series — and the man responsible for both of them, Brian Boyle, left last night's game with what Tortorella said afterward was a concussion. The injury was the result of a controversial hit by Chris Neil that was a major top of discussion after the final buzzer sounded. Here's the hit — with angles from both the Canadian and American national broadcasts — if you haven't seen it:
After the game, Tortorella compared the hit to the Raffi Torres hit that put Marian Hossa on a stretcher and earned Torres a 25-game suspension. Here's the coach speaking to reporters after the game:
"Well they have the blueprint," Tortorella said in his postgame news conference. "It's the exact same hit as Torres' — a different part of the ice — but he launches himself, head shot, (the) puck's at the goal line, and he's hit. So, the blueprint's there. I'm sure he's a repeat offender, too. Not much research to be done there."
We realize that Tortorella is doing whatever he can here to get the league to suspend Neil, who, for the record, is not considered a repeat offender. (He was fined once back in 2003, and has never been suspended.) It's no surprise that Tortorella made a point of saying that Boyle was concussed during his post-game interview, considering how the league factors in injuries when determining supplemental punishment. But Tortorella is wrong here. This wasn't the Torres hit, and it's debatable whether Neil deserves anything at all. Neil doesn't launch himself into Boyle, and though Tortorella noted that the puck was "at the goal line" when Neil made contact, it's not necessarily a late hit. (CBC's Elliotte Friedman timed it, and says the hit came .25 seconds after the puck was moved, and that the league standard is .5 seconds.) It'll be up to Brendan Shanahan to determine whether the principal point of contact was the head, but early indications are that Neil won't face a hearing.
And so the Rangers — after a 51-win season — can be eliminated by the eighth-seeded Senators on Monday night in Ottawa. They'll get Carl Hagelin back in that game, and if Tortorella reassembles the line Hagelin had been skating on, one hopes his return will jump-start Gaborik and Richards. But losing Boyle, who'd been playing so well over the past few weeks, hurts. For the Rangers to avoid getting upset by a No. 8 seed in the first round, they'll need to win two games in a row now, against a team that's given them trouble all season. The puck drops in Game 6 at 7 p.m. tomorrow night.