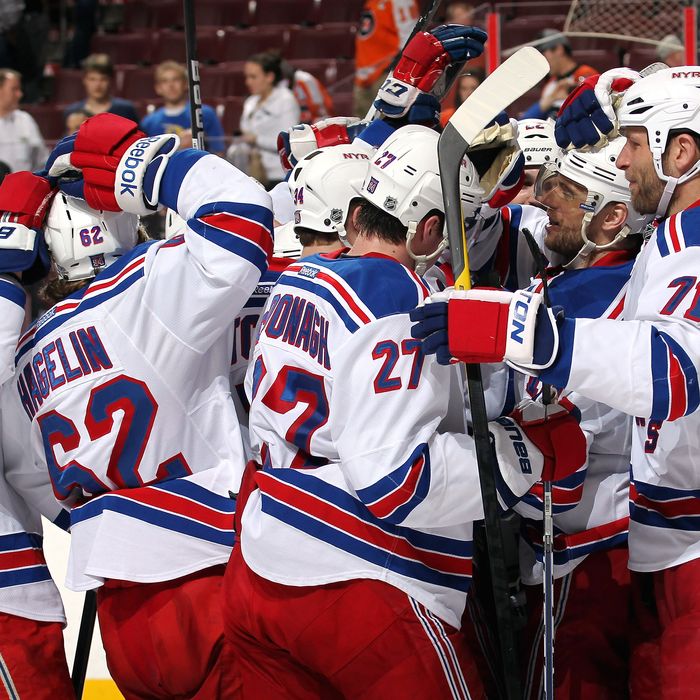 The Rangers celebrate their division title last night.
The Rangers haven't hung a new banner for a team accomplishment — well, other than some replacement ones — since they won the Stanley Cup way back in 1994. Heck, even the Knicks — a franchise that hasn't won a playoff game in more than a decade — have added one since then. That will change next fall: With last night's 5-3 win over the Flyers, the Rangers clinched not just the Atlantic Division title but also the top seed in the Eastern Conference. We sort of can't believe it.
Last night, the Rangers jumped out to a big lead, things got a little iffy for a few minutes, then they hung on to win. It's essentially what's happened over the past three-plus months: They've been in first place in the conference since before the calendar turned to 2012, at one point had a double-digit lead over the next closest team, and never surrendered the top spot, even when it looked like the surging Penguins were all but certain to catch them. (It's worth pointing out once again how huge that Islanders home-and-home sweep of the Penguins was last week.) Rangers fans were denied the opportunity to actually watch the final seconds tick down last night: Henrik Lundqvist covered the puck in the closing seconds, and the clock stopped before the referee actually blew the whistle, so the game was simply ended without a final face-off. But that's okay; it's no less sweeter, and that the clinching victory just happened to be their sixth in six games (!) against the Flyers certainly didn't hurt, either.
We'll have more on the Rangers and their division title later today, but we wanted to point out a few things from last night's game specifically: The power play has been improving of late, and last night's three-for-six performance is certainly an encouraging sign as the playoffs near. Speaking of the power play, have you ever seen anything like Artem Anisimov's goal with which he drew six penalty minutes while scoring? Brian Boyle is getting hot at the right time, scoring for the fourth time in seven games. And Henrik Lundqvist, despite allowing three goals, had a big game, keeping the Flyers off the scoreboard early and making 37 saves in all, including at least two that made Wayne Simmonds look to the heavens for some sort of explanation.
Speaking of Lundqvist, he got hit with a shot on an unprotected part of his arm and admitted afterward that it hurt, but he appeared in good enough spirits during his televised postgame interview that we didn't have to cry ourselves to sleep last night. (It is not lost on us that today is the one-year anniversary of Ryan Callahan breaking his ankle in what had been the most exciting win of last season. When it first became clear that Lundqvist was experiencing discomfort, we couldn't help but wonder if perhaps the hockey gods really do hate the Rangers.)
The Rangers didn't play a perfect game last night: Eight penalties is far too many, and this wasn't the first time in recent weeks that we've seen them take an undisciplined penalty, as much as they've built a reputation of avoiding such things. That said, a four-goal first period against a tough divisional opponent is a good reminder that this team is doing something right.
We've said this before, but nothing comes easily for this team, which is part of what makes them so likable: They don't overwhelm teams with ability but instead have found an effective mix of effort and skill, doing their work along the boards, for instance, while also making use of a 40-goal scorer and an all-world goalie. The playoffs promise few cakewalks and lots of hard-fought games. The Rangers are as prepared for that as any team in the league.
We mentioned banners earlier, and there's another one within reach this week: With two games remaining, the Rangers and Canucks each have 109 points in the race for the Presidents' Trophy, but the Rangers would win the tiebreaker. St. Louis, meanwhile, is three points back but has three games remaining. The Rangers aren't likely to let up too much in their final two games, though it wouldn't surprise us to see Martin Biron in net Thursday, nor would it surprise us to see Ryan Callahan think twice about trying to, you know, block a shot with his teeth or something. But while the possibility of requiring home-ice advantage in the Stanley Cup Finals seems so far off right now, Mike Keenan reminded us on the postgame show last night that home-ice in the Finals could prove to be important. He would know, wouldn't he?