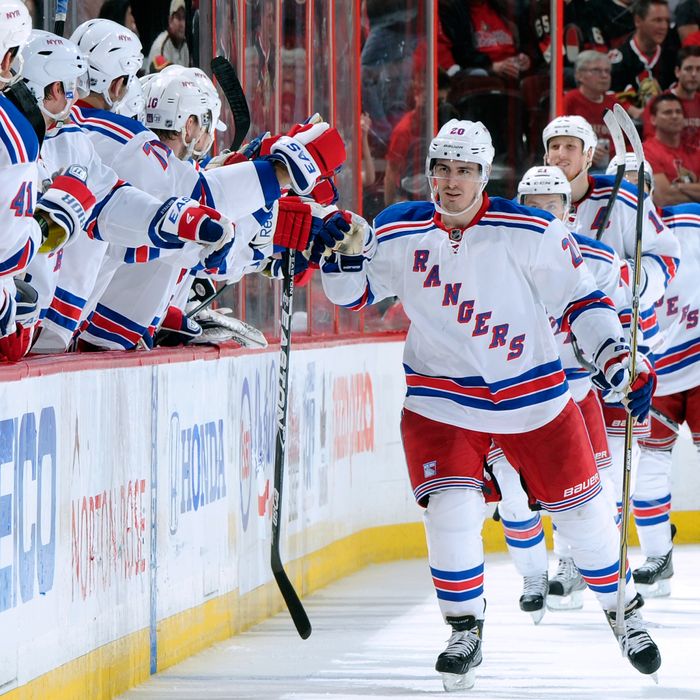 Three weeks ago, this guy was still in college.
Here's a question for the morning after the Rangers emerged victorious in a must-win Game 6, setting up their first Game 7 at the Garden since the 1994 Stanley Cup Finals: Which of last night's three goals was most crucial? Because you could make a case for any of the three, really. Was it Derek Stepan's power-play goal that tied the score at 1, and ended the Rangers' scoring drought at a ridiculous 145 minutes and 27 seconds? Was it Brad Richards scoring exactly the kind of goal (on the power play, at a crucial point in the playoffs) that he was brought to New York to score — one that gave his team a 2-1 lead? Or was it Chris Kreider, in the final minute of the second period, scoring his first NHL goal — what would turn out to be the game-winner in a must-win Game 6 — off a pretty feed from Stepan, who collected three points last night? Perhaps it's the sum of those goals that means the most: A Rangers team that hadn't scored in forever finally did more than generate opportunities — they also got the results they badly needed. The Rangers needed to play desperate last night, and they did. And Thursday, for the first time since Patrick Ewing's finger roll clanked off the rim against the Pacers in 1995, Madison Square Garden will host a Game 7.
Those three second-period goals were huge, obviously, but the Rangers' third period was just as critical: In a series that's seen the Rangers struggle with leads, they didn't simply go into a defensive mode and let Ottawa set up and fire away. Rather than absorbing blow after blow and hoping to let the clock run out, they counter-punched, which has the dual benefit for creating chances on one end and keeping Ottawa from getting chances on the other. The Rangers getting caught back on their heels late in games is a relatively new phenomenon: That's not something that's been plaguing them all year, but it's killed them in this series, in which they blew a third-period lead in Game 2, then surrendered a two-goal lead in Game 4. If generating offense five-on-five and taking advantage of their power plays had become biggest the keys to the series going into last night, protecting a potential lead wasn't far behind. And last night, the Rangers held on.
Not that things didn't get interesting at the end: The Senators had one more push in them in the final minutes, down 3-1, and with 38.4 seconds remaining, a puck found its way into the net behind Henrik Lundqvist (who was stellar last night, by the way). Lundqvist believed he was interfered with on the play, but it wasn't called on the ice. He also believed that the puck was kicked in, but the replay officials up in Toronto didn't think it was conclusive. The goal was allowed to stand, and Lundqvist wasn't pleased. Here's the goalie, after the game:
In the middle of that scrum, by the way, was Chris Neil, and boy has he become Public Enemy No. 1 to Rangers fans. Neil, who scored the Senators first goal of the night and also dropped the gloves with Brandon Prust (motioning to the crowd to make noise mid-fight), was also on the receiving end of a hard hit by Michael Del Zotto in the third period. And Neil, who concussed Brian Boyle in Game 5, made what amounted to a threat after the game:
Remember that Del Zotto hit Neil behind the Rangers' bench, leaving Neil supposedly dazed and confused, before he hopped right back into the game.

"I'm sure I'll catch him with his head down one of these times," Neil said.
Stay classy, Chris. We agree with the NHL's decision not to punish Neil for the Boyle hit, but just as we expect Lundqvist to have to take out his checkbook for his "someone wanted them back in the game" comment, Neil might get a slap on the wrist, as well, even if his comment doesn't necessarily suggest he intends to do something illegal. Wonder what kind of reception Neil will get on Thursday night!
Speaking of which: John Tortorella has said that he doesn't much believe in home-ice advantage — except in Game 7. And so in a series in which home ice hasn't meant much, here's hoping he's right.