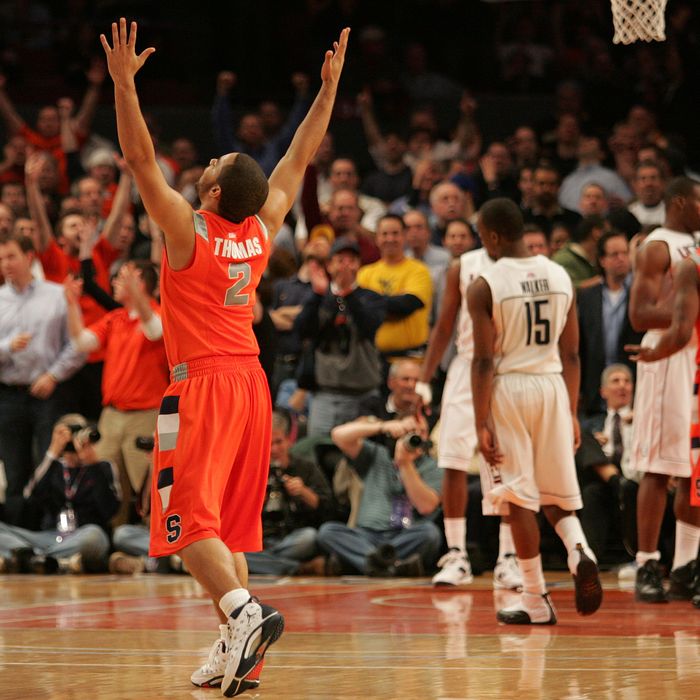 This won't be happening again.
The winner of our New York Magazine Bracket Challenge was an entry named "dukakis1988," which nailed three of the four Final Four teams, the right two teams in the championship game, and of course the eventual champion, Kentucky. "Dukakis1988" is actually Adam Crowley, a New York City lawyer and a Syracuse alum. As part of his "prize" for winning the pool, he won the opportunity to write content for us for free. Here is his free post. Enjoy the respite from the usual Sports Section bullocks.
It just so happened that the greatest college basketball game I have ever seen was also the greatest college basketball game most other people have ever seen. In March 2009, Syracuse and UConn played in the Big East Tournament at Madison Square Garden through 40 minutes of regulation, six overtimes, and 244 points before the Orange finally won. I know these statistics by heart because it's rare that I walk into a store in Syracuse without seeing at least one person wearing an orange T-shirt with "Marathon Men" on the front and those numbers printed on the back. Watching that game, I didn't realize that it was probably the climax of Syracuse's time in the Big East. Last fall, Syracuse announced it was leaving the Big East to join the ACC, making next season its last in a conference it helped establish more than 30 years ago.
I spent my formative years as a college sports fan in a rural town 30 miles southeast of Syracuse. This was the era of players like Lawrence Moten and John Wallace, guys who didn't make much of an impact on the NBA but were probably more influential on my early pubescent years than any cute girl was. A few years later, my family moved to Connecticut, I enrolled at UConn, and I found myself rooting for the Huskies when they won the 2004 national championship. I cemented my status as a deeply conflicted college basketball fan by returning to Syracuse for graduate school. It was strange, but I have always loved watching those two teams play each other. It always felt like they were playing for my attention, affection, and alumni donations. After next year, I will never have that feeling again.
I really shouldn't have been surprised when Syracuse announced it was leaving the Big East for the ACC. College sports has been realigning for the last fifteen years with schools like Nebraska, Texas A&M, and Missouri leaving their conferences in the hope of raising their profiles and increasing their profits. But Syracuse is different. The motivation may have been the same — I'm sure Syracuse thinks it can make more money playing in the ACC than it can continuing in the Big East — but the consequences are much different. This isn't like Missouri fans coming to terms with not playing Kansas State anymore. Syracuse is a founding member of the best college basketball conference in the country and is about to abandon rivalries with schools like Georgetown and Villanova. It's the college equivalent of the Yankees leaving the AL East and never again playing the Red Sox. It's like the Giants joining the AFC West because they think they could make more money playing the Raiders than the Redskins. Sure, Syracuse will replace its rivalries with regularly scheduled games against North Carolina and Duke, but they will never really be part of that club. They will always be outsiders in a conference whose cool-kids table was established decades ago. Gaining an extra few million dollars in television revenue just doesn't seem worth it.
Not all of the blame should go to Syracuse, though. The Big East has been a mess for most of the last two decades. It let Miami, Boston College, and Virginia Tech leave and replaced them mostly through a raid on the second-rate Conference USA. Television revenue has decreased while frustration among fans and athletic department administrators has increased. But those are football problems that should worry football schools. Syracuse is not a program focused on football. Nobody has been overly concerned with Orange football since Donovan McNabb graduated more than a decade ago. Syracuse is a basketball school, and the level of play in Big East basketball has rarely been stronger than it is right now. Despite the mismanagement and total lack of direction from the Big East, moving to the ACC was ultimately Syracuse's decision. The other giants of the Big East are staying, at least for now. Jim Boeheim was right when he said moving to the ACC was about money and football, but I'm not sure those are relevant considerations at a basketball school with the highest attendance in the country and an athletic program that doesn't seem like it's hurting for cash.
Syracuse isn't just a university; it's also a small city with an identity built largely around college sports. People who have never been to Syracuse probably know two things about the city: It snows a lot, and it's home to a pretty good college basketball team. Even after a mild winter, the snow will inevitably return. As for the basketball, things will never be the same after next season. The city and its university are about to lose a large part of what they are. For the sake of both, I really hope this works out.