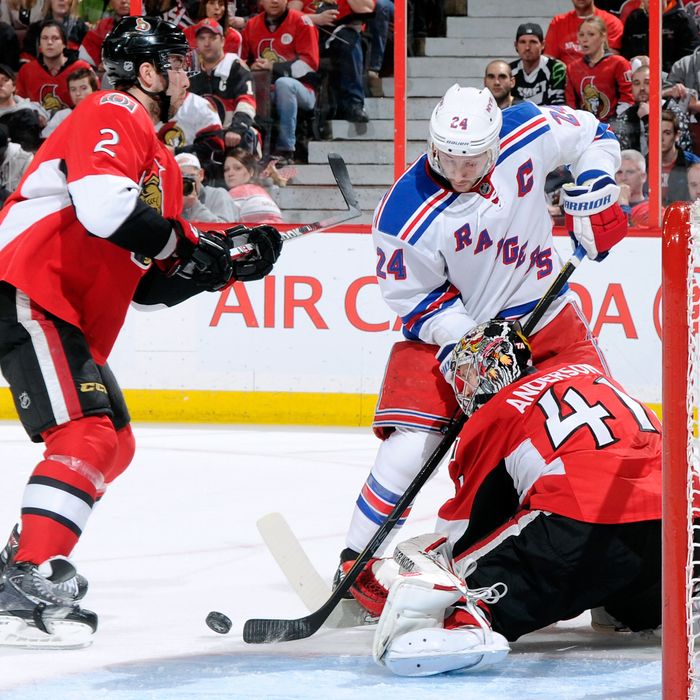 So, after two full days off, Game 7 between the Rangers and Senators has finally arrived. That's a long time to wait knowing that the game in question could end such an exciting Rangers season earlier than most people expected. At some point this year, the Rangers went from a team that was simply exceeding modest expectations to one that maybe, sort of looked like it could legitimately compete for a Stanley Cup if they kept going the way they were going. It was expected that they'd take a step forward from last year, what with the addition of Brad Richards and the hope that some of their younger players would continue to progress, but this has all happened faster than we'd hoped it would. The Rangers? A Stanley Cup contender? Could it be?
Then the playoffs started, and it became clear that anyone could beat anyone, and that for all the good things the Rangers did this season, they'd have their hands full with the Senators. This wasn't a total surprise: Ottawa had given them plenty of trouble during the regular season. This series has already provided its fair share of twists and turns, but the Rangers would appear to be in a good place coming out of their Game 6 victory: Their power play looked good on Monday night, and rather than allowing the Senators to fire away at Lundqvist after they took their lead, they continued to counterpunch, which at the very least meant they weren't pinned in their own end. Not that Game 6 momentum necessarily carries over: Like the Rangers, the Bruins won Games 1, 3, and 6 of their series, but they lost Game 7 at home. Still, the Rangers have plenty of reasons to be confident going into a Game 7 in their own building tonight, even if there's more pressure on them, as the favorite, to come away with a victory.
If a team is defined by how it performs in the playoffs, it would be quite the blow for the Rangers to go out in the first round, just as they did last year. And fair or not, for all the wins during the regular season, tonight will go a long way toward determining how we talk about this team and judge how close it is to truly competing. If they, say, lose a low-scoring Game 7, or, God forbid, get shut out, don't think there won't be increased pressure to add scoring punch in the off-season. If they win, though — even if they only survive one more round — they'll at least be able to look back on a season in which they improved not just over the grind of 82 games but in the postseason as well.
Of course, improvements don't always come in even increments, which is why the Rangers have their sights set on more than an appearance in the second round. But for right now, advancing out of the first round is all that's worth worrying about. A loss in Game 7 tonight won't be a step backwards, but it wouldn't be the step forward the Rangers have the opportunity to take this year. The puck drops at 7 p.m., and in a welcome (if expected) injury update, Ryan Callahan says his finger is fine. The Rangers earned the right to host this game with a terrific regular season, and John Tortorella has said that home ice only means something when it comes to a Game 7. (It's been eighteen years since the Garden hosted a Rangers Game 7, so we can only imagine how loud it'll be tonight.) The most exciting Rangers season in years could end tonight — or it could keep going into the second round, where the Caps are waiting for the Rangers if they survive. We'll know for sure in a matter of hours.