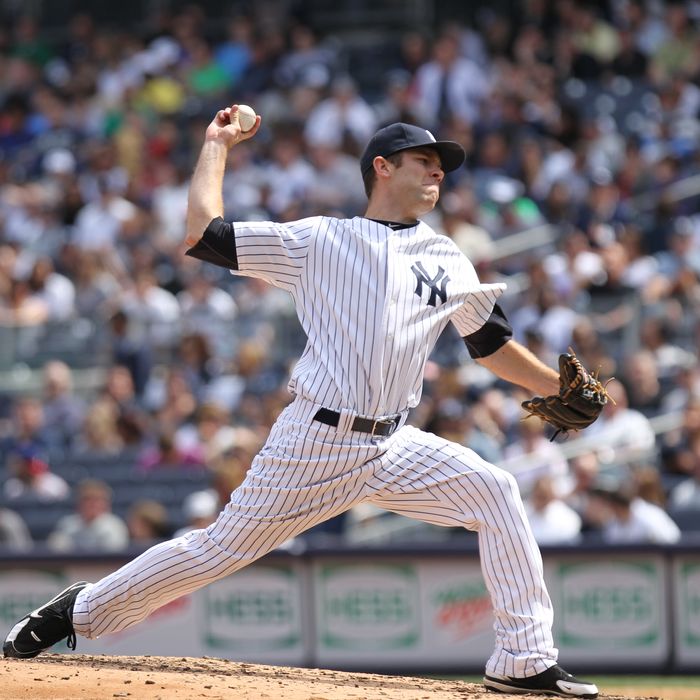 So, the Yankees beat the Angels last night, winning the weekend series with Los Angeles and improving their record to 5-4. It's a perfectly mediocre start — good enough to keep anyone from panicking, but not so good that we'd suggest preordering that 2012 division champions T-shirt. Nine games isn't much of a sample — it's 5.6 percent of the 162 game schedule — but at the very least we can see a few early trends developing: Derek Jeter's off to a great start, Mark Texiera is off to a terrible one, and so on. But one of the more pleasant surprises in the early going has been reliever David Phelps, who in his first eight and a third big-league innings (spread over three appearances) has allowed just one run and one hit, striking out nine and walking two. But is it too early to get excited?
The short answer is "yes." It is, after all, just three outings. But as far as early-season storylines go, it's been a fun one to follow. On Saturday, for instance, Phelps threw five and a third innings mopping up for Phil Hughes, and in doing so, retired Albert Pujols three times — an especially big deal for a St. Louis native who grew up cheering for the Cardinals (and rooted for the Redbirds during last year's World Series). Phelps hasn't exactly come out of nowhere — he was the Yankees' minor-league pitcher of the year in 2010, and this month, he won the James P. Dawson Award, given by the Yankees annually to the most outstanding rookie in spring training — but he's been making the most of his opportunity with the big-league club so far.
There's something exciting about watching a young player succeed right off the bat in the big leagues. It's one of the reasons the first few months of the Joba Chamberlain Experience were so exciting: On a team with so many established stars (and the expectations that go along with them), a standout rookie is a rare opportunity for a pleasant surprise. In the grand scheme of things, three appearances is nothing, but at the very least Phelps has given us reason to look forward to the fourth.