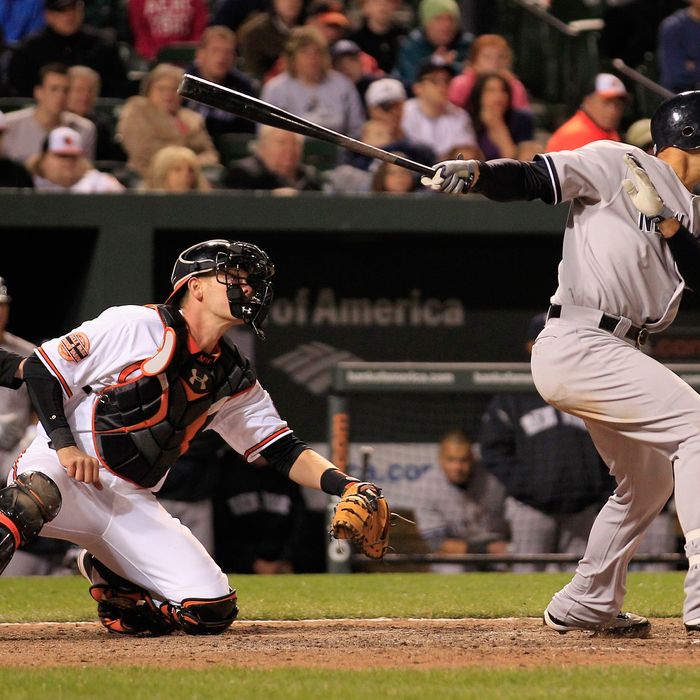 Six months ago, the Yankees' season ended in the ALDS in large part because of their inability to get hits with runners in scoring position: In the decisive Game 5, they were 2-for-9 in such situations, stranding eleven runners in all and twice leaving the bases loaded. It was hard not to think of that game last night when, after tying the game in the sixth inning, the Yankees stranded at least one runner in scoring position in the sixth, seventh, eighth, ninth, and eleventh innings. In all, they went just 2-for-18 with runners in scoring position. But at least they made those two hits count in a twelve-inning, four-and-a-half-hour-long victory over Baltimore.
The first of those hits (Brett Gardner's single in the sixth, after an error extended the inning and brought the Yankees to within a run) tied the game, and the second of them (Raul Ibanez's ground-rule double in the twelfth) put the Yankees on top, 5-4. Ibanez (who, you'll recall, has seen his numbers fall off a cliff in recent years) has three hits in twelve at-bats this season, but two of those hits have been loud ones: an Opening Day home run against Tampa Bay and last night's game-winning double against the Orioles.
Perhaps the real story last night, however, was the Yankees bull pen: After the Freddy Garcia wild-pitch-a-thon ended after four and two-thirds innings, six relievers combined to throw seven and a third innings of two-hit, shutout ball. David Phelps, in just his second big-league appearance, was especially impressive, throwing two and a third perfect innings, striking out four batters in the process. It should also be noted that Mariano Rivera — who blew the game in his first save opportunity last week — threw a 1-2-3 inning in the twelfth, striking out two of the three batters he faced to earn his first save of the year. The Yankees go for the sweep (and try to even their record at 3-3) tonight, with CC Sabathia on the mound against Jake Arrieta.