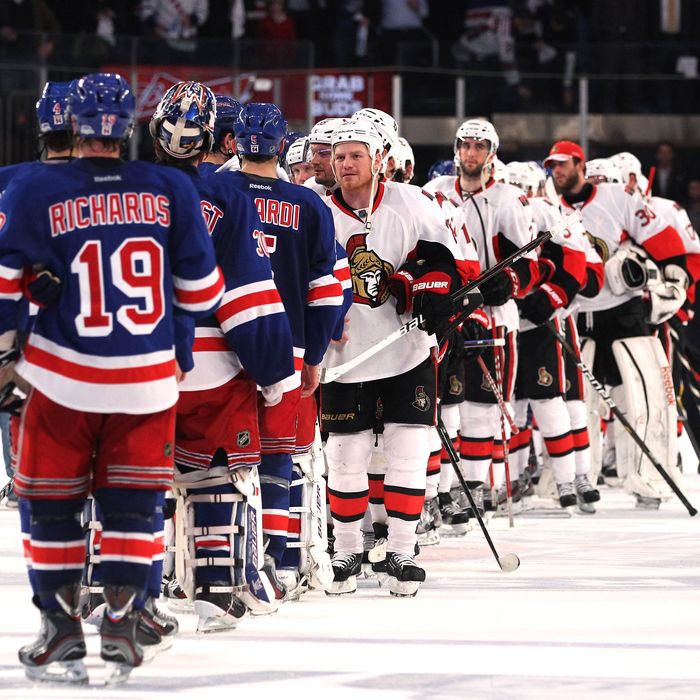 The post-game handshake line after last night's Game 7.
After losing Game 5 of their series with the Senators on Saturday night, the Rangers found themselves in an unfamiliar situation: They faced elimination in a series in which they had the better seed for the first time since the 1994 Stanley Cup Finals. But they won Game 6 in Ottawa to force a Game 7 — the first in any sport at Madison Square Garden since 1995 — and then last night, they won said Game 7 to advance to the second round, where they'll face the Washington Capitals. But what happened this week that didn't involve award finalists?
The Knicks won their final three games of the season against the Hawks, Clippers, and Bobcats, and we previewed the hell out of their upcoming playoffs.
Carmelo Anthony once again topped our Knicks Power Rankings.
Jose Reyes returned to Citi Field, and the Mets swept the Marlins.
The Yankees won the opening game of their series in Texas, then dropped the next two.
We looked at the Jets' and Giants' first-round draft picks.
We excerpted two papers from the "50th Anniversary of the New York Mets" conference at Hofstra.
We looked at Brian Cashman's spotty history with starting pitchers.
And we talked knuckleballs with the likes of R.A. Dickey and Tim Wakefield at the Tribeca Film Festival.
That's it for now, but we'll be back tomorrow after the Knicks and Rangers games. Have a great weekend, and enjoy the games!