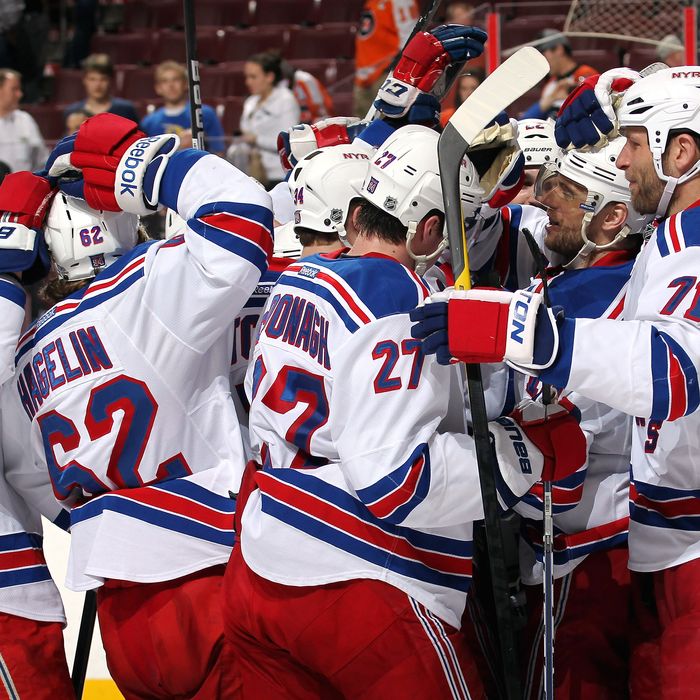 The Rangers celebrate their win over the Flyers on Tuesday night.
The Stanley Cup Playoffs begin next week, and some of the seeding in the Eastern Conference has yet to be decided. But this much we know: The Atlantic Division champion Rangers will enter the postseason as the conference's No. 1 seed. Every team in the NHL plays its final regular-season game tomorrow, and by the end of the night, we'll know not just who the Rangers will face in the first round, but whether the Rangers will win the Presidents' Trophy for the first time in eighteen years. But what happened this week that didn't involve a pissed-off John Tortorella?
After we wrapped up our Mets season preview, Terry Collins's club won its season opener against the Braves, with Johan Santana throwing five scoreless innings.
After we wrapped up our Yankees season preview, Joe Girardi's club lost its season opener to the Rays after Mariano Rivera blew the save in the ninth.
The Knicks lost a crusher to Indiana, then, after some Dwight Howard–Stan Van Gundy drama, beat the Magic in Orlando.
Carmelo Anthony topped our Knicks Power Rankings.
FIU fired Isiah Thomas.
Kentucky won the NCAA men's basketball title, which is good news for the Yankees.
We looked back at Linsanity.
And we chatted with former major-leaguer Jim Abbott.
That's it for us. Have a great weekend.