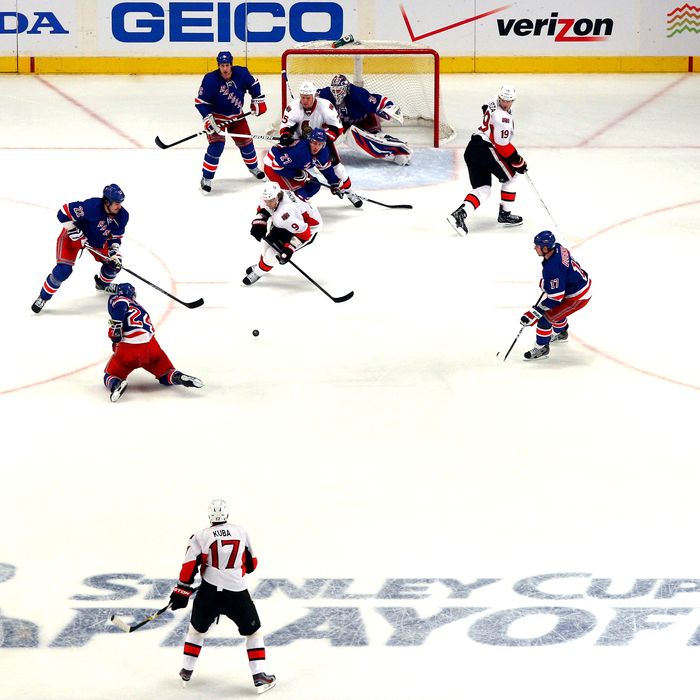 It had been sixteen years since Madison Square Garden hosted Game 1 of a Stanley Cup Playoffs series, but last night, the Rangers kicked off their 2012 postseason with a 4–2 victory over the Ottawa Senators. We're picking the Rangers in this series — as is MSG's Ron Duguay — but Will's PS3 is picking Ottawa. (For what it's worth, the PS3 had the Rangers losing the first three games of the series, so it's not off to a good start.) But what happened this week that didn't involve headwear?
The Knicks beat the Bulls, then lost to the Bulls, then beat the Bucks.
After getting swept by the Rays, the Yankees won three straight in Baltimore, then won their home opener against the Angels.
The Mets started out 4-0, but then the Invisible Citi Field Injury Snipers struck again.
We looked at where the Knicks might finish in the standings.
Carmelo Anthony once again topped our Knicks Power Rankings.
And we chatted with Darryl Strawberry about the BET baseball documentary, Harvard Park.
That's it for now, but we'll be back Sunday morning with some thoughts on Game 2 of the Rangers-Senators series. Have a great weekend.