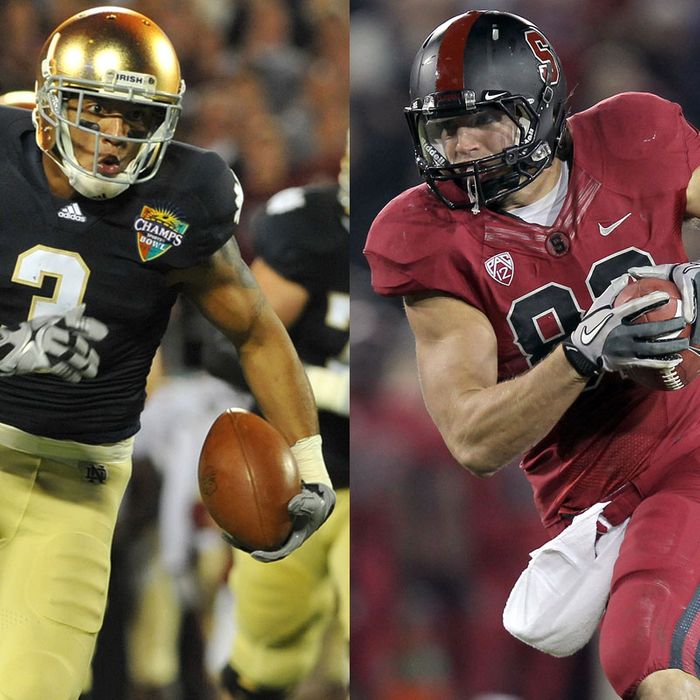 Michael Floyd and Coby Fleener.
Beginning tonight, Radio City Music Hall plays host to the seven long and laborious rounds of the NFL Draft, and while the first two picks in tonight's first round are pretty much set in stone (Indianapolis' G.M. has already stated they'll be taking Andrew Luck, and there's no chance Washington will pass on Robert Griffin III), everything that comes afterward seems like a bit of a toss-up. Things are no different for the Jets and Giants, picking sixteenth and 32nd respectively, so we thought we'd look at some of the experts' ever-changing mock drafts and try to suss out which players New York's teams are eyeing in the first round.
JETS
Where to start? Despite much hope at the beginning of the season, 2011 was not the best of years for the Jets. They've already had a bit of a busy off-season — well, a headline-grabbing one, at least — but they can still use some help on both sides of the ball. They could afford to strengthen the wide receiver position, but the team could also use an athletic and versatile defensive player. One thing we do know, though: They're probably not going to be taking a quarterback with the sixteenth pick. So, what say the experts?
Jarrett Bell, USA Today: Courtney Upshaw, OLB, Alabama
DraftAce.com: Chandler Jones, DE/LB, Syracuse
Don Banks, SI.com: Dontari Poe, DT, Memphis
TheFootballExpert.com: Melvin Ingram, DE/OLB, South Carolina
Mel Kiper Jr., ESPN: Quinton Coples, DE, North Carolina
Mike Maycock, NFL.com: Michael Floyd, WR, Notre Dame
Todd McShay, ESPN: Melvin Ingram, DE, South Carolina
Shutdown Corner/Yahoo: Whitney Mercilus, LB, Illinois
WalterFootball.com: Michael Floyd, WR, Notre Dame
Notre Dame standout Michael Floyd's name comes up in more than one mock draft, and while he may be overshadowed by Oklahoma State's Justin Blackmon, he would provide a big target for whoever is throwing to him, and he can definitely grow into an effective Santonio Holmes replacement whenever he and the Jets part ways. While there's no real agreement on anyone else, a few of the experts we looked at believe the Jets will look to sure up their linebacker corps. The Jets' projections, by the way, show just how much the experts' opinions can vary (which is a nice way of saying it shows just how little anyone really knows about who's going where). Just look at the differing views that mock drafters have for Illinois's Whitney Mercilus: Yahoo's Shutdown Corner blog has him going number sixteen to the Jets, while Draft Ace has him lasting a another half-round and going to the Giants with the 32nd pick.
GIANTS
Whereas Jets fans spent last season in a state of continual frustration, Giants fans witnessed a happy ending to their team's sometimes maddening season. But even the Super Bowl champions have areas that could use some depth, particularly in the secondary. On offense, meanwhile, they could look for a tight end (though the injured Jack Ballard doesn't think they will). With the last pick of the round, it's unlikely that a truly elite prospect will be left, but there's no reason the team can't find a productive player who can grow into an eventual effective starter.
Jarrett Bell, USA Today: Shea McClellin, OLB, Boise State
DraftAce.com: Whitney Mercilus, DE, Illinois
Don Banks, SI.com: Coby Fleener, TE, Stanford
TheFootballExpert.com: Cordy Glenn, OT/G, Georgia
Mel Kiper Jr., ESPN: Bobby Massie, OT, Ole Miss
Mike Maycock, NFL.com: Jonathan Martin, OT, Stanford
Todd McShay, ESPN: Coby Fleener, TE, Stanford
Shutdown Corner/Yahoo: Mohamed Sanu, WR, Rutgers
WalterFootball.com: Jonathan Martin, OT, Stanford
Two Stanford guys show up in the mock drafts we looked at: Coby Fleener, the draft's best tight end prospect, and his teammate, offensive tackle Jonathan Martin, who did a pretty damn good job blocking for Andrew Luck and, if drafted, would hopefully do the same for Eli Manning. There isn't really a consensus as to who the Giants will pick, but many of the draft experts feel the Giants should try to strengthen their offensive line by picking up an offensive tackle. The Giants' first-round pick after their Super Bowl XLII victory was Kenny Phillips, so if the team can find another player like him, it will have been a great first round.