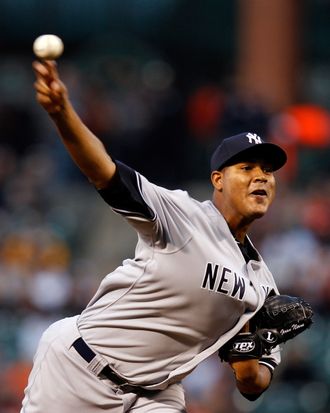 You guys, that 0-3 Yankees start was worse than we thought: It had been so long since they won a game that counted that John Sterling seems to have forgotten his trademark, over-the-top "thuuuhhhh Yankees win" call. Maybe we should have panicked after all! In all seriousness, though, the Yankees picked up their first win of the season last night, and though that was bound to happen sooner or later, sooner is better than later. After last night's games, just two teams remain winless: the Twins and the Braves. Sucks to be them.
The 6-2 win played out more or less the way the Yankees hope many of their games against Baltimore will play out: They scored first, never trailed, and after the fourth inning, never led by fewer than three runs. Derek Jeter — who's gotten off to a good start this season — went four-for-four, and the Yankees scored four times off O's starter Brian Matusz in his four innings of work. (If you're keeping track, that makes Matusz's ERA 9.00 through one game, which is actually more than a run and a half lower than his ERA in twelve starts last season.) Perhaps the most encouraging sign last night was Ivan Nova's strong outing. For what it's worth, Nova didn't have an especially good spring, but last night he threw seven innings of two-run ball, striking out seven and walking none.
Something worth keeping an eye on as this series continues: After the game, Russell Martin could be seen jawing with Baltimore's Robert Andino as the Yankees shook hands to celebrate the win. (Martin reportedly believed that Andino was trying to steal signs.) The Yankees will go for win No. 2 tonight in the second game of this three-game set. Freddy Garcia gets the start for the Yankees, while Wei-Yin Chen makes his big-league debut for Baltimore.