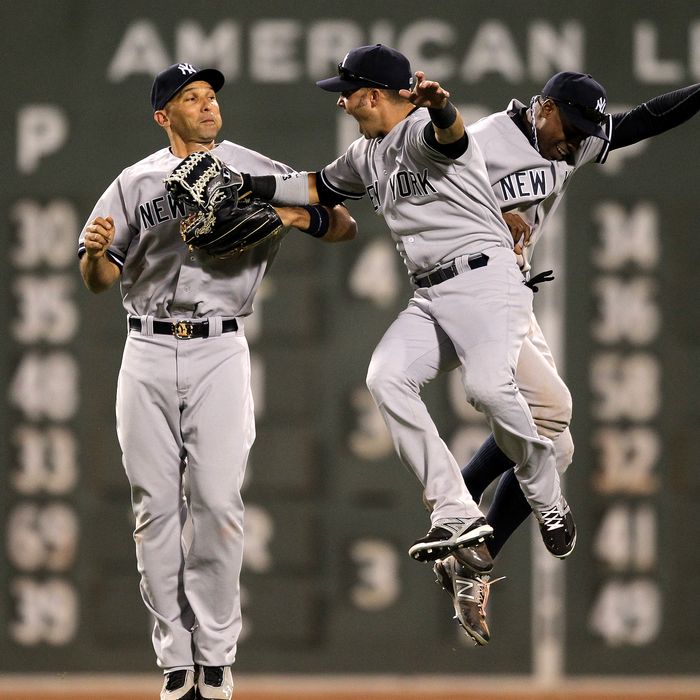 The Red Sox held a pretty impressive celebration over the weekend. This season marks a full 100 years since the Sox played their first game at Fenway Park, and Boston celebrated the incredible milestone by welcoming in as much history as possible. On Friday, Boston invited every individual to ever wear the Red Sox uniform to the event, and they ended up with around 200 men on the field (no, not Roger Clemens) for the pregame ceremony. Then those 200-odd former Red Sox and the 40,000 other folks in the building were held captive as the Yankees ruined their celebration. Ivan Nova was solid as usual, Alex Rodriguez cracked an early RBI single and passed Ken Griffey Jr. on the career leaderboard with a home run, and in the afternoon's most irreverent turn, Eric Chavez launched two(!) home runs off poor Clay Buchholz. Eric Chavez! New York won 6-2. That is some truly inspired party-crashing.
And the trend of insolent homering continued into Saturday. Freddy Garcia got soundly dominated by the Sox, and the bull pen (well, mostly David Phelps) wasn't quite as invincible as usual. New York's comeback from a 9-0 sixth-inning deficit was as rude as they come, including Mark Teixeira and Nick Swisher just slapping hits wherever they pleased and an absurd eighth inning in which New York gleefully piled on runs after already having pulled ahead. I believe the kids on the World Wide Web call that "trolling."
And then yesterday, when the Sox had their chance to end the weekend on a high note, it poured. A centennial weekend that includes an Eric Chavez home run bonanza, fourteen runs in two comeback innings, and a rain-induced cancellation is about as thorough a party-crashing as you can find. Sure, New York's starting pitching has been troublesome (Garcia's next start might get skipped), and sure, it's a long season full of ups and downs, but the Red Sox are in a bad way right now, and it was some truly sadistic fun to rub it in during what was supposed to be a celebration.