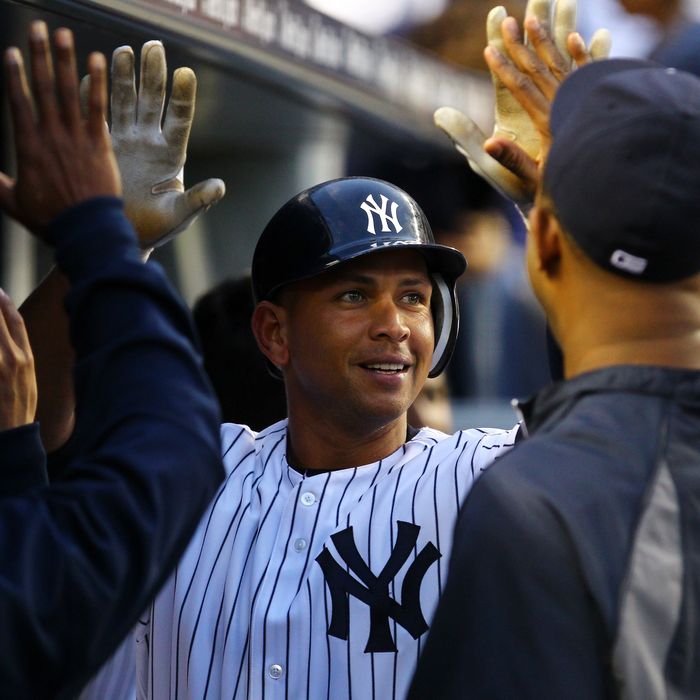 Alex Rodriguez, last night.
Alex Rodriguez is signed through the 2017 season, during which he'll turn 42. And so the recent wave of stories about A-Rod's struggles and what they mean for him and the team going forward is the sort of thing we'll be seeing more of at various times over the next half-decade. (These stories are already spanning an impressive range, from reasonable questions about his power to the unrealistic idea that A-Rod could walk away from the final $114 million of his contract to boost his legacy.)
We touched on the subject of an aging A-Rod before the season, and Will looked again at that contract of his around that same time. But earlier this week, there was a whole new crop of A-Rod stories, and every time he reminds us all that he's no longer the player he was in 2007 — which is to say, every time he reminds us that his contract will look worse and worse as we approach 2017 — the scrutiny will begin all over again.
But here's the welcome twist to this particular chapter of the A-Rod's-in-decline story: Before last night's game, he told reporters that he believed he was about to "go off," and then, after going 52 at-bats without a home run, he actually did, hitting two of them in an 8-3 over the Royals. Granted, they were off a pitcher, Not That Will Smith, making his major-league debut. (Smith's family probably wishes the YES cameras weren't trained on them while the rookie struggled in the first inning.) A-Rod won't suddenly become the 2007 version of himself now, but if a good night against a rookie pitcher is what it takes for him to maybe get into a groove, then so be it.