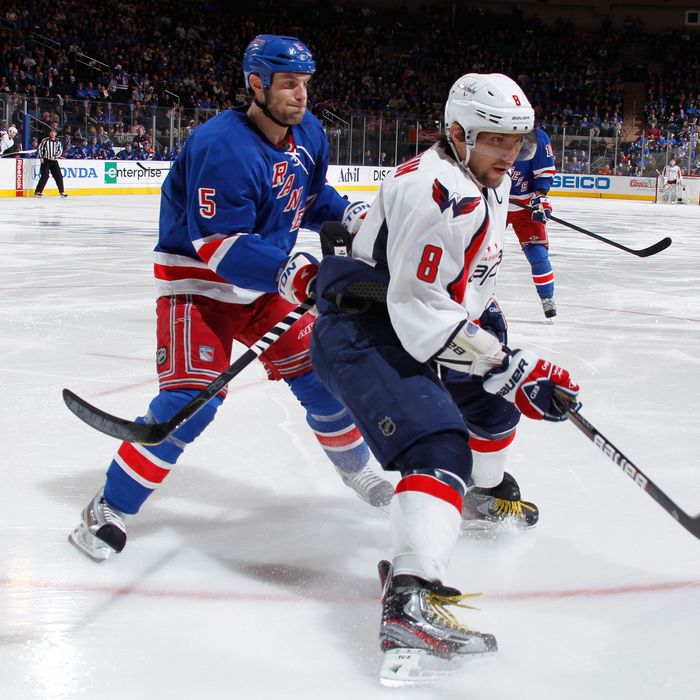 Dan Girardi and Alex Ovechkin.
Much has been made about how Capitals coach Dale Hunter has been using franchise player Alexander Ovechkin in these playoffs, cutting down on his ice time and keeping him on the bench late in games when Washington has a lead to protect. Indeed, in Game 2 of the series on Monday night, he logged just 13:36 of ice time, his lowest total of the season, and the lowest total of his career for a game in which he wasn't injured or ejected.
Ovechkin's playing time might have also had an effect on how the Rangers used Dan Girardi, the shutdown defenseman charged with containing No. 8. Girardi averaged 26:14 of ice time this year, second most in the NHL, but in Game 2 against the Capitals on Monday, he got 20:35 of ice time — less than three other Rangers defensemen.
John Tortorella hasn't been in an especially chatty mood lately, so reporters had a better chance of getting him to reveal his ATM pin code the other night than getting him to talk at any length about how he used Girardi. He said only that "when you're trailing and trying to get back in it offensively, you use other guys in certain situations." But no less than Girardi himself thinks the desire to match him up with Ovechkin played a part in his Game 2 ice time. "I think that's a good explanation," Girardi said, via the Times. "He didn't play a lot, but I think that's the matchup we're trying to get, and that's just how it worked out."
The Rangers won't have last change in Games 3 and 4 at the Verizon Center, so it won't be quite as easy to match up lines. It's also possible that Hunter could use Ovechkin on the left wing to keep him away from Girardi. (He's expected to begin tonight's game on a line with Nicklas Backstrom and Marcus Johansson.) But even if his ice time is cut back, Ovechkin is still a dangerous offensive weapon; it's why Tortorella wants to match lines in the first place.
In Game 1, Ovechkin registered just one shot on goal; though, for what it's worth, he said he had more time and space to operate than he did in the first round against Boston. But in Game 2, despite the limited minutes, he took a game-high seven shots on goal and scored the game-winner on a seeing-eye shot in the third period.
The Capitals have committed to a more defensive style of play, and Hunter has proven he has no qualms about keeping his franchise player on the bench if he believes the situation calls for it. (Recall that his third-period goal in Game 2 came not just with the game tied, but with Washington on the power play. Ovie's definitely going to see the ice in a situation like that.) They're willing to play a similar style as the Rangers, though Tortorella's team grinds away as well as anyone in the league. (It's why we think the Rangers will eventually win this series. Well, that and their more reliable goaltender.) Still, no matter the system that Washington plays, containing Ovechkin when he does see the ice will go a long way in this series.