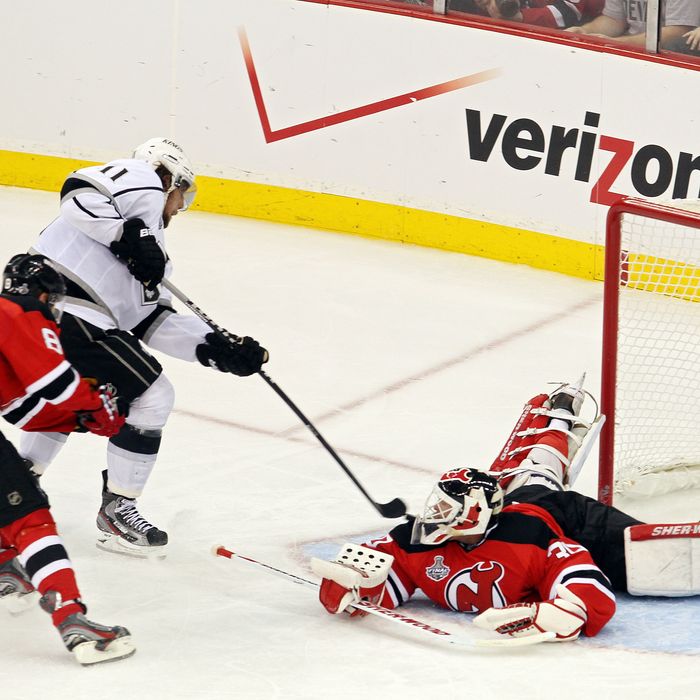 Anze Kopitar's game-winning goal.
One hopes that this is the closest we'll ever come to a shootout impacting a Stanley Cup Final game: When Justin Williams sprung Anže Kopitar for a breakaway during overtime of last night's Game 1 of the Stanley Cup Final, Kopitar remembered back to a shootout against Brodeur in November of 2006, when he beat the Devils goalie by going to his backhand. And so, last night, thinking Brodeur might be expecting the same move, Kopitar went to his forehand, and it worked. Those mind games — and the pretty goal they resulted in — gave the Kings their ninth road win in nine tries in this postseason and a 1-0 series lead over New Jersey. Said Kopitar after the game: "I think maybe he thought I was going to do it again … I just wanted to change it up a little bit."
Here's Kopitar's goal, and it's worth watching again just to get a sense of how little time he had to think back to that shootout move:
These teams haven't played since October, so it's possible we might see more snarl as this series progresses. Things weren't totally civil, though: Jonathan Quick, for instance, got a rise out of the crowd when he held down Zach Parise and knocked his helmet off towards the end of the second period. The Devils would score shortly thereafter, but it was the only goal they'd score on the night, and it was a fluky one to boot. Quick had a comparable regular season to Henrik Lundqvist, whom the Devils eventually got to during the Eastern Conference Finals, but Quick's been hotter in this postseason, and so has his team. The Kings, the eighth seed out of the West, are now 13-2 in these playoffs; by comparison, the Devils (who've had a pretty damn good postseason themselves) lost more games in the first round than the Kings have lost in the entire playoffs.
The Kings gave New Jersey a taste of their own medicine in this game: The Devils have gotten some well-deserved praise for their offensive depth in these playoffs, but last night, it was Kings fourth-liner Colin Fraser who opened the scoring. And unlike the critical Games 5 and 6 of the Conference Finals, this time the Devils fell behind in the first period, tied the score, but ultimately lost.
Patrick Elias said after the game that his team didn't deserve to win, but the Devils are also no stranger to falling behind in a series. Solving Quick and beating the red-hot Kings, though, is their toughest task yet. Game 2 is Saturday night.