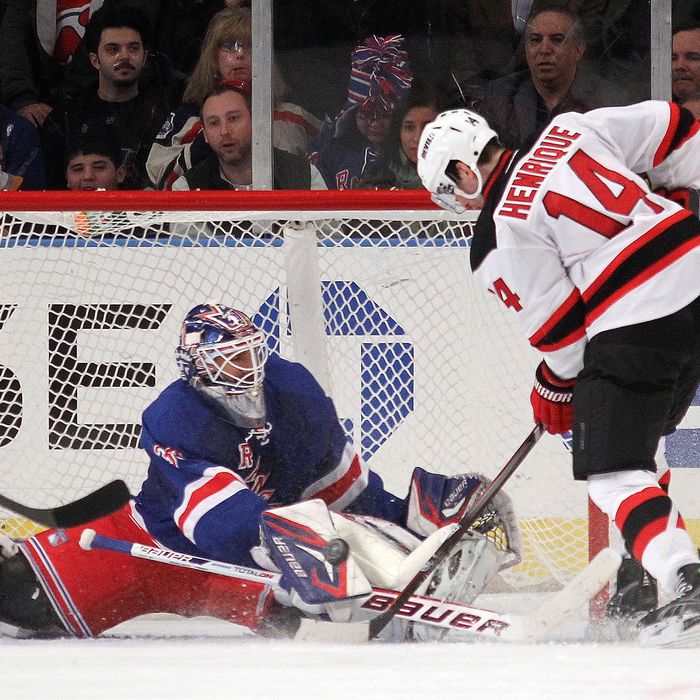 Henrik Lundqvist and Adam Henrique.
How you feel about the Rangers-Devils Eastern Conference Finals depends, to some degree, on whether you look at the season as a whole or give extra weight to the past couple of weeks. If you're in the latter camp, you can come up with plenty of reasons to pick the Devils: New Jersey knocked out the Flyers in just five games, right after Philadelphia eliminated the mighty Penguins. The Rangers, meanwhile, had to fight until the final buzzer of Game 7 to finish off the Capitals. The Devils are rested right now; the Rangers are not. The Devils can roll four forward lines, and three Rangers' defensemen are first, second, and third, respectively, in total postseason ice time. (Such is life when you play two seven-game series, especially when one of those games goes into triple-overtime.) The Devils are averaging three goals a game in the playoffs; the Rangers have averaged just 2.07.
Of course, not many folks were picking the Devils to advance to the Finals even as recently as the conclusion of the first round, when the Devils had their hands full with a Florida team that won fewer than half of its games this year. So, do you give the nod to the Devils, a team that seems to be getting better as the postseason progresses, or the Rangers, a team that's steadily been doing just enough to advance? We think, in this case, the Rangers have the edge here: As much as we can look back on the Washington series and wonder how things might have turned out differently if just a couple of pucks traveled a quarter-inch in a different direction — the times the Caps hit iron during the triple-overtime game, or even Brad Richards's game-tying goal in Game 5 — the Rangers have been doing this sort of thing all year. To repeat one of John Tortorella's favorite phrases: They've found ways to win.
Yes, the Devils have been scoring lately, but the Rangers present a real defensive challenge. New Jersey will also be facing, by far, the best goalie they've seen in the playoffs in Henrik Lundqvist. The goaltending matchup in this series is a fascinating one: Lundqvist trying to get to his first Stanley Cup Finals, versus Martin Brodeur, perhaps the greatest goalie of all time, trying to get back to the Finals against the rival team that ended his run in the conference finals during his Calder Trophy season of 1994. But right now — this season, and in these playoffs — Lundqvist is the better goalie.
The Devils did a great job with their forecheck against Philadelphia and have showed they can spread out their scoring. But we'll note that the Rangers scored more goals than New Jersey did during the regular season (albeit, by a slim 222-216 margin). The Rangers can make scoring seem so difficult sometimes, but perhaps without the Capitals clogging up their shooting lanes, they'll get a few more opportunities than they have over the past couple of weeks. We also suspect Brad Richards isn't done scoring big goals in these playoffs.
We've been saying for months that a Rangers-Devils playoff series would make for some great hockey, even if it's a potentially scary matchup for the Rangers. Indeed, each team won three times in head-to-head play this year, with the Rangers earning one more point in those games because one of their losses came in a shootout. (Martin Biron, by the way, started that game for the Rangers.) There's also some legitimate bad blood between these teams. Who can forget the line brawl that kicked off their March 19 meeting — or the war or words between the head coaches that followed it? Of course, if things get chippy, the Rangers should be prepared, having already played in and won a nasty series against Ottawa.
History isn't really on the Rangers' side now: As has been pointed out numerous times over the past week or so, no team has ever won a Stanley Cup after playing fourteen games through the first two rounds. And as for this round, the Devils are plenty rested. But John Tortorella has long stressed conditioning, so we don't think any of this necessarily means the Rangers will sputter out due to exhaustion during this series.
Here's the thing with the Rangers: Their success seems to hinge on how close to their ideal game they're able to play. They're not a team that's going to make especially big adjustments during the course of a series (outside of Tortorella's shuffling of lines, if you consider that a big adjustment). They'll live and die trying to play Tortorella's system to perfection. They've won when they've done so, or they've at least come close. When they've lost, the response has been to continue trying to play their game, rather than try something more drastic. It's a system that's worked for them all year, and it's one that has gotten them into the Eastern Conference Finals for the first time in fifteen years. The Devils looked damn good against Philadelphia, but don't discount what the Rangers have done in these playoffs just because they've had to fight like hell to get where they are now. And so, with two teams that we've long thought were evenly matched, we're choosing to look at the big picture here and give the Rangers an ever-so-slight edge in what we expect will be another long series. The puck drops in Game 1 tonight at 8 p.m.