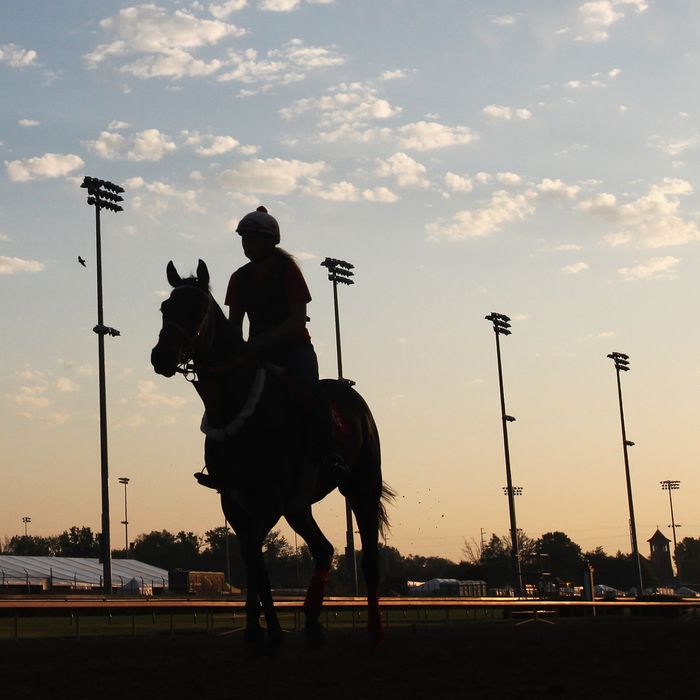 Horses train on the track in preparation for the 138th Kentucky Derby.
The Kentucky Derby gets better television ratings than it deserves, thanks to women. About 14.5 million people watched the race in 2011, and 51 percent of them were women. The Derby is "the only annual sporting event that draws more female than male viewers," NBC Sports crowed last year.
Women watched the Derby for the same two reasons as men: Outdoor. Drinking. Few people of either gender care about the race, but most like to dress up in bright colors and drink outside in early May. Derby Day is a social event; the horses are an afterthought. And never more so than this year, when we'd prefer not to think of the horses at all because that requires confronting how repugnant this sport can be when you doff the hats and go easy on the juleps.

A prime time show about horse racing called Luck aired in 2011-12, until too many horses (three) died during production and HBO euthanized its public relations problem. Then the Times ran a damning investigative series about racing culture and horse fatalities. And in an interview this week, Governor Andrew Cuomo deemed reforming the New York Racing Authority a legislative priority.

The conversations people have now about horse racing sound a lot like the ones about another brutal sport gaining publicity for wrecking its athletes: professional football. We are quick to decry horse racing as systemic abuse of helpless animals practiced by seedy degenerates. Football has more dignity — and thus, more shame — because the athletes being hurt, or hurting themselves, are human beings. Yet fans of both are complicit.

We watch sports, as Jim McKay taught us, to experience "the thrill of victory, and the agony of defeat." This week, it just feels like agony.

But that won't stop millions of people from watching football come August, and it won't stop people from wagering on the Derby. The Triple Crown, we tell ourselves, is classier than whatever shadiness goes down at your local racino.

So, who among the twenty three-year-olds will run the fastest mile at Churchill Downs on Saturday? Union Rags is the favorite right now, with lousy 9:2 odds. If you want to make a little money, select a couple midfield horses to place or show. Creative Cause and I'll Have Another, both at 12:1, performed well in two recent races a little longer than the Derby's one mile. If you prefer cheering for humans, put some money on Calvin Borel atop Take Charge Indy at 15:1 odds. The weepy Cajun is a skilled jockey and a marvel to watch.