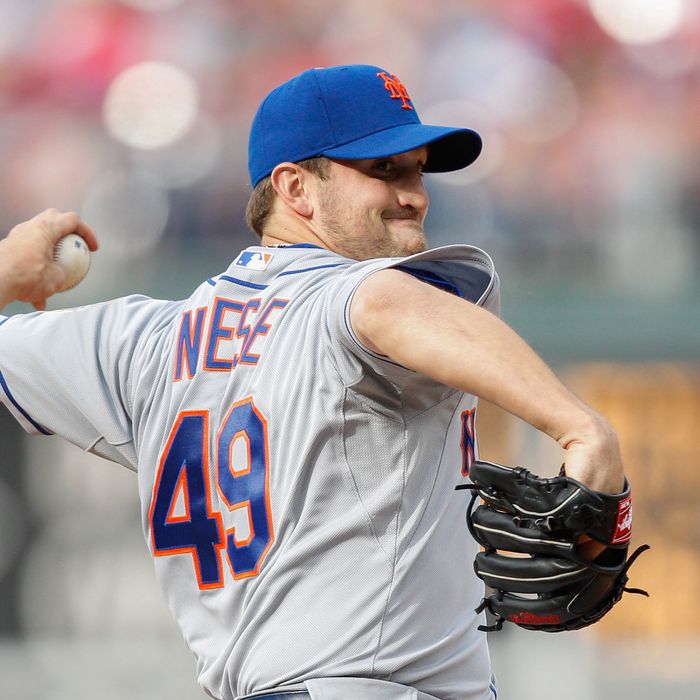 The last time the Mets were in first place was May 29, 2009, following a 7-3 win over the then–Florida Marlins. Omir Santos homered; Gary Sheffield stole a base; Santos knocked in Sheffield with a walk-off single in the eleventh. This weekend, against an entirely different Marlins team, with a different name and a different stadium, they can get there again.
Currently, the Mets are in third place in the National League East, one game behind the first-place Nationals and a half-game behind the second-place Braves. (The Marlins are two games behind them, and the Phillies, gloriously, are in last place and in danger of falling apart.) Both the Nationals and Braves are on the road against quality NL Central teams this weekend (the Reds and Cardinals, respectively), so if the Mets can stay hot — they've won five in a row — they could make a real run this weekend.
We know it's early, but it's not that early. The Mets were supposed to be a joke this year, the obvious worst team in a vastly improved division, and they might still end up in last, if the Phillies can turn it around, if the Nationals can stay hot, if the Marlins can all finally start hitting. But you could argue that there are at least four teams in the National League who are already out of the pennant chase — and that's giving the benefit of the doubt to Colorado and Milwaukee — and the Mets are not one of them. The Mets have a better record than the Red Sox, the Phillies, the Reds, the Giants, the Diamondbacks, the Angels, the Tigers, and the Yankees. This might not be the case all year, so one should try to appreciate it now.
The Mets have their top starters going this weekend, too: Johan Santana, R.A. Dickey, and Jonathan Niese — no Miguel Batista in sight. (And while we're thinking about it: When's Matt Harvey gonna get here?) This could be a nice little shot this weekend. This time last year, the Mets were already seven and a half out. This is a lot more fun.