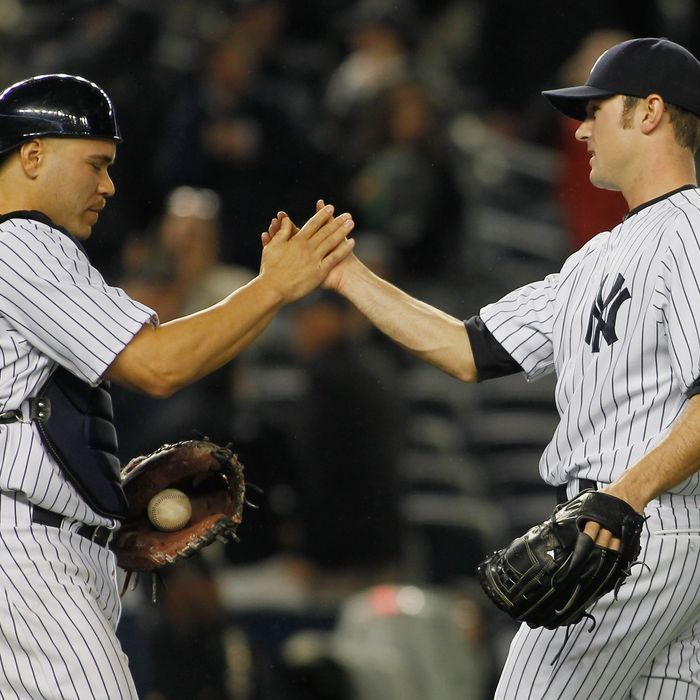 Russell Martin and David Robertson.
Going into last night's meeting with the Rays, the Yankees had played four games since Mariano Rivera hurt his knee in Kansas City, but they hadn't yet found themselves in a save situation. (They lost two of the games and won the other two by four and six runs, respectively.) But last night, with the Yankees ahead by two heading into the ninth inning, Joe Girardi called on David Robertson, formerly his eighth-inning guy, to pick up the save in Rivera's absence. And though he made fans sweat, he'd eventually close out the game and pick up his first save of the season.
Robertson has earned the nickname Houdini for how often he's escaped jams, and last night, he escaped from a doozy that he created for himself: After getting the lead-off batter to ground out, Robertson walked Will Rhymes, allowed a Sean Rodriguez single, struck out Brandon Allen, and walked Ben Zobrist to load the bases.
Last year, Robertson faced nineteen batters with the bases loaded, and allowed just one hit, while striking out fourteen. And last night, he escaped trouble yet again, striking out Carlos Peña to end the game. Getting into these types of jams will eventually catch up to Robertson — it has to, right? — but better to work in and out of trouble than to flat-out blow the game. (Ideally, of course, not every outing will be so rocky.) Joe Girardi may not have anointed Robertson the permanent closer until Rivera returns, but it's no surprise that Robertson got the first crack at pitching the ninth. It's his job to lose, and so far, he's one-for-one.