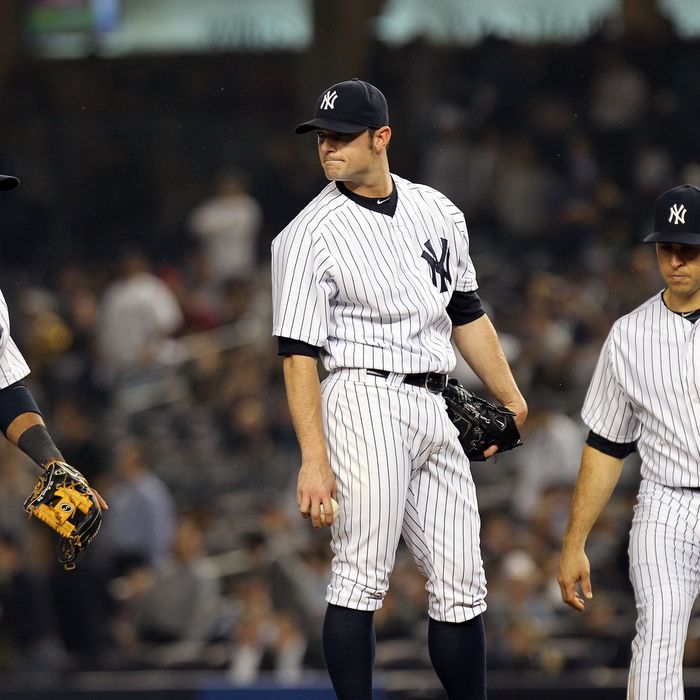 David Robertson, last night.
Two nights ago, in his first save opportunity since Mariano Rivera was injured, David Robertson worked into and out of trouble against the Rays, loading the bases in the ninth but getting Carlos Peña on a strikeout to end the game. Robertson had earned the nickname Houdini for pitching out of jams like this, but eventually, getting into such situations will catch up to even the most skilled escape artist. And so, last night, after once again loading the bases — this time while protecting a one-run lead — Robertson allowed a sac fly to B.J. Upton to tie the score (and officially blow the save), then allowed a three-run homer to Matt Joyce that put the Rays on top, 4-1.
After Robertson struggled in the ninth last night, it was pointed out that Mariano Rivera actually blew three of his first six save opportunities when he became the Yankees' regular closer in 1997 after serving as John Wetteland's set-up man the year before. And we'll admit, it crossed our mind last night that, well, these things are going to happen to a closer — even the great Rivera blew a save this year to these very same Rays. But that line of thinking isn't fair to Robertson.
It's not malicious: If anything, facts like that should be reassuring to fans who worry about what life will be like in a Rivera-less 2012, or, looking further ahead, in a future after Rivera has called it quits for good, whenever that may be. But there's an underlying suggestion that, if even Rivera has struggled at times, especially early in his career, Robertson could still follow in his footsteps. Indeed, Robertson should be allowed to find his way, and that will involve hiccups like last night's. Maybe it will involve a few outings like last night's; perhaps there will be many. But we suspect this won't be the last time Robertson is compared to the man he's filling in for, and it's unfair to Robertson to compare what he is doing to what Rivera has done. Some of that's inevitable for a Yankees pitcher trying to close out games in Rivera's absence: We've felt bad for the guy who'd go on to replace Rivera long before we knew who that would be. And it's true that all closers have the same job on a given night: They either succeed or they fail, and they do so with the spotlight focused on them. But thinking of Robertson in terms of Rivera's career is to hold him up to a virtually impossible standard.
Here's Joe Girardi's comments about Robertson after the game, via the LoHud Yankees Blog:
"I'll see how he reacts," Joe Girardi said. "Take a look at his eyes (today), at his face, and make an evaluation of what I have to do. Being the closer is a little bit like being that kicker with two seconds to go and you've got a 45-yard field goal. You either make it and you're the hero or you've got to find a way to bounce back. The great ones find a way to bounce back."
He doesn't explicitly mention Rivera by name, but that last line caught our attention. It's way too soon to try and determine whether Robertson is going to be one of the great ones. He's barely one of the ones at this point. (Girardi, after all, hasn't officially named him the full-time closer, though he's obviously being given first crack at the ninth inning.) Last night, we learned that Robertson isn't always going to be Houdini on the mound. But we also need to remember that he shouldn't be expected to be Mariano Rivera, either.