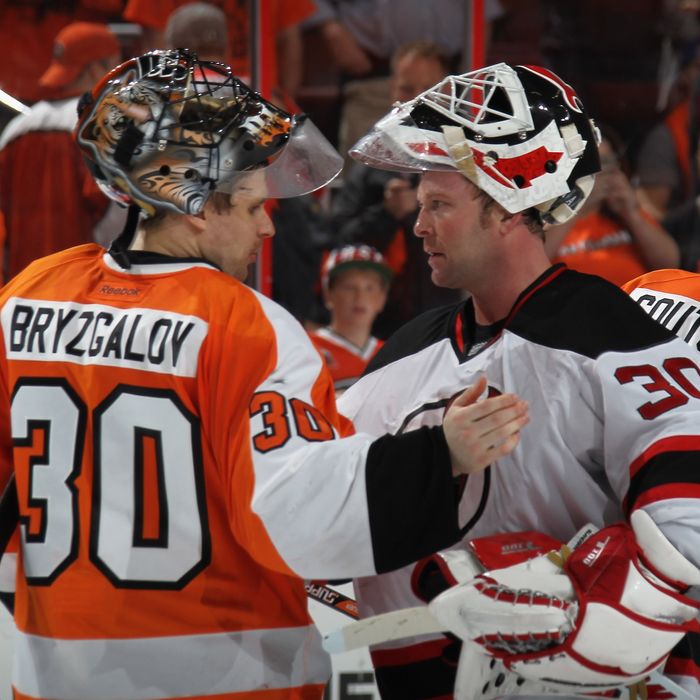 Ilya Bryzgalov and Martin Brodeur.
So, how about those Devils? Last night, they beat the Flyers 3-1 to finish off Philadelphia in five games and advance to the Eastern Conference Finals for the first time since 2003, and for the the seventh time in franchise history. After losing Game 1 in Philadelphia, a disciplined New Jersey team ran off four-straight victories over the Flyers, and they now await the winner of the Rangers-Capitals conference semifinal.
Here, by the way, are the Bovada wagering odds to win the Stanley Cup from before the playoffs began. We've bolded the five teams that are still alive:
Pittsburgh Penguins 4/1
New York Rangers 11/2
Vancouver Canucks 11/2
St. Louis Blues 15/2
Boston Bruins 8/1
Detroit Red Wings 12/1
Nashville Predators 14/1
Philadelphia Flyers 14/1
Chicago Blackhawks 16/1
San Jose Sharks 18/1
Los Angeles Kings 20/1
New Jersey Devils 25/1
Washington Capitals 30/1
Florida Panthers 35/1
Ottawa Senators 40/1
Phoenix Coyotes 40/1
Only the Rangers had better than 20/1 odds, whereas four of the six longest shots are still playing. (Of course, either the Rangers or the Capitals — the fourth longest shot — will be eliminated by the end of Saturday, at the latest.)
As for the Devils, they've impressed over the past week. We said months ago that we thought they'd be a tough playoff matchup for the Rangers, and they've indeed been strong in the postseason so far. After drawing a favorable first-round matchup against Florida (the winner of a weak division and a team with fewer regular-season points than the Devils), they took control of their series against a Flyers team that had just knocked off the popular Stanley Cup–favorite Penguins a round earlier. Here, by the way, is the game-winning goal from last night's series clincher:
In Bryzgalov-ese, that's what's known as a humangous big mistake.
The Devils, meanwhile, could know their third-round opponent as soon as tonight, when the Rangers try and finish off the Capitals in Washington.