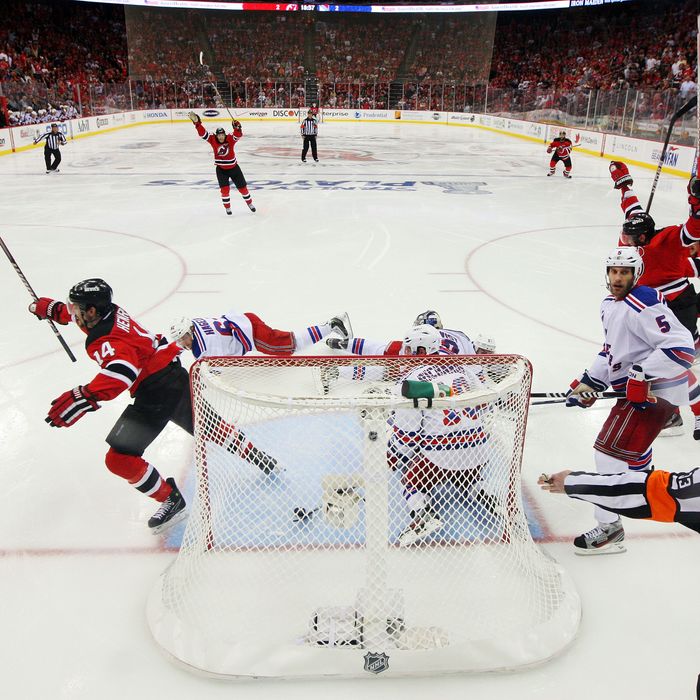 Adam Henrique celebrates his series-winning goal.
The Devils deserved this. They were the better team in this series — sometimes by a large margin — and they earned the right to represent the Eastern Conference in the Stanley Cup Finals. We watched this Rangers team earn the conference's top playoff seed, then fight like hell to get past the postseason's first two rounds, but they met their match in the Eastern Conference Finals. Tonight's Game 6 looked for a while like it might turn into a blowout, but it ultimately became yet another stressful game, regardless of which team you root for. And so a contest that was tied through two periods remained tied through three, as if 60 minutes of this wasn't agonizing enough, particularly if you were pulling for the team that had been pushed to the brink of elimination on Wednesday night. We suppose, from a Rangers-fan point of view, if the Devils had to win this game with a sudden-death goal, better they do it right away, rather than prolonging things for an overtime or two. But there's no painless way to lose a game like this, or a series like this.
During the second period of tonight's game, the NBC Sports Network showed highlights of Mark Messier's hat trick from Game 6 at the Meadowlands against the Devils in the 1994 Eastern Conference Finals. Earlier in the period, the Rangers tied the score after falling behind 2-0, which, of course, is what they did in that Game 6, before Messier scored his second and third goals to force a Game 7. But no Ranger took over tonight's game the way Messier did that night, and it was Devils rookie Adam Henrique — who was just four years old in May of 1994 — who scored the game-winner tonight just 63 seconds into overtime to send his team to the Stanley Cup Finals. Game 1 between New Jersey and Los Angeles is Wednesday night in Newark.
The first period of tonight's Game 6 was an absolute disaster for the Rangers. The Devils had owned the first period throughout this series, and their start tonight was especially impressive. The Rangers looked like a team of 10-year-olds trying to compete with a team of 14-year-olds, and like in Game 5, this was reflected on the scoreboard. Ryan Carter's goal mid-way through the first period opened the scoring, and less than four minutes later, New Jersey would score a pretty power play goal in which all five skaters on the ice touched the puck before Ilya Kovalchuk banged it home. The score was 2-0 at this point, and looked like it was on its way to being 12-0. The end of the first period couldn't have come any sooner for the Rangers.
And then, as if they hadn't just been dominated for twenty minutes, the Rangers pushed back, and the ice started to tilt in their favor. They'd get a goal from Ruslan Fedotenko at 9:47 to cut the New Jersey lead in half and allow Rangers fans to wonder if they might be able to save their season yet. Then, with 6:19 remaining in the second, Dan Girardi's shot deflected off Ryan Callahan and into the goal, tying the game at two.
The Rangers' chances continued into the third, but Martin Brodeur shut them down following Callahan's goal, stacking his pads to rob Brad Richards on a Rangers power play, for instance, or poke-checking the puck away from Artem Anisimov on a partial breakaway minutes later. The Rangers lost this game, but it wasn't for lack of chances; they just couldn't convert on enough of them. The Rangers would apply a little pressure at the very start of overtime, but their season would end moments later, with Henrique scoring the series-winning goal on a scramble in front of the net.
You can blame fatigue if you'd like for the Rangers' performance at times in this series — they played twenty hard-fought playoff games since April 12 — but to place too much emphasis on that would be to take away from what the Devils did in this series. And when the Rangers pushed back in Games 5 and 6, New Jersey found a way to make a play and win. If they didn't regroup after the Rangers tied the score in Game 5, and then didn't regroup again in tonight's Game 6, it might be Rangers resting up for the Finals right now. But the Devils did regroup, and so it was Zach Parise, and not his Team U.S.A. teammate Ryan Callahan, posing with, but not touching, the Prince of Wales Trophy. The Rangers are a resilient bunch, but so are these Devils.
This hardly feels like the time to look back on the Rangers' season  — this loss stings too much right now — but one shouldn't forget that this year was a huge step forward for this still-maturing team. Even if they don't make any major off-season moves — like going after free-agent-to-be Parise — the Rangers should be a better team next year, if only because some of their younger players have another year (and a nice playoff run) under their belts. But this year's run is also a reminder of how damn hard it is to get even this far. (The Rangers, by the way, finished 10-10 in the playoffs.) This team's window of opportunity just recently opened — they weren't even supposed to go this far this year — but so many things can happen that could prevent a team from making a deep playoff run, this still feels like an opportunity wasted.