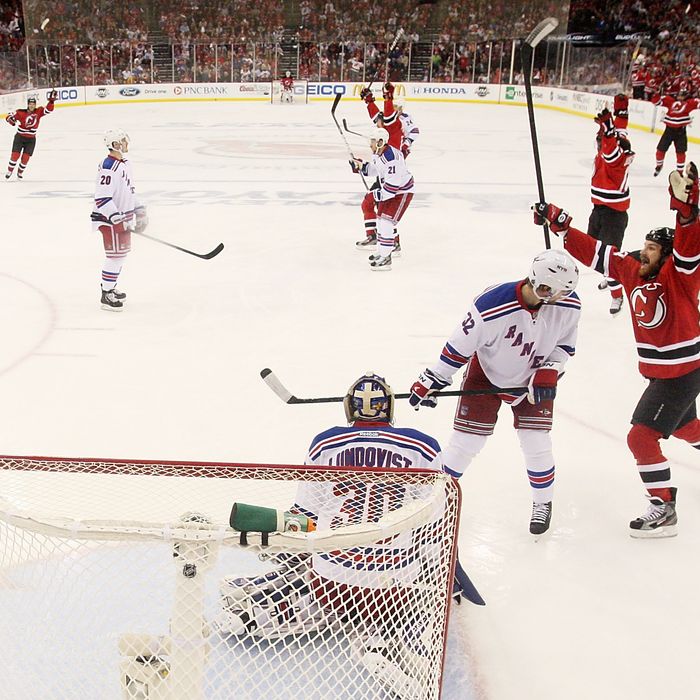 Travis Zajac celebrates in the first period of Game 4.
For a team that's accomplished as much as the Rangers have this year — 51 regular-season wins, and ten more so far in the postseason — it's rather stunning how they've struggled so much in these playoffs to win games when they're ahead in a series. Tonight's 4-1 loss in Newark makes the Rangers 0-7 in such situations, and this particular defeat, in which the Devils evened the Eastern Conference Finals at two, was especially ugly.
As they've made a habit of doing in this series, the Devils dominated the first period, but unlike Saturday afternoon, this time they had a couple goals to show for their effort. The first goal came on a Bryce Salvador seeing-eye shot from the point that found a hole through traffic and then through Henrik Lundqvist at 8:10 of the first period. Then, minutes later, Zach Parise blew right past Michael Del Zotto to set up a two-on-one that ended with a Travis Zajac goal and a 2-0 New Jersey lead. (Del Zotto had a pretty brutal night, and sat for a long stretch of the game.) New Jersey totally controlled the pace of the game in the first period, and at the moment the Rangers went on a power play with 1:40 remaining in the period, the Devils had two goals, while the Rangers had just three shots on net.
The Rangers showed some signs of life in the second, doing a better job of at least possessing the puck a bit, but Derek Stepan was whistled for a high-sticking penalty at 2:37 of the third, and the Devils would deliver the knock-out blow just four seconds into the power play, when an untouched Parise put home a rebound that Henrik Lundqvist probably wishes he could have controlled.
This was also the chippiest game so far in this series: Ryan McDonagh and Adam Henrique dropped the gloves halfway through the first period, and in the third, Mike Rupp earned himself a misconduct penalty for shoving Martin Brodeur (whose reaction, to be honest, seemed a tad embellished). That sequence, in which 38 minutes of penalties would be doled out, also saw John Tortorella and Peter DeBoer exchanging words from their respective benches. Considering the back-and-forths these two have had this season, including one in recent days following the Brandon Prust elbow in Game 3, it was only a matter of time before this sort of thing happened. (It must be noted that Tortorella answered questions in a perfectly professional manner during his post-game press conference, which lasted long enough that it didn't need to be timed with a stopwatch.)
There would be a parade of Rangers to the penalty box in the third, though they'd also score their only goal of the game in the period, when Ruslan Fedotenko beat Brodeur for his first of the playoffs at 14:55. The Devils, however, would get that goal back, when, after the Rangers applied some pressure with an extra attacker on the ice, Parise scored his second of the game into an empty net.
This Rangers team can really be exhausting to follow sometimes. After finishing Game 3 on a high note, they once again came out flat to start Game 4. You know the cliche of players taking things one game a time? The Rangers force their fans to proceed the same way, because they can't string together enough wins to give their supporters reason to look ahead prematurely. (The only time the Rangers have won consecutive games within a given series this year was in Games 6 and 7 against Ottawa.) With a 3-1 series lead, Rangers fans could have begun to dream of a Prince of Wales Trophy and the trip to Finals that would come with it. At 2-2, though, both players and fans alike must focus their attention on a critical Game 5.
We expected before the Conference Finals began that this would be a long series, and that meant games like tonight's, in which the Rangers struggled. This Rangers team has done a great job bouncing back from losses in these playoffs — they're 6-1 following a loss so far — but the Devils must be pleased with how they've played so far in this series, and especially with how they played tonight. There were times the Rangers had their hands full with Ottawa and Washington, but the Devils and their relentless forecheck have been giving the Rangers trouble for much of this series so far. We're down to a best-of-three between the Rangers and Devils, with a trip to the Stanley Cup Finals on the line. Game 5 is at Madison Square Garden on Wednesday night.