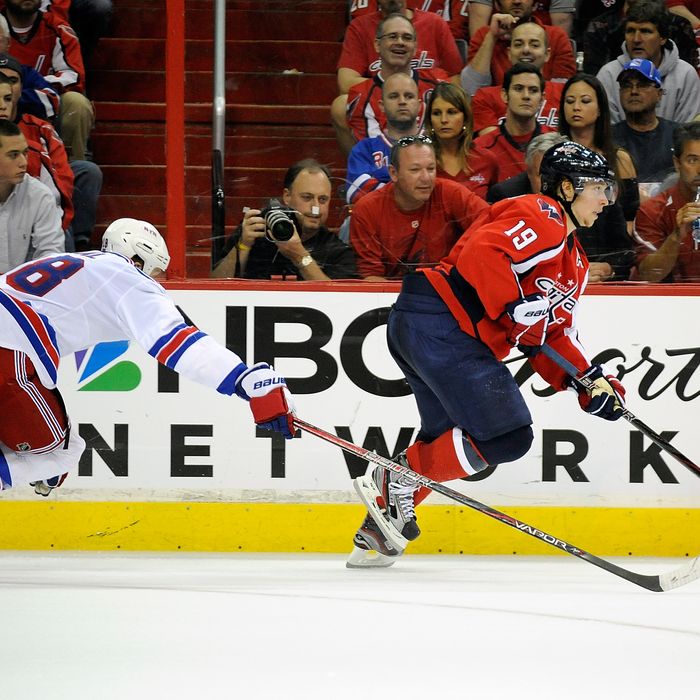 Marc Staal and Nicklas Backstrom.
Much has been made about how the Capitals have embraced a style of hockey not unlike the one the Rangers play — one that demands stingy defense, shot-blocking, and grinding play in the offense zone. The Rangers play this system as well as anyone in the league, but they play it, in part, out of necessity: It may be John Tortorella's preferred system, but it's also the right one for a team that's not deep with elite goal-scorers. (The Capitals have five players who've scored at least 30 goals in a season at least once; the Rangers have just one.)
For the Capitals, however, this type of system — instituted under Dale Hunter — is a departure from the fire wagon hockey of recent years, and it's intended to change the team's postseason fortunes. (Coming into this season, they'd won just two playoff series in the post-lockout era, both against the Rangers.) Of course, the personnel from those teams mostly remains in place, and that's why Saturday's game might have been a bit troubling to Rangers fans: The Capitals played mostly stellar defense and limited the Rangers chances, but they also saw some of the offensive threats who shined in the Bruce Boudreau era — Alex Ovechkin, Nicklas Backstrom, and Mike Green — score goals. (Alexander Semin, meanwhile, had four shots on goal, tied with Ovechkin for most on the team.) The Caps won that game 3-2, but the final score could have been more decisive if not for some terrific saves from Henrik Lundqvist. (Here's Lundqvist's brilliant stop of an Ovechkin deflection, and here he is stoning Backstrom one-on-one.)
On Saturday, we didn't see the Capitals focus on defense at the expense of offense. They made things difficult for a Rangers team that can struggle to score goals, but Washington's most dangerous weapons got some great opportunities to score themselves, and they capitalized on enough of those chances to win. Game 4 wasn't a total disaster for the Rangers: They regrouped after a rough first period to tie the game twice in the second. But, in that game, we saw flashes of what made the old Caps dangerous, as well as large helpings of what's made the new Capitals successful so far in these playoffs. (To repeat a stat from Saturday afternoon, the Caps blocked 27 shots to the Rangers' seven.) That's the worst-case scenario for a team facing these Capitals.
This isn't to say that the Capitals have figured it all out and will go on to cruise to a Stanley Cup victory. The Rangers can look at what went wrong in Game 4 and make adjustments for tonight's Game 5, and with the series shifting back to Madison Square Garden, they'll have last change, meaning they'll be able to get the line matchups they want. Momentum doesn't necessarily carry over from game to game, and we've seen the Rangers bounce back from a tough loss (like Game 5 against Ottawa) with a huge win (like in Game 6 of that series). The Rangers have done enough this season to suggest they can play better than they did on Saturday, and remember, for as much as Washington controlled stretches of Saturday's game, it remained tied until the latter part of the third period. One play can make all the difference in these games (which is why the inconsistent officiating can be so infuriating). The Rangers should have expected a (figurative) fight from the Capitals, and they're getting it. Tonight's their chance to punch back.