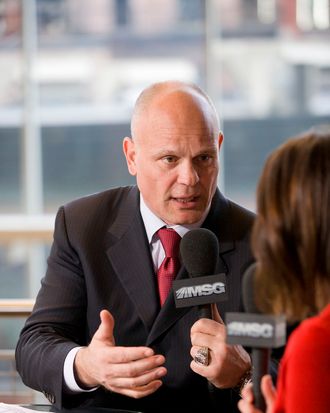 Ken Daneyko played every one of his 1,283 regular-season NHL games (and every one of his 175 NHL postseason games) with the Devils, and he's one of just three men whose number has been retired by the organization. Now an analyst with the MSG networks, Daneyko will be part of postgame coverage simulcast on both MSG and MSG+ following each game of the Eastern Conference Finals. Daneyko spoke with The Sports Section about the Devils' playoff run so far.
There was a lot of talk after the Devils eliminated the Flyers that New Jersey's discipline was a big factor in the series victory. What were the other keys, not just to beating Philadelphia, but finishing them off in just five games, which not a lot of people would have expected?
Well, there's a lot of factors, but keeping the puck away from the Flyers — and the way they did that was to be able to establish a forecheck throughout the series. And I think that was one area where they thought they could exploit Philadelphia. I know everybody thought, going into this series, that the Flyers have this great offense, and they certainly did. But when you don't have the puck, it makes it more difficult, and I thought the Devils felt they could exploit their defense, and that's exactly what they did, by getting pucks in the corner — the Devils are one of the better cycling teams in the league — and they use their big bodies protecting it and spending a lot of time in the Flyers' end.
Even if they didn't score on a particular shift, if you're in there 30 or 40 seconds, that can really wear a team down, physically as well as mentally, and I think that's what they were able to accomplish against the Flyers. They scored some timely goals. They've always felt they've got some good offense. It's a little bit of a different Devils team than the past. They pressure the puck a lot more. They were able to exploit the D and certainly control the tempo and the play in the Flyers' end.
Is there one player in particular you think has been flying under the radar?
Well, I think there's a lot of guys, really. Their attitude's been great, they play like a team. But I would look at — obviously, who could have expected what Stephen Gionta has come in and done? Any time you can strike lightning in a bottle — he comes up late and has had an impact. So he's done a real good job obviously, and Bernier.
But you know you look at a guy like Dainius Zubrus — he's a veteran, he's a real pro, he's been in the league since 18, and he's scored some big goals. He's such a strong presence out there, and so he's another guy who I'd say has flown under the radar, but has really shown his mettle and his worth in these playoffs and done a great job. And you look at the defense — Bryce Salvador, Andy Greene, Mark Fayne — those three guys, in particular, have really been such a steady, calming influence and have played some big minutes and just been a real catalyst back there and just stabilized their D. So those are all guys, they all fly under the radar, but if you had to pick one, maybe Dainius Zubrus.
This could be Martin Brodeur's last playoff run, if he decides to retire. Do you get the sense that this might be his last go-round?
Obviously, at his age, 40 years old, there's not going to be too many cracks to win a championship. That's what it's all about for winners like Brodeur, who's won three times. And being the face of the franchise for so many years, he's having a lot of fun playing, and you can tell he's kind of like a general back there. He's not just a goaltender, but he is a leader. And he speaks from his experience. And he's really on top of his game right now, and he may play another year, we don't know that. He said he'd probably like to, that he's having so much fun, but I think he's just focused on this run here.
Do you think there's such a thing as having too much rest between series?
Well, I think, sometimes. It all depends how you use that time, and that's where the coaches come in, and the preparation — understanding when they need rest … This time of the year, there's a lot of bumps and bruises on every team that's still standing, and rest is never a bad thing. I think it came at a good time with Zidlicky and Volchenkov ailing a little bit. So, they'll be able to get some rest and get themselves prepared here for round three and the Eastern Conference Finals. But yeah, you have to stay focused. I mean, that is always a concern — no question about it. I think this time of year, especially with some of the bruises they got in Game 5, particularly to their defense — the rest will help.
The Devils played the Rangers well this season. What did they do right in those games?
Well, I just think the rivalry really got back to the level that it had back in the nineties. Obviously, the two teams have some dislike, and that's a good thing come playoff time. I just think they believed again. The Rangers have had their number in the last little while, except when the Devils beat them in the playoffs that one year in a sweep. But for the most part, in the regular season, overall, the Rangers had really had their way with the Devils, and this year they came in and they played with a competitive spirit, they believed they could beat them.
And they've always had trouble with Lundqvist; they've been able to score goals on him when needed to win some hockey games. So I think they needed to get that mental block out of the way, because for years there, they couldn't get more than one goal — or more than none — past him in most of their meetings. And all of a sudden this year, they were able to score a few goals. They were very evenly matched. This is probably the best Rangers team we've seen in a lot of years here. It'll be electric.