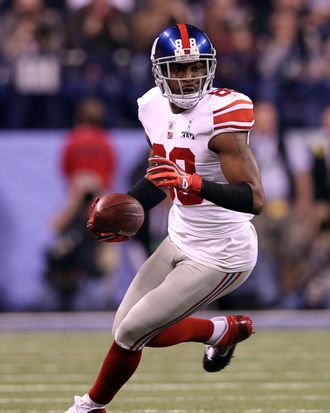 Hakeem Nicks, in Super Bowl XLVI.
If one is going to suffer an injury that requires months of rehab, it's probably best to do it as long before the season begins as possible. Which isn't to say that participating in a full training camp isn't beneficial, but the timing of Hakeem Nicks's fractured right foot, suffered yesterday during the Giants' second organized team activity of the season, could have been worse. More specifically, Nicks fractured the fifth metatarsal of his right foot, and the early estimate is that the recovery time will be approximately twelve weeks. Twelve weeks from today, by the way, is August 17, or the day before the Giants' second preseason game. But that recovery time isn't set in stone, and when asked whether Nicks would be ready for the regular-season opener on September 5, Tom Coughlin said yesterday that "it's probably going to be close."
The Times points to a study by Dr. Robert Anderson, the doctor who will perform Nicks's surgery and who the paper describes as "the go-to surgeon for N.F.L. players with complicated injuries, especially Lisfranc injuries, Achilles' tendon ruptures and fifth metatarsal fractures." And Anderson's findings indicate that a twelve-week recovery period is realistic, though not guaranteed. From the paper's Fifth Down blog:
Anderson's 2011 study looked at outcomes for elite athletes who required surgical revision of a poorly healed or re-fractured fifth metatarsal. While Nicks's injury does not fall into that more concerning group, he'll very likely be undergoing the same surgical procedure — screw fixation with bone grafting — and have a comparable rehabilitation schedule. Of the 21 athletes Anderson studied, 12 were football players. Nine of those twelve returned in 12 weeks or less; three returned within 15-16 weeks. Among all 21 athletes, 16 returned to their sport within 12 weeks. All returned to their previous level of competition.
That last line — the part about the injured athletes returning to their previous level of competition — might be the most encouraging news of all.