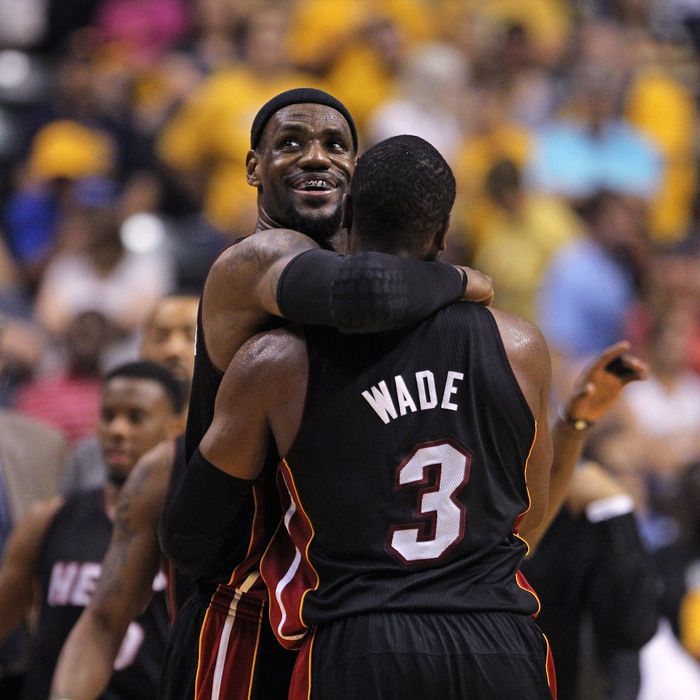 Aw, they're so happy. (Booo!!!)
It would have been easy to watch the Heat's second-half explosion against the Indiana Pacers yesterday, leading to a 101–93 Game Four victory that evened the series, and think that Miami is BACK. Certainly Dwyane Wade was; just days after one of the worst games of his career and a public (if not a big deal, not really) confrontation with his impish coach, he was the full Wade yesterday, scoring 30 points, grabbing nine rebounds, and dishing out six assists. In fact, Wade's day was so outstanding that the only thing that could have overshadowed it was something historic. LeBron James provided that. But is it going to be enough, eventually?
LeBron's afternoon was pretty staggering: His line was 40 points, 18 rebounds, nine assists. (He even blocked a couple of shots, just for good measure.) It was the type of performance that made you wonder if there were secretly two of him out there. No one is more fun to cheer against than LeBron James, both in spite of and because of performances like yesterday; his superhuman traits, his transcendent afternoons, make his rare human moments and failures seem much more frail and weak than they really are. Heck, put in that perspective, LeBron haters can actually enjoy when he has a great game. Just preparing him even more for a fall!
Yes, LeBron and Wade decisively coordinated and weaved their MVP-level performances yesterday and essentially beat the Pacers by themselves. It was really something to see … and it made us more certain than ever that there's just no way the Heat are winning the championship this season. (Which, of course, is the primary story line of this and every playoff for the next six years.) For Miami to beat the Indiana Pacers — a good team, sure, but hardly a team anyone has considered a serious title contender all season — they needed two of the best players in the NBA to play absolutely out of their minds. And even with that, they still needed Udonis Haslem, who was 2-for-11 in the series coming into the fourth quarter, to just start draining jumpers late.
Suffice it to say: Those events are unsustainable, in the short and the long term. It'll be difficult enough to pull that off again against the Pacers who, one reminds, were up by eight at halftime, before the LeBron-Wade blowup. The two of them, no matter how great they are, can't play like that every game, unless they are actual cyborgs. Which means the Pacers still have a puncher's chance in this series.
But even if they do play like that every game, the rest of the playoffs … man, have you see what the Spurs are doing in the Western Conference? San Antonio has won its last 18 games, and 29 of their last 31. And the Thunder have been nearly as dominant. Those are deep, versatile teams, basically like the Pacers but so, so much better. The Heat need their best two players to be monsters in every way … and even then, they still need some a dramatic amount of help. (Chris Bosh will have to play like a monster too, when/if he returns.) If your cheering goal the rest of this postseason is to make sure the Heat don't win — and we suspect it is — yesterday's Heat win probably should have made you almost as happy as a loss: This team just doesn't have the horses past the big two. Unless they somehow learn to fly. Hey, you gotta elevate your game in the playoffs.