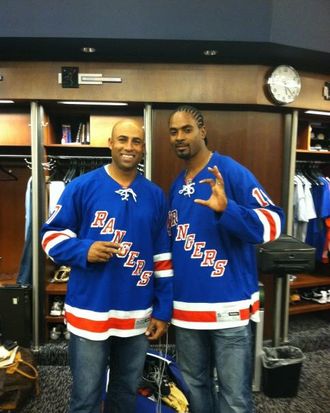 The Mets don't get to visit Canada often. They haven't paid the Blue Jays a visit for interleague play since 2006, when they took two of three against John Gibbons's men. That being the case, New York's trip over the border is regarded as a bit of an anthropological excursion. So, to appease the natives, the Mets took a page out of the 2010 Rays' book and approached Toronto in the dress of the natives, each wearing a traditional hockey sweater (which translates roughly to "hockey sweater") for the trip.
From the looks of things, every Met, and friend of the Mets, participated in the raiding of the NHL Store and the subsequent costume party. Some guys honored the local teams, some represented their home teams, and others just went for the zaniest jerseys they could find. There's a video (where you can see Terry Collins in his Pavel Datsyuk Red Wings jersey) and a Facebook album, and here's our attempt at a breakdown of which Mets wore what:
Wore Rangers jerseys:

Miguel Batista and Manny Acosta (Brandon Dubinsky and Brad Richards, it appears)
Jon Niese (Henrik Lundqvist)
Justin Turner (Michael Del Zotto)
Frank Francisco
Mike Baxter
Wore non-Rangers jerseys:
Dillon Gee: Dallas Stars
R.A. Dickey: Nashville Predators (personalized, but I wish it was Vitali Yachmenev)
Jason Bay: Hartford Whalers
Daniel Murphy: Tampa Bay Lightning
Andres Torres: New Jersey Devils
Kirk Nieuwenhuis: Colorado Avalanche
Mike Nickeas: Los Angeles Kings
Rob Johnson: Phoenix Coyotes
Ronny Cedeno: Pittsburgh Penguins
Johan Santana: Minnesota Wild (personalized)
Robert Carson: Detroit Red Wings
Jordany Valdespin: University of Connecticut?
Ramon Ramirez: Los Angeles Kings
Bobby Parnell: Carolina Hurricanes
Scott Hairston: Chicago Blackhawks
Tim Byrdak: Chicago Blackhawks (bonus points for full uniform)
Winners:
Jon Rauch: Syracuse Bulldogs (Ogie Ogilthorpe)
David Wright: Mighty Ducks (Greg Goldberg)
You can find more of broadcasters and writers and the like, but I think that covers all of the Mets themselves. (That could be found — a couple were unaccounted for.) Analyze!