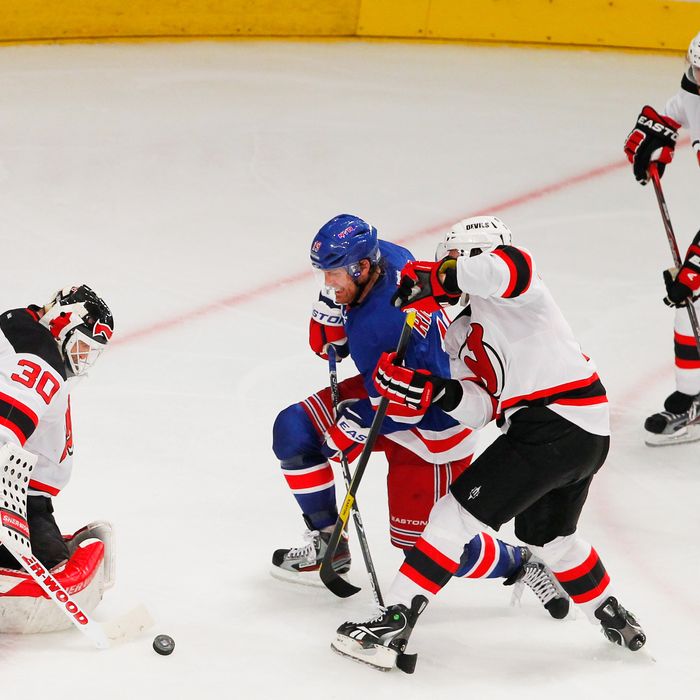 Is there a Ranger whose season will be evaluated based on his performance in the playoffs more than Brad Richards? He's capable of a bigger regular season than the one he turned in — it was only the third time since 2002-03 that he failed to reach 70 points — but he also tied for fifth in the league with nine game-winning goals. All told, not an All-Star worthy campaign, but good enough to avoid any significant backlash from fans. And anyway, if one was to assign Brad Richards a grade at the end of the regular season, it would have been an "Incomplete." The Rangers went hard after Richards on the free-agent market over the summer, and the line on his résumé that reads "Conn Smythe Winner" was a big reason why. It's in the playoffs when Richards can really earn that huge contract.
And so far this postseason, there have been many nights where he's been worth every penny: A two-point night in a must-win Game 6 against Ottawa, for instance, or the game-tying goal in the final seconds in Game 5 against Washington, or a huge goal early in Game 7 of that same series. But while he has three assists so far in the Eastern Conference Finals, he's yet to score a goal in the series, and he wasn't a big factor in a pivotal Game 5. (His contribution to the highlight reel was shooting a puck into Henrik Lundqvist when the score was 3-3 in what would have been a blooper for the ages had it gone in.)
Richards leads the the Rangers with six goals and fourteen points in this postseason. He's often been the playoff performer the Rangers hoped they'd signed back in July. And no matter what happens tonight, that goal against Braden Holtby as the clock ticked down in Game 5 will go down as one of the great post-lockout moments for this team. But the stakes are higher than ever now. An unspectacular outing in a Rangers loss would leave a sour taste in the mouths of Rangers fans as the off-season begins. But his performance in tonight's Game 6 is also an opportunity to add to his reputation as a clutch player.
Both the News and Post reference Mark Messier's hat trick in Game 6 of the 1994 Conference Finals on the back page today. Like we said yesterday, this sort of thing is inevitable. But the reason that performance earned a place in the pantheon of great New York sports moments isn't just because it was a player scoring a hat trick in a hugely important game, or even just because it was a player who'd guaranteed a win scoring a hat trick in a hugely important game. It's because the man who guaranteed that win and scored that hat trick was brought to New York to deliver a championship, and that performance kept the dream alive. Ryan Callahan is the leader of this Rangers team, no doubt about it, but Richards is the puzzle piece brought in from outside the organization to deliver in the clutch. And tonight, with his team facing elimination in the Eastern Conference Finals, he has his biggest stage as a Ranger yet.