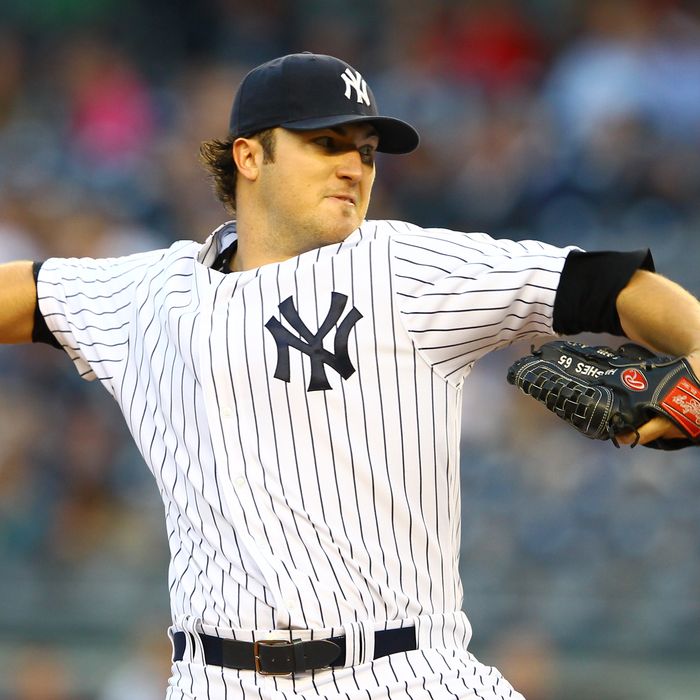 So, Phil Hughes's start last night — four earned runs and six strikeouts over five and two-thirds innings — was better than his previous few outings, but that's not to say it was especially good. Two of the four hits he allowed were homers, and throwing 100 pitches in fewer than six innings is hardly efficient. "I thought there was progress," said Joe Girardi after the game. "I really did." That's technically a compliment, though it says something about how far Hughes has fallen that such a game really could be considered progress.
If last night's start was a chance for Hughes to prove he deserved to hold on to a job in the rotation, it was an opportunity wasted. Once Andy Pettitte returns to the Yankees, one of the current starters will be bounced from the rotation. It could be David Phelps, who will make his first big-league start tomorrow night against the Royals. But if Phelps shows promise — and he has out of the bull pen this year — Hughes's starting job could be in jeopardy. During spring training, it appeared as if the Yankees would eventually have seven options for their rotation. But Garcia's been even worse than Hughes — he's already lost his spot in the rotation — and Michael Pineda will miss the entire season, which opens the door for Phelps to steal a starting job.
This isn't to say that Hughes is the only reason the Yankees lost last night: Eduardo Nunez has found a new position at which to make errors, and their last-gasp rally in the seventh ended with the bases left stranded when Alex Rodriguez popped out to end the inning. It's the first time Baltimore's beaten them in five tries this season — and the first time O's starter Brian Matusz has beaten anybody since last June. The rubber game of this series is tonight — Ivan Nova takes the ball for the Yankees — but it's Phelps's start tomorrow that could go a long way toward determining what the rotation looks like when Pettitte joins the team. It's a big night for Phelps, obviously, but it's a pretty big night for Hughes, as well.