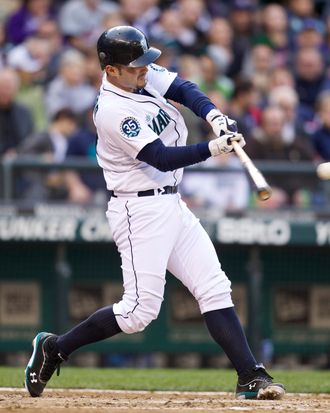 Michael Pineda, the promising young pitcher acquired by the Yankees during the winter, won't throw a pitch all season because of an injury. But with the Mariners in town this weekend to face the Yankees, this seemed like a good time to check in and see how Jesus Montero, one of the players the Yankees shipped away in the Pineda trade, is doing with his new club.
So far, Montero is batting .268 with four home runs and five doubles in 29 games. But he's only walked three times all season, which gives him a weak .282 on-base percentage. (By comparison, he batted .328 in eighteen regular-season games with the Yankees last September, with four home runs and four doubles. But he also walked seven times in 69 plate appearances with the Yankees in 2011 and, during his brief time with the big-league club, posted a terrific .328/.406/.590 slash line.)
Montero, whose ability to catch was questioned for as long as he was a member of the Yankees organization, is also getting some time behind home plate this year. He's appeared in twelve games a catcher, and in eighteen as the Mariners' designated hitter. (Those figures include Seattle's 3-2, twelve-inning loss to the Rays on April 30, when he started the game as the DH before moving behind the plate.) Manager Eric Wedge has been trying to ease him into catching duties: He's only been behind the plate in back-to-back games once all season.
So far, in 2012, Montero has been charged with three passed balls. (Only two American League catchers have more, even though Montero has caught just 100 innings). He's also thrown out just one of the eight runners that's tried to steal on him this year. (That's just a 12.5 percent rate, if you'd rather not break out a calculator.) The sample size is still pretty small here, but we'll point out that his offensive numbers have been better so far this year when he catches: He's got a 1.086 OPS in 47 plate appearances as a catcher and a .450 OPS in 70 plate appearances as a DH.
By the way, speaking of players the Yankees shipped to Seattle this winter, fans in the Bronx will also get a look at Hector Noesi this weekend, when he starts for the Mariners tomorrow afternoon.