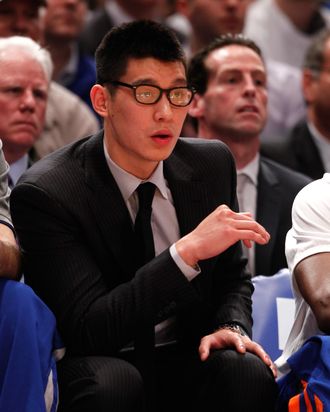 This should probably be Jeremy Lin's uniform for Game Five (well, not the glasses).
My esteemed colleague Mr. Leitch spilled some words this morning on the prospects of Jeremy Lin returning from a meniscus tear in time for Game 5 of the Knicks–Heat series in Miami. Mr. Leitch thinks the Knicks ought to be cautious, but not too cautious, with Lin heading into Wednesday. Allowing him to play through his rehabilitation invites some long-term risk, but what about the direly needed point guard skills, not to mention the inspirational presence, that Lin could offer right now? The future we intend to preserve by keeping Lin shelved is vague and distant. Another playoff run might not come, and if it does, there's some chance that Lin won't be around to lead it. The Heat series is now, and it is real, and Jeremy Lin is a member of the Knicks who is eligible to participate. Why waste a real opportunity in favor of an uncertain one?
While the image of Lin returning and stirring his team to another unlikely victory warms me so, I cannot abide by this. Here's why:
1. Lin and his knee probably aren't ready. Mr. Leitch admits that if Lin "physically cannot run and twist and turn, he shouldn't be out there." Well, having seen Lin practice and scrimmage a bit, coach Mike Woodson referred to Lin as "not in great shape" this morning. This, of course, was said about a guy who has yet to play full-speed, full-contact five-on-five with opportunities to do some "banging and cutting and moving and getting knocked on his ass" (you know, "basketball"). It's not impossible that Woodson could be downplaying Lin's readiness as a bit of gamesmanship, but third parties who've watched Lin practice agree that he's not there yet. A few days ago, Lin suggested that he wouldn't feel ready until he could "trust the knee and not think about it." We still have 48 hours to game time, so things could change, but as of right now, we've had no confirmation that Lin can play without worrying about his knee, nor that he can "run and twist and turn" much at all.
2. Lin might not even be helpful. I've heard several versions of the assertion that "half of Jeremy Lin is still better than Mike Bibby." This sounds true, but is it? Are we sure that a rusty, wary version of the player who shot 1-for-11 and surrendered eight turnovers against these same Heat has more to offer than even Mike Bibby? Even putting aside the risk of reinjury, does relying on a rehabilitating player with no playoff experience — one whose game is based on a quick first step and passing on the move — against one of the league's most aggressive, ballhandler-trappingest defenses sound like a winning game plan? Bibby's not going to explode out of the blue or generate any surname-based puns (I'm trying to think of one and cannot), but he'll make decent entry passes, he'll hit the occasional outside shot (he sunk two huge ones last night), and he won't wilt if trapped at the top of a pick-and-roll. Starting Bibby, then giving J.R. Smith and Carmelo Anthony some minutes as de facto point guards doesn't sound appealing, but neither does letting Lin find his sea legs in the choppiest of waters. Lin — and it pains me to say this because I adore him and regard his talent as highly as anybody does — might actually hurt the Knicks' chances of winning if he plays on uneasy legs and with little practice time and no opportunity to get acquainted to the pace of professional playoff basketball.
3. The inspiration factor is overrated … in Game 5. Even if he doesn't get to spin that much, it's easy to imagine Jeremy lifting the spirits of his team with just a few minutes of effort, a scene reminiscent of Willis Reed's surprise return in Game 7 of the 1970 Finals. There's a major difference, though (on top of all the obvious ones): That game was in New York. Game 5 on Wednesday is in Miami. While there will surely be Knicks fans (and grandparents of Knicks fans) in attendance, that chilling, uplifting swell of excitement from the crowd will be absent. If Lin makes his comeback, a few folks will cheer, a few others will boo, and most of the rest of 'em will go back to texting or whatever it is they were doing. If you're hoping for a big, dramatic return, then Game 5 isn't the right moment.
Just as Mr. Leitch qualified his argument, I'll qualify mine: If Jeremy gets to play some real, full-contact five-on-five in tomorrow's practice and all parties appraise him as being capable of not just playing but playing like Jeremy Lin in Game 5, then I say go for it. If not, then I don't see any reason for Lin to risk reinjury, nor any reason for the Knicks to risk their own (slim) chances by experimenting with a guy who has the potential to play counterproductive minutes an elimination game.
Of course, I haven't even addressed the best reason for the Knicks to keep Lin benched, because it's an inevitability I refuse to acknowledge in earnest. That inevitability, which I am repeating without actually considering (I swear): With or without Lin, the Knicks have little hope of winning Game 5, and even if they do, they have little hope of winning Games 6 and 7. It's kinda dumb for us to even be discussing this as if it makes a difference. That's what a sane person would say, but I'm not saying it. I'm not.
All that said, if the Knicks find a way to steal Game 5, Lin continues to make progress, and we find ourselves headed for a Game 6 on Friday back in New York in front of the Garden crowd …