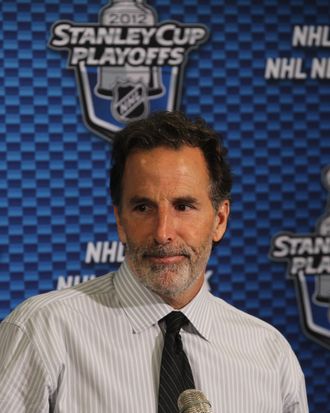 John Tortorella, earlier in the playoffs.
After the Rangers allowed the Devils to tie Game 2 of the Eastern Conference Finals late in the second period, Marian Gaborik found himself glued to the bench until more than midway through the third period. After the game, two different theories for the benching made it into game stories. The AP version, for instance, says that Gaborik sat because he stood straight up in front of Bryce Salvador's slapper on the play, rather than dropping down to block the shot. The Daily News, meanwhile, pointed to a Gaborik defensive-zone giveaway moments earlier. Gaborik seemed to think it was the latter but suggested reporters talk to John Tortorella. Which makes sense: Who better to explain why the Rangers' regular-season goals-leader was kept off the ice — at a time when the Rangers desperately needed offense — than the head coach responsible for the benching?
But Tortorella, as you surely know by now, wouldn't answer a question about Gaborik after the game and didn't offer reporters much else during that postgame press conference, saying more than once that he'd prefer to "keep it in the room." Tortorella isn't the first coach that's avoided answering a question in the playoffs, but as USA Today's Kevin Allen has put it, other coaches "find a way to do it that isn't rude and abrasive." And over the past couple of days, Tortorella's performance in his postgame pressers — after losses, in particular — has itself become a story and has earned him quite a bit of criticism. (It's here we'll note that this sort of story matters more to members of the media themselves, though it's also true that the average hockey fan suffers when there are legitimate questions that go unanswered.)
It's been suggested that Tortorella is doing this to create a distraction, thus taking the spotlight off his players after games like Wednesday night's. (Via Scott Burnside, a couple of Tortorella's former Tampa Bay players — Dave Andreychuk and Martin St. Louis — believe that to be the case.) This strategy, of course, is one Rex Ryan tried during his team's last playoff run, in early 2011. (We also made the case that Bruce Boudreau tried something like this last year, with his comments about Madison Square Garden not being all that loud.) But that's not necessarily what's happening here.
It's true that what Tortorella's doing is taking some attention away from his team's performance in Game 2 — we're writing about him now, and many others have done so as well — but it's not like Tortorella just started avoiding questions this week. This is roughly the same Tortorella we've seen all season, and though he might be especially reluctant to answer certain questions during the postseason, it's not an entirely new act. Is Tortorella withholding information because he knows that doing so will get turned into a story, or is this just how he acts when he's in a pissy mood after the loss? We think it's the latter; after all, he was willing to talk at least a bit more on a conference call the day after Game 2.
Perhaps the biggest difference now is that there are simply more eyeballs on him now. It's the same reason everyone spent so much time talking about the Rangers' shot-blocking earlier in the week: There's a larger audience paying attention to the Rangers now, and things like this can blow up into full-blown story lines. Tortorella is still Tortorella; it's just that folks are now breaking out their stopwatches when he speaks. This doesn't excuse him, but it helps explain why the backlash is growing.
Give Tortorella credit for this, at the very least: He's not making matters worse by calling out someone like Gaborik, even though he surely has a lot of thoughts about the winger this week. Forget about intentionally causing a distraction. In this sense, silence is indeed golden.