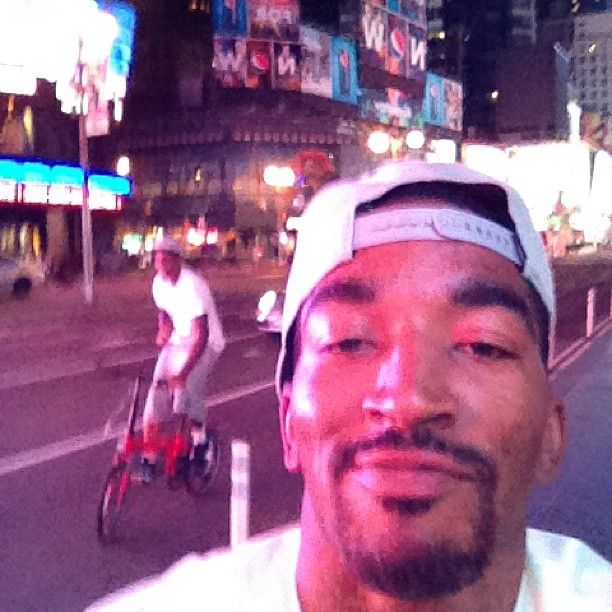 A lot of Knicks fans don't like J.R. Smith. I get it, too. His reputation for irresponsibility and troublemaking off the court — something that resurfaced not long ago — is matched by a penchant for impulsiveness on it. Watching him play and reading about him in the news can get downright maddening. But there's a lighter side to that flightiness — an unfettered joy and blithe disregard for social norms — that one can't help but appreciate, and it's most readily evident (and least damaging, perhaps) on his rather prolific Twitter account. The last time we paid close attention to @TheRealJRSmith, it was because of some particularly noteworthy indiscretion. This time, it's something much nicer.
J.R., as his 120,000 Twitter followers know well, stays up late. Often, he spends the witching hour tweeting rave reviews of King of Queens and Jessie J songs (seriously) or just responding to absolutely everybody who mentions him. Last night, for whatever reason, he decided to take it up a notch. Here's J.R. at about 1 a.m. today:
How many people want to ride bikes with me at 2am instagraming pix?

I'll be on 66th an amsterdam @2:30 wit my bike! ‪#getdownorlaydown
And it happened. As I did my best to recap here, J.R. saddled up his boardwalk bike, brought his brother Chris (of the Louisville Cardinals), met some friends and a bunch of strangers at 66th and Amsterdam, and rode all the way down to Madison Square Garden. It was a sweet, zany little thing that happened while most of us were sleeping, and it's something that couldn't possibly exist without the all-binding entity that is Twitter and the weird, wonderful imagination of J.R. Smith. If Smith picks up his option to stay with the Knicks and you find yourself fretting over his shot selection next winter, try to remind yourself of times like this one.