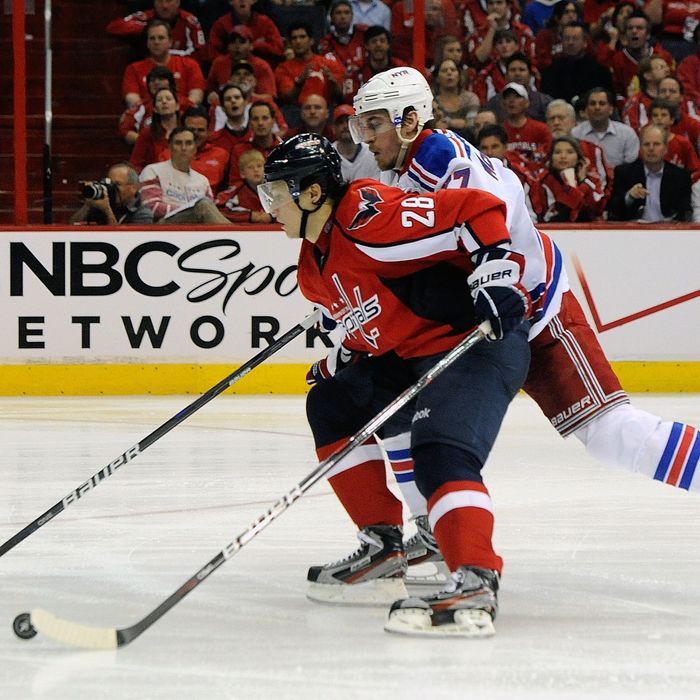 Alexander Semin and Ryan McDonagh.
The Rangers had played eight overtime games since the lockout, but none were as epic as last night's Game 3 against the Capitals. How epic was it? It was the fifth-longest Rangers game in Rangers history, and the longest one they've played in 73 years. (All four of the longest games in franchise history took place in the 1930s.) It was the first Rangers game to go past two overtimes since Pete Stemkowski beat the Blackhawks at 1:29 of the third overtime on April 29, 1971.
Last night's game was the twentieth-longest in NHL history, and the longest NHL game since 2008, when the Stars and Sharks went into a fourth overtime period. Via ESPN Stats and Info, there were no triple-overtime games at all during last year's playoffs. And you know how Henrik Lundqvist had lost his last seven playoff overtime games? Last night's overtime lasted longer (54:41) than those seven overtimes combined (52:49).
It was also the third-longest game in Capitals history (behind the famous Easter Epic in 1987 and a 1996 first-round game against Pittsburgh). It was the longest game in the history of the fifteen-year-old Verizon Center.
Or consider Ryan McDonagh: He was on the ice for 53:17 last night, which is more ice time than Andre Deveaux got in total during his nine games with the Rangers this year. It's more than Stu Bickel — who's appeared in every playoff game this year — has gotten so far this postseason. It's only two and a half minutes fewer than Mike Rupp has gotten in these playoffs — and Rupp played more than fifteen minutes last night himself. Via Samuel Chamberlain of SB Nation, no Ranger has played more minutes in a game since the NHL officially began keeping track of ice time in the late nineties. (Chamberlain also posted some great GIFs from the game, including some of the more memorable blocked shots, as well one of Braden Holtby's mom reacting to things in the stands.)
Both goalies, meanwhile, stopped more shots in this game than they did in the first two games of the series combined. Which makes sense, considering how long the game was. To paraphrase Doc Emrick, there were three games in the NHL last night, and two of them were at the Verizon Center.