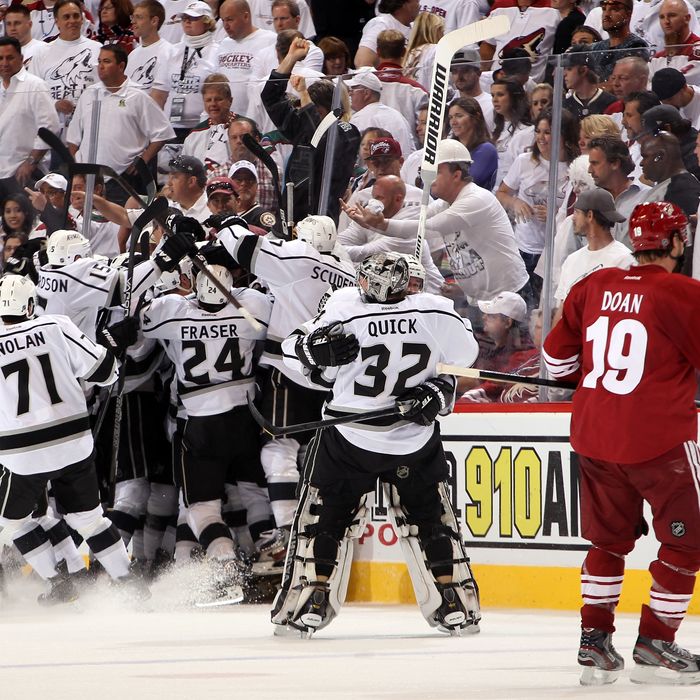 The Kings celebrate Dustin Penner's series-winning goal last night.
We still don't know who will host Game 1 of the Stanley Cup Finals — that'll depend on which team advances out of the East — but we learned yesterday when that game will be played (a week from today), and then we learned who the visiting team will be. With their 4-3 overtime win in Game 5 of the Western Conference Finals last night, the Kings advanced to the Stanley Cup Finals for the second time in franchise history and for the first time since 1993.
It's pretty incredible what the Kings have done as the No. 8 seed (albeit one that only finished two points out of first in its division): They went 8-0 on the road during the Western Conference playoffs and, to reach the Finals, had to go through the top three seeds. (If the Rangers advance out of the East — and that's a very big "if," at the moment — it would make for an interesting Finals matchup for a number of reasons, but if we may invent a word, it'll make for a unique series, bracketologically speaking: Based on seeding alone, the Rangers would have the easiest path possible to the Stanley Cup by virtue of playing a No. 8, a No. 7, a No. 6, and then another No. 8. The Kings, meanwhile, would have the hardest path possible: They've already played a No. 1, a No. 2, and a No. 3, and should the Rangers advance, they'd have to go through another No. 1 to secure the franchise's first championship.)
Dustin Penner scored the series winner at 17:42 of overtime last, just moments after Dustin Brown's controversial hit on former Ranger Michal Rozsival, which went un-penalized but sent Rozsival to the dressing room. Here's the Brown hit:
And here's the Penner goal:
And here, following all of that, is the uncomfortable handshake line, in which some Coyotes appeared to have some words for Brown:
The Kings, who have played just fourteen games so far in the playoffs, are off now until next Wednesday, when they'll open the Finals at either Madison Square Garden or the Prudential Center. The Rangers would have played a minimum of twenty games by then, and the Devils would have played a minimum of eighteen.