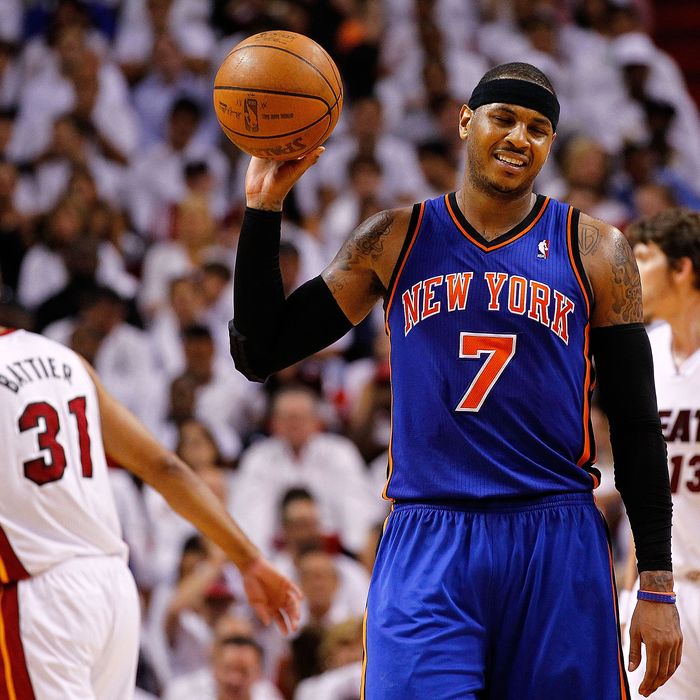 Coach Mike Woodson's rotation is an ever-evolving machine with parts that grow, shrink, disappear, and switch roles constantly. As part of our Knicks coverage all season, we'll be tracking each player every Tuesday. Come join us for the Knicks PLAYOFF Power Rankings!
1. Carmelo Anthony. (Last week: 1) New York's offense without Jeremy Lin has been giving Anthony custody of the ball and letting him make the plays. With Baron Davis rotating, it's not quite the 'Melo-as-point-forward approach that floundered back in January, but it still depends on Anthony to generate the majority of the points, either by dancing his way around a defender or passing quickly out of an encroaching crowd. Through the last month or so of the regular season, when 'Melo was fully healthy and his shot was pristine, that offense hummed along with stunning success. Now, in the first round, the Knicks face Miami and only Miami, which is a considerably tougher schedule than that of early April. The Heat are starving for a title, and they know full well that shoving Anthony off course gives them the easiest path over their first speed bump. In Game 1, they did that with aplomb. Heat defenders committed to fronting Anthony, sealing him off from all but the most precise passes (which weren't coming anyway) and utterly confounding New York's approach. It took Mike Woodson until Game 2 to adapt and set Anthony in motion, though Miami backed off their hyperaggressive defense anyway. This time around, 'Melo just wasn't the world-beating juggernaut the Knicks needed. He shot well enough and passed decently out of doubles, but the Knicks needed one of those otherworldly early-April performances to have any hope of leaving Miami with a win, and 'Melo didn't quite have it.
2. Tyson Chandler. (Last week: 2) How off-putting was it to see the flu-stricken Chandler mope around for 21 minutes in Game 1? This is a guy who, I like to imagine, requires ten hours of hibernation and roughly a million calories a day to animate his 240-pound body, yet he'd been feverish, sleepless, and without a bite to eat in days. Deny that man his nutrients and you get that Game 1 performance: a harrowing series of fumbled balls, absentminded fouls, and blown defensive rotations. It was so jarring a departure from Chandler's typically domineering presence that I worried he was broken forever. Thankfully, despite still being somewhat under the weather, Chandler was much more himself in Game 2. That is, he was solid on defense and efficient at the rim, but he couldn't really get the ball where he needed it.
3. Baron Davis. (Last week: 9) Baron's doing what he can. His back stiffened and limited his availability after he collided with Dwyane Wade in Game 1 (Proverb: Those with chronic back issues ought not run headlong into the young and virile.), but in the minutes he has been able to play, Davis has been pretty effective. The good Baron — the one that hits his jumpers and makes dazzling plays off the dribble — has largely outweighed the bad, turnover-prone, defensively useless Baron. It's just that neither Baron can handle many minutes at a time.
4. J.R. Smith. (Last week: 4) Smith isn't shooting terribly, and he's quietly tossed some fine passes and played spots of great defense. The only time when you really noticed Smith out there was in Game 1, when Miami was fronting Anthony, and Smith was left to handle the ball and make decisions himself, which is rarely a winning proposition.
5. Amar'e Stoudemire. (Last week: 3) Oh, Amar'e. That TKO of the fire extinguisher cabinet may mark the end of a really rough season for Stoudemire. With the injuries and the familial tragedy, Amar'e hasn't been able to get in any sort of rhythm on the court, and the fist that smashed the glass was propelled by a season's worth of frustration. Before semi-willfully injuring himself, Stoudemire looked somewhat like himself in Games 1 and 2. His defense and rebounding were problematic, but he was efficient, if not awe-inspiring, with the ball in his hands. Of course, without Lin and with minimal Baron Davis to go around, the ball didn't find its way into Stoudemire's hands very often. So, perhaps it was logical to put those hands out of commission for a while. If the Knicks go on to win a game or two (or, shit, the whole series) without Stoudemire, everyone's going to get really weird again.
6. Mike Bibby. (Last week: 6) Bibby's handled himself decently as Davis's backup. He hasn't really been hitting shots, but he can usually be relied upon to make a timely entry pass. It just gets tough when folks are stealing and disposing of your sneakers, ya know?
7. Iman Shumpert. (Last week: 8) I'm just arbitrarily giving Shumpert a middle ranking because he hardly got to play in this series. Now that a tear of the ACL and lateral meniscus in his left leg has ended it, it feels like the time to appreciate Shump's rookie year. The Knicks, as currently composed, are a team headlined by fatly compensated mercenaries. That's not necessarily a bad or unusual thing, but it gives you a special appreciation for organic talent, and that's exactly what Shump presented in his rookie year. It was a hell of a year. Shump was considered by many to be an odd, long shot pick at seventeen. Then he was one of the few Knicks to stay in the public eye and actually play basketball during the lockout, which gave us a glimpse of his absurd athletic ability and hammy, outsized personality. Through the early parts of the season, he presented as a gifted and entertaining, but clearly unpolished, player. Day by day, though, Shump honed his game. A capable but overexuberant pest took steps toward becoming a genuine perimeter stopper. A crude, reckless offensive player learned to pick his spots and emphasize his skills. By the end of the season, we (all of us, not just fools like me who hyperventilate over tiny, insubstantial things) were looking at an exceedingly talented, undeniably promising youngster with a prowess befitting his persona. And New York didn't buy Shump, they found him. He was ours from the beginning. So, forgive us, Knicks fans, if we got a little maudlin over the injury. Watching Iman take a simple misstep, buckle, and recoil in agony — no contact, just a miserable twist of fate — was nauseating. Stoudemire, Anthony, and Chandler are wonderful friends, but Shump is family, and his injury, as well as the late-arriving news that he could be off the court until well into next season, tortured Knicks fans like nothing I've ever seen before (then again, this is probably the worst Knick injury since the advent of Twitter, so it's the most I've ever been exposed to other Knicks fans). Get well, Shump. It'd take way more than six to eight months for us to forget about or give up on you. Oh, and holler if you need a new ACL, because I'm sure one of us would be more than happy to provide.
8. Steve Novak. (Last week: 5) Steve can: hit an open three. Steve cannot: find the time or space to shoot an open three. At least Steve's doing what he can to put that big, clunky ol' body of his in position to defend and rebound. He's trying.
9. Landry Fields. (Last week: 7) Fields did hit a few shots in Game 1, which was cool, if meaningless. Otherwise, his micro hot streak of shooting (okay, it was one quarter) at the end of the regular season didn't end up previewing a postseason renaissance. His offense has been silent, and his work defending Dwyane Wade as Shump's understudy has been noble but not the slightest bit of trouble to Wade.
10. Jared Jeffries. (Last week: Injured) Jared's giving the Knicks all he can give, but so far, that's just amounted to a few missed layups over a few minutes each night. His knee (which will likely require surgery over the summer) isn't in a condition that allows him to play his very best disruptive, doubling defense.
11. Josh Harrellson. (Last week: 10) Jorts has only played garbage minutes thus far, but he'll probably be a regular rotation member as long as Amar'e's hand is busted.
12. Dan Gadzuric. (Last week: 12) Godzuki is also a candidate to spin a bit as everybody moves up a rotation spot. One figures he'll get minutes before Jerome Jordan does, since the Knicks felt it necessary to add him right before the postseason deadline.
13. Jerome Jordan. (Last week: 13) Yeah, he probably still won't play, but let us momentarily reach back to the regular season to remember a truly dominant performance in New York's last game of the year. When people reflect on the 2011-2012 Charlotte Bobcats, the worst team of all time, maybe they'll remember that it was a spindly, unassuming Jamaican kid who dunked all over them to make it so.
14. Toney Douglas. (Last week: 11) Hasn't played, probably won't play, and was reportedly the one who gave Chandler the flu. This week's Toneygram™: "Da Snot Eulogy."
Injured: Jeremy Lin. Sigh.