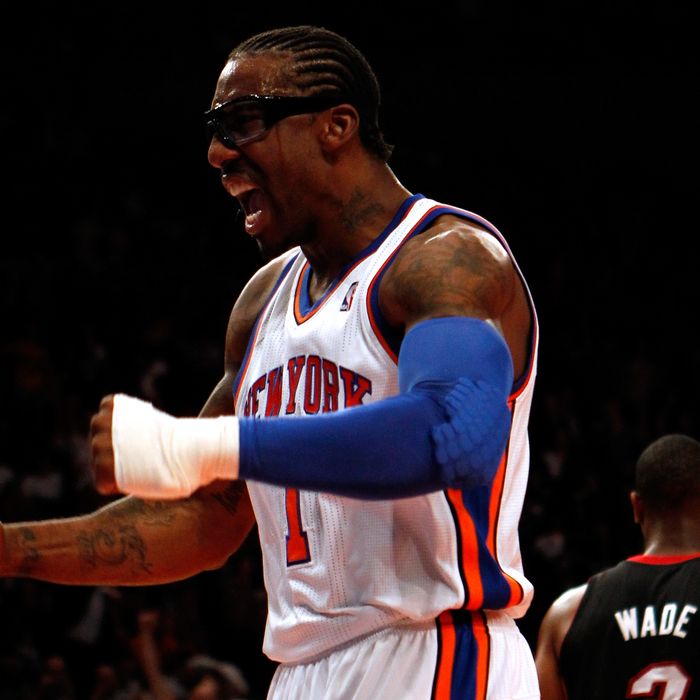 Amar'e Stoudemire returned and, even with one hand, played a big role in the Game 4 win.
Coach Mike Woodson's rotation is an ever-evolving machine with parts that grow, shrink, disappear, and switch roles constantly. As part of our Knicks coverage all season, we'll be tracking each player every Tuesday. Come join us for the Knicks PLAYOFF Power Rankings!
1. Carmelo Anthony. (Last week: 1) Last week's Power Rankings felt like the penultimate edition when I wrote them. The Knicks were down 2-0, shorthanded and showing no signs of resistance. Even when the series returned to New York on Thursday, the Knicks laid right back down on the Garden floor and let the Heat trample and/or urinate on them. So, playing Game 4 felt a bit like going through the motions — a final game only because basketball doesn't have a "skunk" rule. Then something silly happened. The Knicks came alive, played some defense, and won, sending the series back to Miami for a Game 5, breaking their ignominious playoff losing streak, and delaying their epitaph until at least the next Power Rankings.
After a depressing Game 3 in which he looked exhausted and just couldn't catch a friendly bounce, 'Melo did 'Melo things in Game 4. He hit his jumpers, he bucked his way to the rim more than ever, he played a bit of point and dished when doubled, and he drilled that bomb of a late three-pointer from a broken play. It was a 41-point evening (on 29 shots), which is pretty much the output the Knicks will need from him (or anybody, but who else?) if they hope to keep stealing games and prolonging this series.
2. Amar'e Stoudemire. (Last week: 5) So, it turns out a self-inflicted, anger-induced hand-mangling only costs you one game. Amar'e sat and cradled his shredded left hand in a sling while watching New York flounder in Game 3, and that seemed like it'd be uniform for the rest of the series. To everyone's surprise, though, Amar'e suited up for Game 4, and not only did he play and start, he flourished. Despite playing with one hand swathed in like six different wrapping materials, Stoudemire was defiant and determined to turn his series around. Without much ability to shoot or dribble, he got his touches in the pick-and-roll and made some wonderful quick finishes at the basket, even with contact (something he's had unusual trouble with all season). Even better, Amar'e worked for five offensive and five defensive rebounds (he "attacked the glass", right guys!?) and was instrumental in New York's two huge stops in the final minute. There we were, watching Stoudemire leap for one-handed rebounds and make seamless defensive rotations, wondering if perhaps he should play with his hand-meat held on by stitches all the time. One game won't eclipse a whole season of ugliness and a really embarrassing incident, but it helped, and it'll help even more if he can maintain that exuberance and effectiveness for the rest of the series, however long that may be.
3. Tyson Chandler. (Last week: 2) Even with that contemptible flu virus finally abated, Chandler hasn't been able to influence this series as much as one would like. Playing alongside a shaky group of point guards against a Miami team that devours passing lanes, Chandler isn't getting many good touches. In the Game 3 loss, he was at least able to get to the line some (6-10) and conjure a few opportunities for himself by grabbing six offensive rebounds. Oddly enough, though, Chandler had relatively little to do with the Game 4 victory. He did nothing on offense and ended up fouling out, losing his temper and picking up a technical in the process. That the Heat go small and make him guard the basket-facing, jumper-draining Chris Bosh only takes him further out of his element. This isn't to say that Chandler's struggling — he's still rebounding and making plenty of important defensive plays. He just hasn't been dominating.
4. Mike Bibby. (Last week: 6) Seriously! Bibby was the lone Knick to hit his jumpers (totally meaningless ones, but still … ) in Game 3, then he drilled two quite meaningful threes after Baron Davis went down in Game 4 — one at the end of third, then one to break a tie in the final two minutes. And he made some decent entry passes! And he didn't turn the ball over much! And now he's the starting point guard! This'll be great! Ignore the fact that Bibby's role on this team as recently as a few weeks ago was so limited that I used his space in this column to make awful jokes about his personal website!
5. J.R. Smith. (Last week: 4) Smith shot terribly in Games 3 and 4, but I swear he's been playing pretty nice defense on Dwyane Wade, and he's still good for an impressive rebound or a nice pass off the dribble now and then. Also, if you strip it of all context (which is really the best way to appreciate how J.R. Smith thinks and everything he ever does), this dunk from Game 3 is one of the more incredible dunks you'll ever see.
6. Baron Davis. (Last week: 3) Baron's series, season, and maybe career ended with the dude lying prone on a stretcher, grinning ear to ear minutes after what was later determined to be a complete tear of almost his entire knee. That is so very Baron Davis. Whether or not that was indeed the end, Baron's zany but uninspiring stint with the Knicks will be an afterthought in what was an otherwise captivating career. There's already been some great stuff written about that career. As for New York, well, we appreciate the time you gave, Baron. It was abbreviated by injury and dotted with really, appallingly bad passes, but we had our moments. Our time together was always interesting. Thanks for being a good teammate and gracefully staying out of the way when Jeremy Lin burst onto the scene, too.
7. Landry Fields. (Last week: 9) Fields, like Smith, has done his darnedest to slow Dwyane Wade, and he's even had spurts of success. Offensively, there still isn't much to report. He was rather aggressive to begin Game 4 (this seems like a sort of binary thing with Fields. He's either in "DRIVE DRIVE DRIVE SHOOT SHOOT SHOOT" mode or "putter putter dribble pass yawn" mode), then got benched to begin the second half, and produced very little thereafter. He's at least done a bit of useful ball-handling and passing, which is good, because he (along with Smith and Anthony) might get asked to pretend to be a point guard for stretches of the remaining games.
8. Steve Novak. (Last week: 8) Novak continues to get minutes, but not open looks. He can't take a step without being shadowed by a … Heat (a Joule?). That means no threes and no championship-belt celebrations, but at least it opens the floor up somewhat for Anthony and New York's pick-and-roll. That's what they're talking about when they "spreading the floor."
9. Josh Harrellson. (Last week: 11) Oddly enough, Jorts got more playing time in Game 4 — when the Knicks had all their big men in uniform — than he did in Game 3, when Stoudemire was out. In both short stints, he got his fouls and rebounds in, and in the latter one, hit what felt like a pretty big shot. His precarious, ill-advised, driving runner somehow reached the basket and broke a long, scoreless stretch to begin the second half.
10. Jared Jeffries. (Last week: 10) Jared and his sore knee have barely registered in this series, but he continues to spin for a few minutes in each game.
11. Toney Douglas. (Last week: 14) Toney's a candidate to inherit a few minutes now that Bibby must shift into the starting role, but that's not a certainty. This weeks Toneygram™: "Too Ugly Sedan," just because.
12. Dan Gadzuric. (Last week: 12) The man the Knicks signed at the very last second of postseason eligibility has played exactly zero minutes in the first round. Miss u, Bill Walker.
13. Jerome Jordan. (Last week: 13) Except for a few garbage minutes in Game 1, ditto for the man who's already played and put up some big numbers in a playoff series this year. If Jerome can dominate the Austin Toros, why not the Miami Heat?
Injured: Jeremy Lin, Iman Shumpert [weeps softly.]