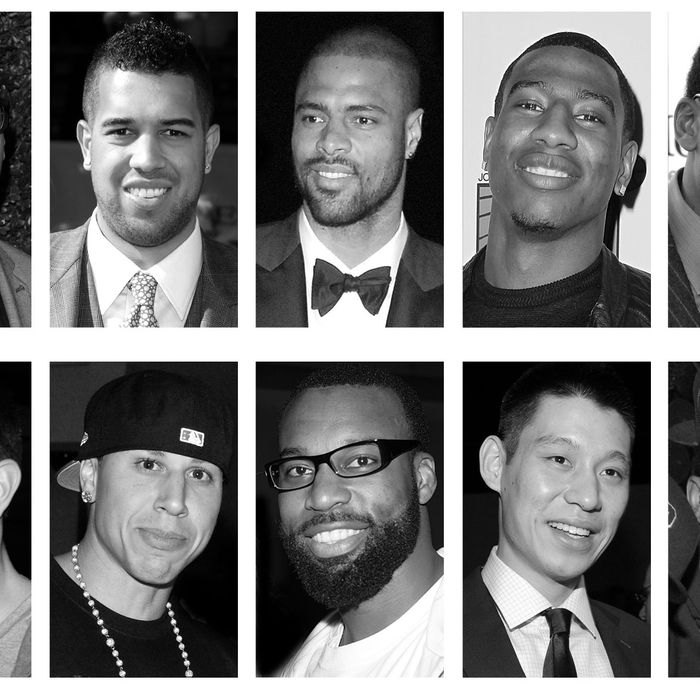 The rotations of Coach Mikes D'Antoni and Woodson were ever-evolving machines with parts that grew, shrunk, disappeared, and switched roles constantly. As part of our Knicks coverage all season, we tracked each player every Tuesday. Now, New York's season has ended, and it's time to look back through the yearbook. Come join us for the final Knicks Power Rankings of the season!

1. Tyson Chandler.
Superlative: Most.
Inscription: Tyson — In December, the Knicks surprised everyone by eschewing the Chris Paul sweepstakes in favor of amnestying Chauncey Billups and signing you to a four-year, $58 million contract. The move was both exciting — given your defensive excellence and recent championship ring — and slightly scary, what with your injury history, offensive limitations (especially without a great point guard, which the Knicks lacked), and potential letdown following that championship ring. There was no letdown. You were actually one of the most durable Knicks, playing through several injuries (including that meddlesome playoff flu) and starting 62 of 66 games. The offense did disappear sometimes when your unit didn't include at least one decent entry passer, but you made up for it with a finishing efficiency surpassed only by the late Wilt Chamberlain (who was pretty good at sports). And, of course, there was the defense. The Knicks didn't always put you in the best position to defend — they switched like speed-daters around the perimeter and often stranded you against smaller, quicker players — but that didn't hamper you too much. You helped and doubled when called upon, stonewalled attempts at the rim, harried attempts away from the rim, rebounded, directed traffic, scared opponents out of entering the paint, and locked down some of the game's preeminent big men. Your D earned you New York's first Defensive Player of the Year award and almost single-handedly vaulted the Knicks from the league's ninth-worst team in defensive rating in 2011 to fifth-best in 2012. Oh, and you carried Amar'e Stoudemire's torch of getting as many technical fouls as possible without earning a suspension. Pretty cool! You were the Most, Tyson. Good luck in the Olympics!
2. Carmelo Anthony.
Superlative: Most political.
Inscription: 'Melo — "Most political" in my high school just meant that you argued a lot in class and got your picture taken hugging a tree in the yearbook. For you, Carmelo, it refers to perpetual involvement in New York's political situation and the media Zeitgeist that morphed on a near-weekly basis. When the Knicks struggled to open the season, everyone looked to you — the injured, sputtering scorer — for blame. When you went down right in time for "Linsanity" to consume the planet, everyone looked to you and worried about how the team would function when you returned. When you did return and the team (perhaps coincidentally) began to regress, everyone looked to you and found you smiling when it wasn't appropriate and, for the second-straight season, avoiding the media after a particularly bad loss. When Mike D'Antoni threw his hands up and fled town, everyone looked to you as the disgruntled star who failed to carry out the coach's game plan. Even when Mike Woodson took over and things seemed momentarily perfect, everyone looked to you and wondered why you hadn't been that engaged or "accountable" under the previous coach. In March, when the team clutched onto a playoff berth despite losing several starters, everyone looked to you as the solitary hero that held them there. When the Knicks shriveled under the Heat in a first-round playoff loss, everyone looked to you, then to LeBron James, then back to you, and wondered why you couldn't be more like that guy. No matter the mood of the situation — and even when you were far removed from the situation — you were always near the crux of the political discussion. It's probably going to continue to be that way, so here's hoping your next year as a Knick is healthier, happier, and more successful than this one was. In the meantime, good luck to you, as well, in the Olympics!
3. Jeremy Lin.
Superlative: Most incredible two weeks ever.
Inscription: Jeremy — Something that gets overlooked, I think, is the fact that your ascent wasn't just amazing in relation to your previous basketball career. What blew me away and lingers in my mind is how unbelievable your "Linsanity" performance was in the context of your Knicks tenure alone. You received spot minutes — mostly in garbage time — at several points after New York signed you and didn't look like much of a player at all. You must have shown some promise throughout your years as a student and then as a pro in the Summer League and D-League, but I swear you seemed completely out of place in your first 50-odd minutes in orange and blue. And then there was the "Jeremy Lin Game." That's what I felt like calling your breakout early-February performance against the Nets, because it just had to be confined to a single game. You were sensational in every respect, but it felt more like a fleeting shower of joy in an otherwise desolate season than the beginning of anything real. But then you did it again versus the Jazz. And again in Washington. And again — on national TV — against the Lakers. And you gutted a ragged team to improbable road wins over the Raptors and Timberwolves, then another delirious, nationally televised victory over the Mavericks. For two weeks, you were a dominant basketball player and one of the most famous human beings on the entire planet, and they were the two most surreal weeks of being a Knicks fan I've ever experienced. As time passed, you settled into the more traditional role of an exciting but inconsistent, promising but flawed young point guard, and then you got hurt. Now I'm thrilled with what lies ahead and hopeful, as many Knicks fans are, that your future will play out here in New York. Even if you go on to be a star and a champion, though, there won't be anything quite like those two weeks at the beginning of February. Good luck practicing against the U.S. Olympic team (probably), get that knee right, and please come back to us next season (cheaply, if you're feeling generous).
4. Amar'e Stoudemire.
Superlative: Most due for a comeback.
Inscription: Amar'e — It was a rough year. You opened the season at odds with an injury that had been mismanaged during the lockout. Your most impressive stretch was derailed by a harrowing family tragedy. Your back finally gave out completely during the regular season's most crucial stretch. And, of course, you unleashed your frustration on an inanimate (and jagged) object at a pretty inopportune moment. It was a uniform bummer of a season. While that can't be excused, I will say that the Amar'e I watched struggle didn't appear to be a sinking, decrepit Amar'e, but a guy who started the season off on the wrong foot (or the wrong vertebra or whatever) and kept getting side-tracked before he could find a rhythm. I don't think you're finished and I'm not ready to declare your massive contract a mistake. I'm optimistic that, with a proper off-season, a real training camp, and, one hopes, a more consistent environment, you'll be back to your 2010-2011 excellence. In the meantime, good luck at college!
5. Iman Shumpert.
Superlative: Most precocious neophyte.
Inscription: Shump — I feel like your yearbook message was written a couple weeks back in the sorrowful aftermath of your knee injury, but let us repeat some things again. You came an incredibly long way in just one season, Shump. You went from a defensive talent with a limited sense of when to deploy said talent to a remarkably effective on-ball perimeter-stopper. You went from a coarse, heedless offensive whirlwind to a more polished, conscientious scorer — a genuine threat. One anonymous media member even thought you were Rookie of the Year. Though probably not worthy of that title, it was a fine, upwardly trending first season, Shump. It sucks to know that you'll be spending the next few months off the court, but we all wish you a full recovery and can't wait to see you back out there, whenever that might be.
6. Steve Novak.
Superlative: Most popular.
Inscription: Steve — I've been a Knicks fan for most of my life, and I still have "Linsanity" echoing in my head, yet I can't think of a single Knick who yielded quite the same response from the MSG crowd with every catch. There was an unparalleled surge of excitement every time you touched the ball behind the arc and an unmistakeable mix of disappointment and disbelief every time you did anything other than splash that ball through the net. Moreover, folks got downright furious when you were on the floor but denied your perimeter touches. It was comical, but also understandable. You attempted 282 three-pointers on the season and hit 133 of them in just 54 games. That's 47.2 percent, or basically a heads or tails chance of earning three points. That's pretty absurd, and it's why you — a career benchwarmer and former D-Leaguer — were perhaps the most tightly guarded of all the Knicks in that first-round series against the Heat. It's also why New York's going to have a tough time paying you to stick around next year. We shall see, but whatever happens, thank you for those 133 threes, thanks for that championship-belt celebration, and thanks for somehow becoming a Garden favorite despite attempting exactly one shot in the paint. One. Seriously.
7. J.R. Smith.
Superlative: Class clown.
Inscription: Earl — Your play vacillated between remarkable versatility on both ends of the floor and the loathsome, mindless antics everyone warned us about. The one consistent thing you brought to the table was your ability to light up a dead game. Your ability to produce incredible shooting numbers, beautiful dunks, and small scuffles during meaningless garbage time was unlike anything I'd seen since this kid used to liven up miserable U.S. government classes in sophomore year of high school by flipping over the teacher's desk when she had her back turned. Your inconsistency as a productive player was baffling, Earl, but your chops as a class clown were never in doubt.
8. Landry Fields.
Superlative: Perfect attendance!
Inscription: Landry — It was a disappointing sophomore season — one that saw your jump-shooting ability completely disappear and your odds of remaining a Knick over the summer dwindle considerably. You were the only Knick to play every single game for the second-straight year, though, and that spotless attendance record is to be commended, especially considering the utter destruction that beset your teammates. Whether you rejoin the Knicks or not, may you relocate your jumper this off-season.
9. Josh Harrellson.
Superlative: Most stylish.
Inscription: Josh — Obviously, anyone who owns or has owned the nickname "Jorts," a pair of hideous Kentucky-themed cowboy boots, and a mustache that makes parents keep their kids inside is going to win "most stylish." You did distinguish yourself in non-sartorial endeavors this season, though. Particularly when guys ahead of you in the rotation went down with injury, you stepped up and provided some rebounding, surprisingly competent defense, and even more surprisingly accurate shooting (though that last part sorta dissipated later in the year). Not bad for the 45th pick. Looking forward to having you around next year, Jorts.
10. Baron Davis.
Superlative: Bulgiest disc.
Inscription: Baron — I was one of those that swore the Knicks would finally turn a corner once you were healthy and starting at point guard. It didn't quite work that way. It took way longer than expected for that bulging disc to heal (and, though Amar'e contended, yours was definitely the bulgiest), more injuries cropped up throughout the season, and you watched as someone else came out of the blue to man that starting spot and lead New York to success. When you were around, you hit your share of shots and made some lovely passes, but you mostly looked sore, slow, and uncertain of which people on the floor were your teammates. You had a lot of school spirit, though. You always seemed to be enjoying yourself out there, and I know you played through some serious pain. I hope your shredded knee recovers completely and that you can get back on the court at some point in the future (you know, if you want to).
11. Jared Jeffries.
Superlative: Most in need of surgery.
Inscription: Jared — You were at your defensive best for a few weeks there. For the most part, though, injuries to your calf and knee kept you from being an everyday part of the team. Still, those of us who doubted the merits of bringing you back — even for the veteran's minimum — were silenced by your fine play when healthy.
12. Mike Bibby.
Superlative: Silliest walks.
Inscription: Mike — You never complained about having a small role, and you stepped right up and contributed what you could when the team needed you. Thanks for that, Mike. Most of all, though, thanks for these.
13. Toney Douglas.
Superlative: Least likely to do what Toney Douglas do.
Inscription: Toney — That was sad, man. I don't think anybody figured you to be a future star, but it was dumbfounding to see you descend into benchwarmer status after two decent years as a Knick. Gone were the accurate outside shots, the slick finishes at the rim, and the spurts of pesky defense. Gone, too, was your endearing, occasional habit of speaking in third person. You'll be back next year and will likely have another shot at the rotation, so please do your best to rebuild your game this summer. Get that head clear and that shoulder feeling right, and we can all start from scratch. How about it?
14. Jerome Jordan.
Superlative: Most adventurous.
Inscription: Jerome — You joined the Knicks after a childhood in Jamaica, a college career in Tulsa, and a first professional season in Serbia and Slovenia. Then you spent this season shipping back and forth between New York and the wilds of Erie, Pennsylvania! What a traveler you are!
15. Dan Gadzuric.
Superlative: Least.
Inscription: Dan — Whatever. You took Bill Walker's roster spot and Mike Bibby's title as oldest Knick, then played a total of thirteen minutes in two meaningless games and didn't touch the court in the playoffs. Enjoy your free money!
In memoriam: Bill Walker, Renaldo Balkman
H.A.G.S., Knicks!