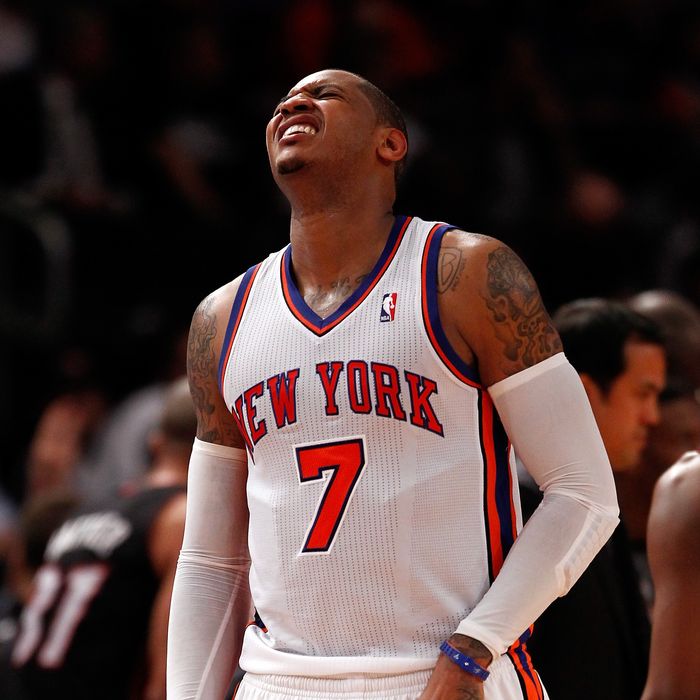 We know how you feel, Carmelo.
You know it has only been less than a week since the playoffs started, right? The decimation of the Knicks by the Heat has been so swift and so complete, it feels like we've all been despairing about the Knicks for months now. But just last Friday, everyone (not least of all, us) was all a-twitter and vibrating with Knicks playoff excitement. That imploded immediately. Now we just have to go through this once more.
The Knicks will play Game 4 of their series on Sunday afternoon at 3:30 p.m., and the vibe is surely going to be quite similar to last year's playoff Game 4 against the Celtics: The players will look like they're ready to go home, and the fans will try to muster up enough enthusiasm to say good-bye for the summer. It's a little depressing that this is happening two years in a row, but hey, three years ago, just making the playoffs seemed like a wild fever dream. One can only go back to that well so often, though: Fourteen consecutive playoff losses, an NBA record, leaves one grasping at straws.
Are we sure Knicks fans want the Knicks to win on Sunday? The gruesome nature of the three losses to Miami so far have cast Sunday's game almost as a mercy killing: There's a sense that it might just be for the best if the Knicks took their ball and went home, while the rest of us spent the next fortnight frantically cramming for hockey. One would certainly forgive fans for taking Sunday afternoon off, maybe going outside, spending time with one's family, doing anything that doesn't make one want to slam themselves repeatedly in the face with something blunt and heavy.
But we're gonna go anyway, just to say "So long!" to this nutty team, this loopy season, this silly ride. The Knicks will be a different team next season, just like they were about eight different times this season, so sending off this particular incarnation isn't as painful as it could have been. After all, we've all had to say good-bye to Jeremy Lin, Iman Shumpert, and Amar'e Stoudemire already; the surprise now is that there's anyone left to say good-bye to.
Fans' anger at the Knicks is somewhat justified, we figure, but we just can't work ourselves up into much of a lather. The Heat are almost certainly going to win the Eastern Conference, and the Knicks — wounded, exhausted, outmanned — were just their first victim. It would have been nice to have sneaked out a win just to end that blasted streak and feel like there was some sort of progression from last year, but the end result was still the same: Another year with questions about the Knicks' constructions, another nagging sense that this could have gone smoother, that this could have been something great, had everything just clicked at the same time. Alas. Now it's over.
Well, it's not over: There's still Sunday. We keep forgetting that.