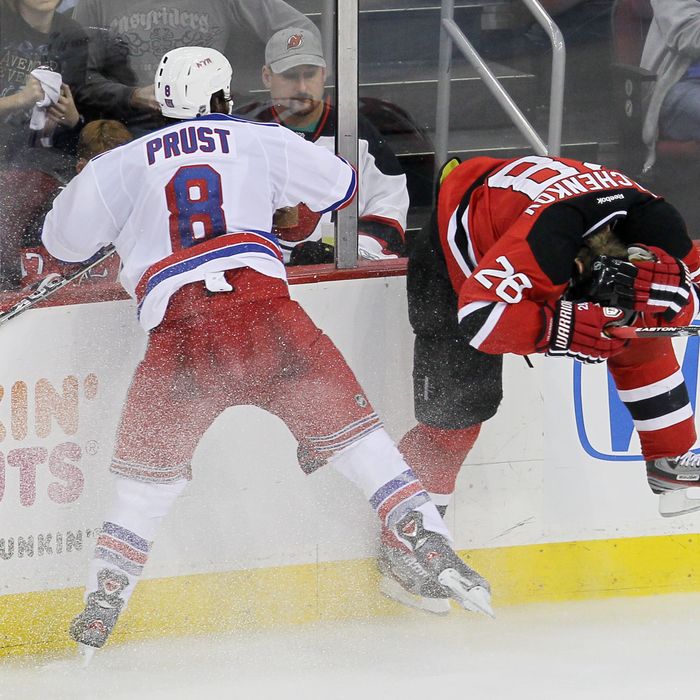 Brandon Prust and Anton Volchenkov.
Sometimes John Tortorella speaks his mind, and sometimes he refuses to say anything at all. His over-before-you-know-it post-loss press conferences have gotten him plenty of attention this postseason, but remember: This is the same man who called the Penguins "one of the most arrogant organizations in the league" just last month, while also referring to that team's "whining stars." Tortorella isn't always willing to talk about the Rangers' opponent, but he was feeling chatty yesterday when talking about the Devils, a day after Brandon Prust's elbow to the head of Anton Volchenkov earned him a hearing with NHL dean of discipline Brendan Shanahan.
Here's Tortorella, via the Star-Ledger:
"Prust has played probably 300-plus games without any hearing, anything going on," Tortorella said. "He's probably one of the most honest players. I looked at (Dainius) Zubrus' elbow to (Anton) Stralman. I look at (Zach) Parise launching himself at (Michael) Del Zotto. Maybe if our players stay down on the ice, we'll get something. We tell our players don't stay down on the ice, get up."
He continued on about how the Devils were setting picks on the power play, but the story today isn't so much about what he believes are some missed interference calls as it is about his comments regarding Prust and the suggestion that the Devils stay down after getting hit. (We'll note that Peter DeBoer, who'd gotten into a war of words with Tortorella during the regular season following the game-opening line brawl on March 19, called Tortorella's comments "comical.")
This isn't the first time Tortorella has weighed in on a matter involving possible supplemental discipline in these playoffs. During the Ottawa series, after Chris Neil's hit on Brian Boyle, Tortorella was unusually forthcoming with information about the nature of Boyle's injury, as well as his status for the next game. Tortorella also detailed how dirty he believed the hit to be — he drew a comparison to the incident that earned Raffi Torres a 25-game suspension — and as we wrote at the time, it appeared Tortorella was saying whatever he could to encourage Shanahan to suspend Neil. We think that's what Tortorella was doing here, as well. Even if Prust didn't intend to injure Volchenkov, and even if the elbow wasn't as hard as it could have been, it's difficult to dispute that he made contact with the head. So, instead, Tortorella stood up for Prust's character and shifted the focus to the Devils themselves, planting the idea in Shanahan's head that this might have been just once instance of the Devils trying to earn a call.
Like he did in the first round with Boyle, Tortorella's comments were akin to filing a brief on behalf of his player, in advance of a Shanahan hearing. (In the case of the Neil incident, after Boyle was knocked out of game, Tortorella was making the case for a suspension, providing whatever evidence he could, even if he didn't quite have some of the details of the hit correct. In this case, he was defending Prust, and essentially arguing against a suspension.) But it didn't work in the first round when Neil didn't receive any supplemental discipline, and it didn't work here, either: Prust was suspended for Game 4 because of the elbow.
Here's Brendan Shanahan's video explanation. No real surprises here:
We made the case on Friday that Tortorella doesn't have an ulterior motive when it comes to his brief post-loss interviews. But comments like the ones he made yesterday had a purpose. And even if they didn't succeed in keeping Prust in the lineup tonight, he's made the league (and the officials) aware of some grievances heading into Game 4. Whether that will result in any additional New Jersey penalties — or whether the refs will indeed be on the lookout for Devils trying to sell penalties — remains to be seen.