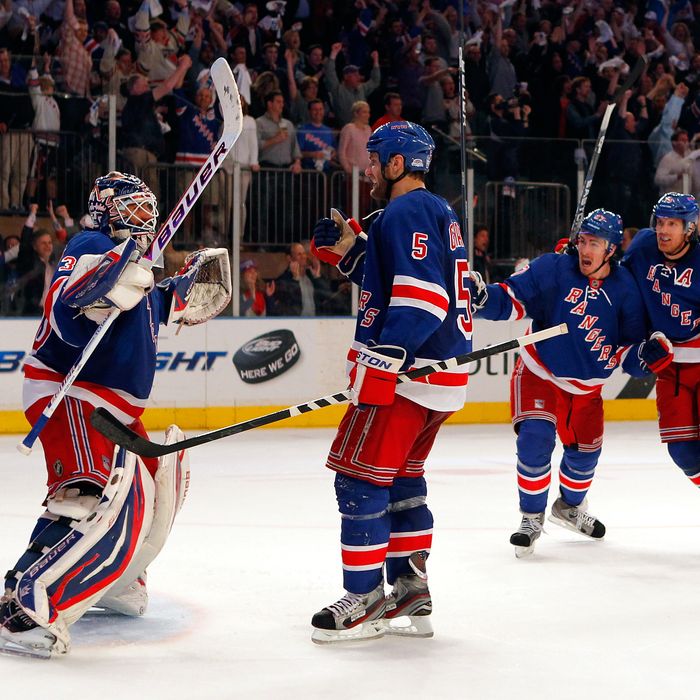 The Rangers celebrate their Game 7 victory over Washington.
The Rangers and Capitals played 60 minutes of hockey tonight, and for 57:50 of those 60 minutes, John Tortorella's club had a one-goal lead to protect. But we've long known that nothing comes easy for this Rangers team, and considering how even these teams have been for much of this series, that sort of thing sounds just about right. And so tonight, for the second time in these playoffs, the Rangers won a tense Game 7 on home ice, this time eliminating Washington by a 2-1 final score to advance to the Eastern Conference Finals. This crazy, dream of a season continues.
The Rangers would get off to a perfect start, with Carl Hagelin setting up Brad Richards for a goal just 1:32 into the first period. (Once again, this kind of goal is exactly what the Rangers hoped they'd get when they signed Richards last summer.) The Rangers would go on to play a very strong first period: They were winning battles along the boards, clogging up Washington shooting lanes, and generating some chances of their own. Meanwhile, the Capitals — who weren't given much space with which to operate — weren't especially sharp. Still, though, the Rangers led by just one after twenty minutes.
The Caps would apply more pressure in the second period, and Henrik Lundqvist was on top of his game as the ice began to tilt in Washington's favor. Things wouldn't get totally out of control — the Rangers would push back themselves at times — but we'd still see one of those scary even-strength Washington shifts that involved the type of puck possession usually reserved for effective power-play units. Still, for the first time during these playoffs, Washington would trail entering the second intermission.
In the third, the Rangers would take a two-goal lead when Michael Del Zotto, seconds after making a play on Alexander Ovechkin in the defensive zone, picked up a loose puck at the other end of the ice and shot it past new dad Braden Holtby. But to repeat, nothing ever comes easy for these Rangers: Roman Hamrlik would answer back for Washington just 38 seconds later to make the game 2-1. (The Rangers, by the way, have scored four goals in their two Game 7s this year, and three of them have been scored by three different defensemen.)
Washington had scored a couple huge third-period power play goals in this series, but they wouldn't capitalize (pardon the pun) on their one opportunity with the man advantage tonight: After Ruslan Fedotenko was whistled for a delay-of-game penalty at 11:19 of the third, the Caps damn near gave up a shorthanded goal (and would have if the ref didn't apparently lose sight of the puck). Then, in a game in which the refs mostly let the teams play, they ended their power play prematurely by taking a penalty of their own. Anyway, just like they did against Ottawa in Game 7 of the conference quarterfinals, the Rangers would protect their one-goal lead in the final minutes and survive against an opponent who'd given them a hell of a fight. And now, for the first time since 1997, the Rangers are headed to the Eastern Conference Finals. Eight down, eight to go.
Speaking of the Eastern Conference Finals: The Rangers have knocked off a tough No. 8 seed and a tough No. 7 seed so far in these playoffs, and now, they'll face the Devils, a tough No. 6 seed, starting Monday night.
Here's the just-released Eastern Conference Finals schedule:
Game 1: Monday, May 14, at New York (8 p.m.)
Game 2: Wednesday, May 16, at New York (8 p.m.)
Game 3: Saturday, May 19, at New Jersey (1 p.m.)
Game 4: Monday, May 21, at New Jersey (8 p.m.)
Game 5: Wednesday, May 23, at New York (8 p.m.) (if necessary)
Game 6: Friday, May 25, at New Jersey (8 p.m.) (if necessary)
Game 7: Sunday, May 27, at New York (8 p.m.) (if necessary)
It's here we'll point out that if this series goes the distance, Game 7 will take place on the anniversary of Stephane Matteau's double-overtime winner against New Jersey in the deciding game of the 1994 Eastern Conference Finals. So yeah, bring on the Devils. This is gonna be fun.