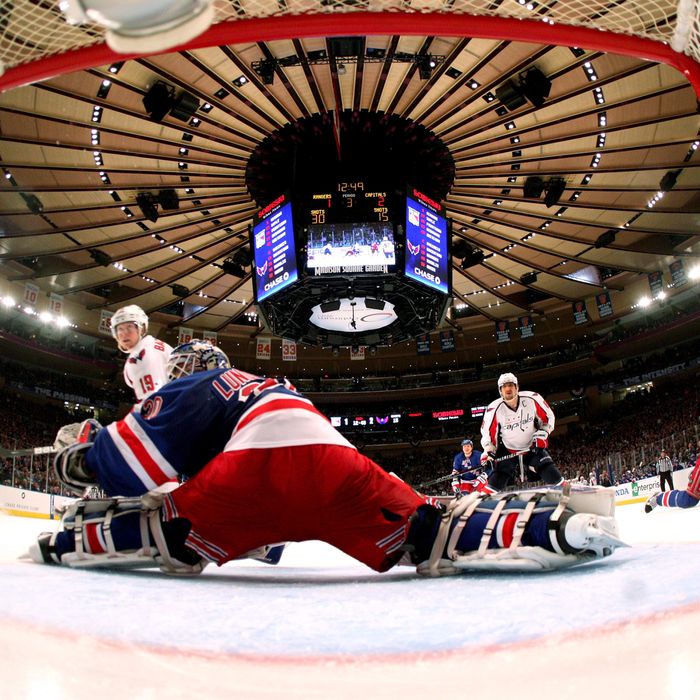 Henrik Lundqvist in Game 5.
Here's what we know about the NHL's upcoming playoff schedule on the day of Game 6 between the Rangers and Capitals: Sportsnet's John Shannon tweeted today that, if the Rangers win tonight, he hears the Western Conference Finals would begin on Saturday, and the Eastern Conference Finals would begin on Sunday. If the Capitals force a Game 7 on Saturday, the Western Finals would begin Sunday, and the Eastern Finals could begin as early as next Monday.
We don't mean to get too far ahead of things: Obviously, the Rangers still need another win in this series, and the Capitals are playing them tough. But we bring this up to point out what the Rangers' schedule might look like over the next few days, depending on what happens tonight. If the Rangers win Game 6, they'll have three full days off before their next game, based on what Shannon reported. If they lose tonight and win Game 7 on Saturday, they might get just one day off between that game and Game 1 against the Devils. (If they lose them both, well, they'll have all the days off they could want.)
John Tortorella, for what it's worth, said after the Ottawa series that he preferred a quick turnaround between the first and second rounds. "I'd rather have it this way," he said. "I think that when you play a Game 7 and you wait a few days there could be a let down." Now, of course, this shouldn't be confused with preferring to play a Game 7 and getting a quick turnaround, as opposed to wrapping up a series in six games and getting whatever rest comes along with that. But playing every second or third day doesn't seem to faze Tortorella, and those comments suggest he doesn't mind if the schedule forces his team to remain in a sort of rhythm.
But playoff hockey is a grind to begin with, and just about every game the Rangers have played has been a war: Of their twelve games so far, a third of them have gone to overtime. Nine games so far have been decided by one goal, and the other three have been decided by two goals. The Rangers haven't led or trailed by more than two goals at any point since Game 1 of the opening round against Ottawa, when they jumped out to a 4-0 lead. Since then, they've had to fight like hell first to get past the Senators, and then to take their 3-2 series lead against Washington. Those kind of battles can wear down even a well-conditioned team like the Rangers.
The Times pointed out yesterday that no team has ever won a Stanley Cup after playing fourteen games in the first two rounds. (It should be noted that the Bruins last year became the first team to win three Game 7s en route to a Stanley Cup, but they also swept their second-round series against the Flyers.) No matter what, the Devils — who went seven games in their opening-round series against Florida — will be well-rested by the time they play Game 1 of the Conference Finals, no matter when the series begins or who they play. (If it begins Sunday, they'll have had four full days off, based on what Shannon reported. If it were to start Monday, as he reports it might, they'd have five full days off.) Perhaps there's the issue of rust after a long layoff, but the Rangers can earn themselves a reasonable three-day break with a win tonight. In the grind of the Stanley Cup Playoffs, that could be a big help in the long run.
Update: So much for the Rangers potentially getting three full days off with a Game 6 victory. Both CBC and the NBC Sports Network report that if the Rangers win Game 6 against Washington, they'll host the Devils on Saturday in Game 1 of the Conference Finals. If the Rangers lose tonight's Game 6, they'll still play on Saturday, but it'll be in a Game 7 against the Caps.