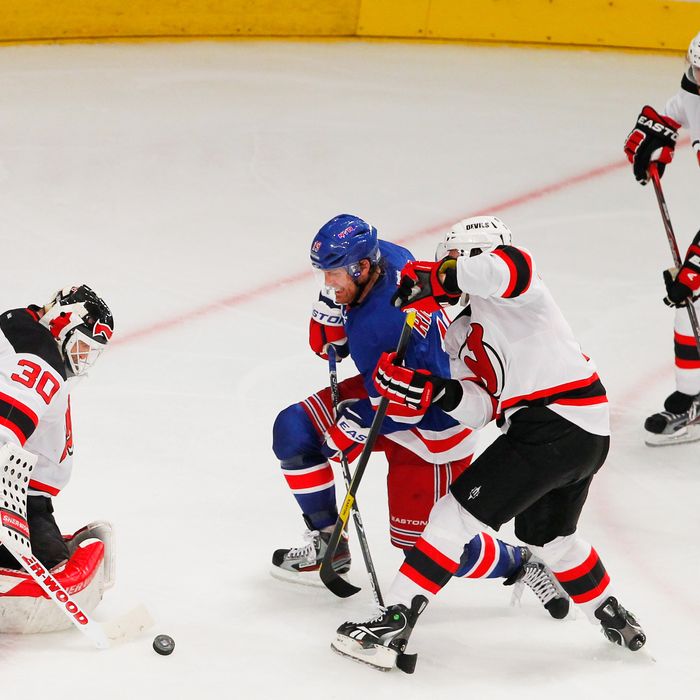 Martin Brodeur, Brad Richards, and Marek Zidlicky.
Rangers fans have surely encountered a lot of references to 1994 in recent weeks. (Why, there's one on the back page of the Post just this morning.) There are a couple of reasons for this: This is their best shot at a title since that season, and it's also the sort of thing that writers who don't often cover hockey — the Mike Lupicas of the world — can easily reference. (Ian O'Connor, for instance, has written three articles on the Rangers during the Eastern Conference Finals and has included a reference to Stephane Matteau in two of them.)
Some of the comparisons to that year are inevitable (and we've even made a couple ourselves): This is, after all, the first time these rivals have met with a trip to the Finals on the line since then, and we'll admit that it's kind of cool that Game 3 through a potential Game 7 fall on the anniversaries of the corresponding games from 1994. There have been some worthy remembrances of that classic Conference Final: If you haven't been keeping an eye on the Times' series of Q&As with some of the participants, you're missing out. And it was also kind of neat to go back and read the original Daily News article about Mark Messier's Game 6 guarantee, if only because of how the writer's keys to a Rangers victory — score first, get shots on net, and get traffic in front — are just as important today.
But as far as anyone actually taking part in tomorrow's game is concerned, there isn't a connection to make between the two series, beyond the familiar uniforms and the identical 3-2 Devils lead. John Tortorella's only guarantees today were that Henrik Lundqvist and Brad Richards would play their best games tomorrow. (Added the coach: "Not to disrespect what happened there, but that has nothing to do with how we're preparing.") Martin Brodeur — the only player to suit up in both that series and this one — said that the '94 series was "a long time ago." Said Brodeur: "The Rangers were a good team when they beat us. We were not supposed to compete with them at all in '94 … But this time around we feel we can play with them. It makes me feel a lot more comfortable going into these games coming up."
They're both right, of course. And we say this as someone who once tried to track down the location of the Rangers' original championship banner and also once identified all of the draft-eligible prospects who were born on June 14, 1994: It's time for the Rangers to give us all — the die-hards and the casual fans alike — some new great moments to reference. That's one of the most exciting things about this team: They've long looked like the kind of team that could, at least, provide that type of moment. These playoffs have already given us a couple of memorable nights — Marian Gaborik's triple-overtime winner, Brad Richards's tying goal in final seconds of Game 5 against Washington, a pair of Game 7s — but the Conference Finals, with a trip to the Cup Finals on the line, are a different beast. Mark Messier, as they say, isn't walking through that door. But Ryan Callahan is, and so is Brad Richards, and so is Henrik Lundqvist. (Prediction: Ruslan Fedotenko will do something important tomorrow night.) No matter what, something is going to happen tomorrow: Either the Devils will advance to the Finals, or the Rangers will force a Game 7. Will that something be the kind of thing Rangers fans fondly recall in, say, 2030? We'll find out tomorrow night.