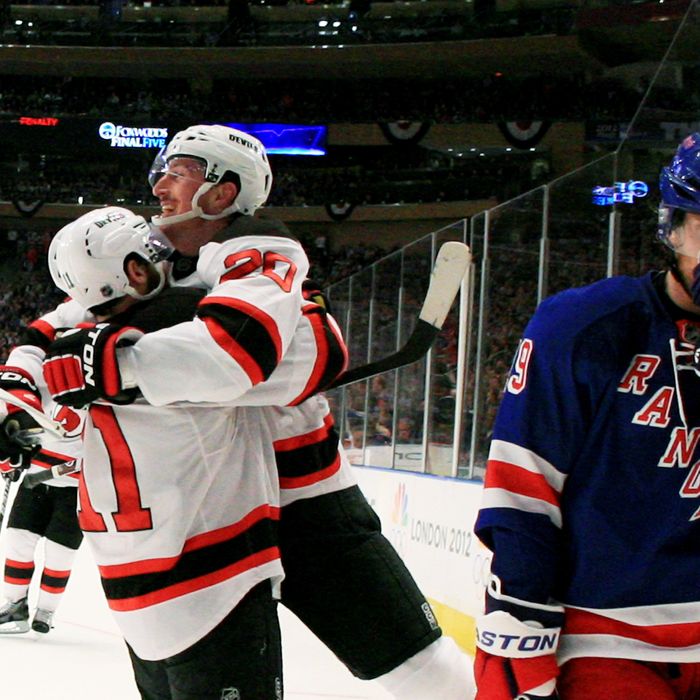 Ryan Carter and Stephen Gionta celebrate the game-winning goal.
One can ask "What if?" after lots of hockey games. What if the puck bounces differently here, or what if a call goes another way there? But most hockey games aren't as important as Game 5 of the Eastern Conference Finals, and after the Rangers lost tonight's game by a 5-3 score to fall behind 3-2 in this series, their fans would be forgiven for asking variations of the question. As in, what if Stephen Gionta was whistled for high-sticking Derek Stepan before he could score the game's first goal? Or what if Marian Gaborik didn't shoot the puck over the Devils' net when the score was still 2-0 New Jersey? Or what if Henrik Lundqvist blocked a very stoppable shot on New Jersey's third goal? Or what if Ryan Callahan's second-period shot banked off the post and into the net, instead of away from it? Like we said, you can pick out moments in any game that could have affected its outcome if they'd gone differently — one could even point to things that went the Rangers' way tonight — but if the Rangers lose this series, this game will haunt them, and their fans, all summer long.
To recap the basics of Game 5: The Devils scored three goals on their first five shots to take a commanding 3-0 lead less than ten minutes in. (You'll recall that the team that scored the first goal had won every game in this series.) But the Rangers weren't totally lifeless in the period, and Brandon Prust would score a goal with 4:19 remaining in the first to cut the lead to 3-1. (Prust, by the way, would later earn an embellishment penalty in this game. It's only fair that we mention that, considering how we accused a certain goalie of embellishment after Game 4.) Anyway, the Devils didn't actually control the pace in the first twenty minutes quite as well as they had in some other periods of this series: They'd register just one shot on goal in the period after taking the 3-0 lead. But the damage had been done, and while a three-goal deficit is hard to overcome for any team, it's even harder if that team sometimes struggles to find offense like the Rangers do.
But the Rangers would make a game of this, and then some: They were the better team, by far, for a good long while after New Jersey took that 3-0 lead. They'd score early in the second period on a Ryan Callahan goal that was reviewed but allowed to stand, and the ice remained tilted in their favor for much of the second period and into the third, when Marian Gaborik took advantage of a Martin Broduer misplay to tie the score at three. The Rangers were controlling play, forechecking effectively, and looked for all the world to be playing with a much-needed sense of urgency. The start to this game was stunning, but a Rangers comeback win would have been even more shocking.
The Devils, however, would start to push back as the third period went on, and then at 15:38 came the game-winning goal — a direct result of that forecheck that's so often given the Rangers fits in this series. Gionta won a puck in the corner (with some help from Ilya Kovalchuk) and sent it in front, where Ryan Carter buried it behind Lundqvist as Carl Hagelin was late on his backcheck. The Devils had a 4-3 lead at this point, and just as he did in Game 4 in Newark, Zach Parise sealed the game with an empty-netter. If you're a Devils fan, it was an often stressful but ultimately thrilling victory. But for Rangers fans — especially ones who believed they might be watching one of the wildest victories in recent memory — this one hurts.
Hockey is a game of momentum swings, and for a while, it was swinging in the Rangers' favor. When they're playing their worst, they struggle to generate any opportunities at all. But that's not what happened tonight, even in the first period. We'll be the first to admit that we didn't think they'd win this game after Travis Zajac scored to make it 3-0 — scoring four goals in a game seemed like an impossibility at the time for a team that hadn't done so since Game 1 of the opening round — but with every goal, and with every good opportunity, the chances seemed better and better, especially as the crowd worked itself in a frenzy and started with some especially intense chants of "Marty, Marty."
Brodeur, however, would get the last laugh in this game though. John Tortorella talked often this year about how the Rangers found a way to win games. Well tonight, in a wild game in which the Devils jumped out to a big lead and then watched it evaporate as the Rangers dominated play, it was New Jersey that found a way to win the game.
On the NBC Sports Network's post-game show, Keith Jones talked about how, despite the loss, this was Rangers' best game of this series. We guess we know what he means: There were long stretches where they were the better team. But they also made some costly mistakes on the Devils goals, and ultimately, these games are measured in goals, not in how often the ice was tilted in a team's favor. His point is well-taken, though: The Rangers had shown only flashes of great play in this series, and one might have started to wonder if they'd be able to hang with the Devils, especially if Lundqvist was something less than unbeatable. And so for a while tonight, they showed they can indeed control play, and establish a forecheck, and generate scoring chances. That's good news as they look ahead, even if one can't ignore the fact that they spotted their opponent a three-goal lead in a pivotal Game 5. This game was somehow both encouraging and discouraging for the Rangers as they look ahead to Game 6.
Speaking of which: The Rangers have played well in these playoffs when they're desperate. And if the Rangers need to be a little desperate to play with a sense of urgency, one imagines they'll have no trouble getting fired up for a must-win Game 6. They've won three elimination games so far, and now they'll need to win two more, or else, by this time next week, the hockey world will be looking back at Game 1 of the Stanley Cup Finals between the Kings and Devils. The Prince of Wales Trophy will be in the building for Game 6, but this series isn't over yet as it shifts back to Newark. Game 6 is Friday night.