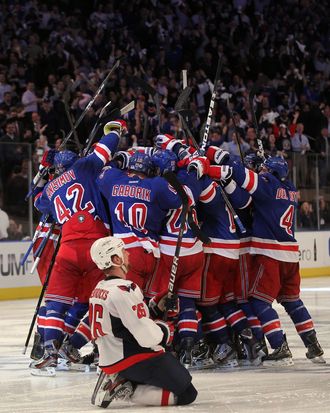 The Rangers celebrate their Game 5 overtime victory.
We cannot overstate how quiet Madison Square Garden was for stretches of the third period after the Capitals took a 2-1 lead in tonight's Game 5. It was so dead that fans didn't even bother with their usual "Ovie sucks" chant with eight minutes remaining. Perhaps it was the realization that the Rangers were running out of time to tie the game against a Capitals defense that hasn't made it easy to score of late. Perhaps it was the thought of losing Game 5 and heading to Washington facing elimination. Perhaps it was the fear that this Rangers team — one that's felt like it might really be doing something special — might have met its match in the second round. The point is that there wasn't a lot of energy in the Garden for a long stretch of tonight's third period. But with 21.3 seconds remaining in regulation, the Rangers would go on a power play, and Brad Richards would save the day.
Yes, the Rangers were down 3-2 in the first round against Ottawa heading into a Game 6 and won two straight, so a loss tonight wouldn't have necessarily meant a guaranteed second-round exit. But that shouldn't take away from how ridiculously clutch Richards's goal was tonight. With Washington's Joel Ward in the penalty box serving a double-minor for high sticking, and with Henrik Lundqvist pulled for an extra skater, Richards's power play goal with 6.6 seconds remaining sent the Garden crowd that had been so quiet minutes earlier into a frenzy, and sent Game 5 into overtime. In a series in which goal posts have played such a big role, the iron was kind to Richards in the final seconds.
Then at 1:35 of overtime, with Ward still in the box serving the second two minutes of his penalty, Marc Staal ended the game with a shot from the point. The Capitals have blocked a lot of shots in this series. But this one, after a deflection, got through, and got behind Braden Holtby. Final score: 3-2 Rangers. Incredible.
It's eerie how this game played out just like Game 5 of the 2007 conference semifinals against the Sabres, which was quite possibly the most crushing Rangers loss since the lockout. In that game, with the series tied at two and the Rangers ahead by a goal, Buffalo's Chris Drury tied the game with 7.7 seconds remaining, and the Sabres would win in overtime on a power play goal. This time, it was Washington that was just seconds away from taking a 3-2 series lead. This time, it was Brad Richards playing the hero at the end of regulation. And this time, it's the Rangers that can celebrate a stunning victory.
The start of this game was a mirror image of the start of Game 4: The Rangers had a huge 17-4 advantage in shots on goal through twenty minutes, and it was clear they were trying to get pucks to the net however possible. But they'd have just a one-goal lead to show for it — Anton Stralman scored from a bad angle at 10:44 of the first — and that lead would disappear 8:15 into the second period on a goal by Brooks Laich. The game would remain tied at one until the third, when John Carlson's power-play goal put the Caps on top, and it appeared for a while that for the third time in this series, the Caps had scored the game-winning goal on a third-period power play. But it was the Rangers' power play — which can be so frustrating to watch sometimes — that came through in the final seconds of regulation, and again in overtime.
The win, for what it's worth, is the seventh for the Rangers so far in these playoffs, and that's the most they've won in a single postseason since 1997. (They were 7.7 seconds away from their seventh win in 2007, but let Game 5 against Buffalo slip away, as described above.) Now, one more win will send the Rangers to the conference finals for the first time in fifteen years. The Capitals are giving the Rangers hell in this series, and as crushing a loss as this is for them, we expect they'll do the same in Game 6. The Rangers, meanwhile, have yet to win a game in this postseason at a point at which they've held a series lead. But it's too soon to look ahead to Game 6. Tonight's Game 5 win was too incredible not to enjoy for at least a little while longer. Go ahead and watch those videos again. Wins like this don't come along too often.